There are more certainties in life than Benjamin Franklin's death and taxes; as soon as the lighter nights are ushered in you can set your watch for club appeals as they beseech supporters to dip deep and renew season tickets. Which could make for some interesting times at Ibrox. Michael Beale's appeal for unity between club and supporters in the aftermath of Saturday's win over Motherwell is unlikely to be anything other than a voice in the wilderness with the chasm between the boardroom and the stands as wide as it has been at Rangers. The protests for Ross Wilson and Stewart Robertson to go are unlikely to be assuaged by Beale's call for togetherness, regardless of how well meaning his intention. The revenue generated by swift renewals is always vital as one season closes and the groundwork for another begins. Beale would be justified in feeling a little aggrieved – he has lost just one game and remains unbeaten in the cinch Premiership since assuming the role from Giovanni van Bronckhorst – and he is entitled to be irked at he and his team stuck in the crossfire of increasingly bitter civil unrest. If it has lent a toxic atmosphere to the opening stages of games in recent weeks its further impact may come as supporters use their hard earned cash to state their point.
Training-ground work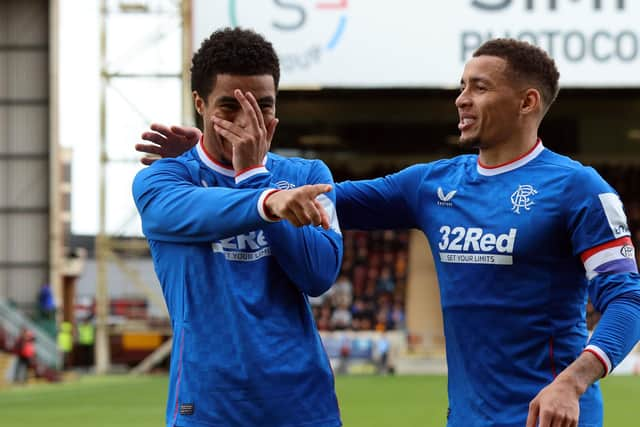 The break in domestic fixtures for the international calendar will give Beale the chance to spend one-on-one time with certain players on the training ground. Rangers return from the break with a month that could shape just the season plays out with the Scottish Cup semi-final tie at Hampden against Celtic arguably carrying greater significance for Beale than it does for Ange Postecoglou as Rangers look to stand in the way of what would be a fifth treble in seven seasons. "We'll let the players have a few days with their families," said the Rangers manager. "Then we'll be back training because we're working on one or two new things – you saw at the end of the game we're trying something different at the back to get more players up the pitch. We'll continue to work because we have nine league games and a very important cup game when we get back. That will be our focus but it gives me time to sit down with one or two and give them a bit of feedback."
Tavernier is closing in
Whatever the deficiencies in James Tavernier's game, it would be churlish to quibble with the numbers the full-back posts. Two goals shy of a century of goals for Rangers and boasting 15 for the season, Tavernier still wasn't sure of a warm welcome when he walked into Fir Park's visiting dressing room at full-time; "I had a laugh and a joke with him – he should have had the 100 on Saturday," smiled Beale in reference to a couple of chances missed by the Englishman. Everyone's a critic.