Not for St Johnstone fans, however. That special feeling was taken from them by the club long before a small number of home fans turned up in Perth to see Rangers progress into the next round with a 1-0 win. It was a de facto home game for Michael Beale's men, McDiarmid Park a mini-Ibrox with three sides brimming with the club's fans.
You can understand the different elements at play here. St Johnstone operate very shrewdly as a business, they have done for years under the Browns. It is something which is likely the envy of many boardrooms up and down the country. This was an opportunity to make a decent amount of cash – after all the ticket prices were far too high. But when it comes to the Old Firm, there is a huge demand. On a recent trip to Dingwall, a game played on the night of December 23, there were many Rangers fans around the Global Energy Stadium on the hunt for tickets having travelled up on supporters buses without one. Driving into the car park at McDiarmid Park 'BOYCOTT' was spray painted onto a board advertising the game. Within seconds a Rangers fan was asking about "spares". Just a fan desperate to see his team.
As for St Johnstone, decisions in football shouldn't always be led by the bottom line. Sometimes it is okay and right to make decisions on feeling and emotion. That's what the sport provokes. Yet, each step on this hazardous journey was a bad one by the club. From giving Rangers three stands to moving fans from their seats, from the ticket prices to the communication with supporters. It all left a very bad taste in the mouth of a disgruntled home support who had watched their side lose five in a row coming into the match.
Saints fans have to be commended. Fewer than 500 are believed to have turned up and they shouldn't face criticism, wanting to support the time, not wanting to miss a Saints game. At the same time, the ones which stayed a way made a very strong point. One which, you hope, lands with those running the club. It's a miracle more fans across the country don't do it more often, especially when it comes to ticket prices (£49 for the Viaplay Cup final is ridiculous).
It was a sorry affair, all in all, and unfortunately will go down as a key talking point during a weekend which is so often so special to supporters.
St Johnstone positives
Switching focus to on-field issues, there were plenty of positives to take for Saints, even if they were lacking in the final third against Rangers. Following five successive league defeats and an injury to Ryan McGowan, Callum Davidson started with a back four, something they haven't done in the league this season. They looked far more organised and assured defensively. They competed much better in midfield with Daniel Phillips putting in a starring role alongside Cammy MacPherson. If Saints could recruit at right-back they have the players, both in a back three and four system, to keep their heads above water and even challenge for the top six. It's just making sure the right blend in the right formation is picked.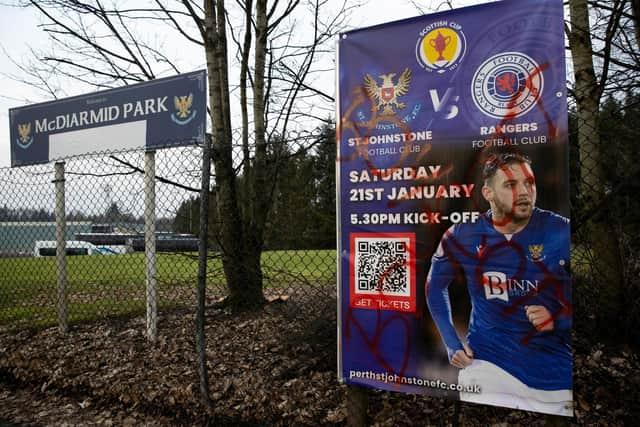 Rangers context v performance level
When analysing Rangers under Michael Beale, there is a fine balance that needs to be struck. I wrote on Saturday that the team were lacklustre in their 1-0 win over St Johnstone and that the performance level needs to improve before those positive results take a turn. It is true, but there is also a balance needed so not to be overly critical. The team are winning and progressing under Beale but are clearly in desperate need of increased energy levels, especially in midfield, both in and out of possession. The Ibrox boss noted the schedule but it is really only the last week where it has been intense, while they have not played at home since January 2. The standard of pitch was also noted. The team should improve in the coming weeks when more players return from injury and new signings are made. All in all, it is completely fair for Rangers fans to want more, to be treated to a wee bit more excitement without being overly demanding considering the context.
Sakala personifies Rangers
If there was one player who perhaps epitomises, or personifies rather, the current Rangers side, it's Fashion Sakala. The Zambian is a popular member of the squad possessing an effervescent personality. As a football player he is far from the most polished forward. He can go from sublime to sloppy within seconds. Sometimes his touch is wayward while he can also look like his antenna is in need of fine tuning. Yet, he is the player the team have relied on, the player who has delivered and, like Rangers under Beale as a collective, he is incredibly effective. He's scored three and assisted four goals since the change in manager. In Perth he indirectly set up Borna Barisic for the winner when his arrowed effort struck the base of the post and rolled into the path of the Croatian. Sakala is full of energy, quick and his movement can make him elusive as he has demonstrated in all three games this week. He may frustrate during games but he is currently the Ibrox talisman.
Optimistic board operator
At the back of 4pm the St Johnstone scoreboard was coming to life. It soon flashed: St Johnstone 7 Rangers 0'. A premonition? A prediction? Wishful thinking? One bookmakers only offered 6-0 at 125/1 as their highest victory. Another wouldn't go past 4-0. In the end, never did it once look like happening.