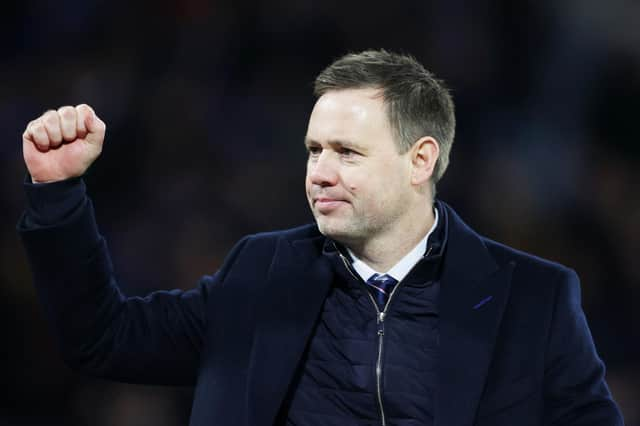 Both Beale and his Aberdeen counterpart Jim Goodwin were left less than impressed by the playing surface at the national stadium, which cut up badly during Rangers' 2-1 extra-time win over the Dons. Less than 24 hours earlier, Celtic had played Kilmarnock in the last-four tie and the problems with the turf became apparent very early on in that match. The issues spilled into VAR on Sunday afternoon, with the technology failing for the opening stages of extra time.
While delighted to see his team progress into the final against Celtic next month after a hard-fought victory, Beale agreed that the conditions were not good for Scottish football's image. "It's probably not the right time to talk about it now but you've asked the question," responded the Rangers boss. "Listen, it's a fantastic stadium and I love coming here to be involved and coming to watch. I think it's a wonderful stadium. I agree that maybe when we are selling our game outside I thought both semi-finals were excellent, four teams who really went for it. The two underdogs if you like really took it to the two favourites in both games but the pitch is in a really bad state for what is a showpiece game that players are dreaming of and hoping to get to. We need to have better than that.
"I know we can't control the weather. Do we separate the two weekends to play one this weekend and one next weekend? That's for other people to decide but that was a difficult pitch today and that could take its toll because we have a game on Wednesday night [against Kilmarnock] and so do the team we played and so do the two teams who played yesterday and where will the injuries come from playing on a heavy pitch and with the heavy legs to go again on Wednesday and again next weekend in the cup.
"I just think we have an excellent game at the moment there are lots of good players in our league and teams are really going for it. I've seen a difference in a way the coaching is in the league. Aberdeen today played open football against us, a really good game, so I think we have a good product and we have to make sure we present it in the right way."
On the VAR issues, Beale commented: "We knew the VAR was failing or kept failing and to be fair to me and Jim we wanted to play the game without it. We've only had it a short period of time so if VAR fails they should just continue with the game. There were a lot of breaks in the game which didn't help either team. I thought the officials had a good game today."
"I thought we were the stronger team throughout, albeit I thought Aberdeen played really well in the game and were a threat on the counter," added Beale. "They scored a very good goal. We have to not stop, we have to play to the whistle or play to when we know it is definitely offside. We can't stop. We've spoken about that.
"I thought we started the game quite well. We hit the post what seems likes two days ago, but it was at the start of the game. Overall I thought we played well. At half-time I said to them I thought we were the better team and we just have to not lose our head and keep playing. We were the team with the ball, which is what we wanted, and we thought they might tire on the pitch because the pitch was really difficult underfoot. I thought we were the stronger team today and I am delighted to be through."