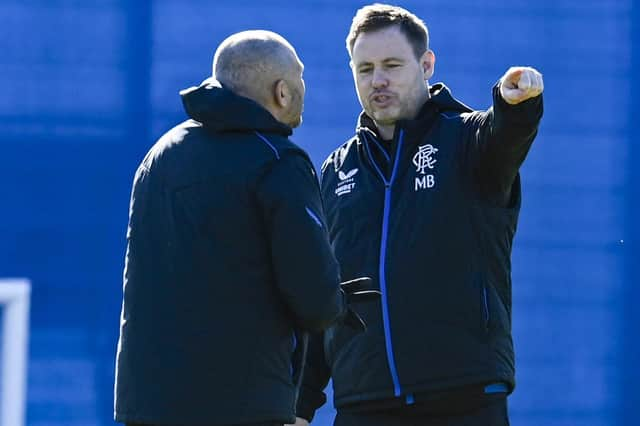 The wall in the atrium of the club's players' entrance to the Rangers' training centre on which it is declared "the most successful club in the world" indicates what now shrouds the Ibrox side's quest for silverware like the acrid smoke from a pyrotechnic display so beloved of the modern-day football fundamentalists.
No longer are Rangers fans becoming simply misty-eyed over their 117 haul of major honours played for in national and international level that is unmatched in the global game. Such a proclamation now carries a health warning, with Celtic only three trophy successes – as a second successive title appears in the air for them – away from matching their ancient adversaries' bounty. The backlash against Beale from the Ibrox faithful in the wake of the Viaplay Cup loss to Celtic two weeks ago was infused with fears over the unthinkable possibility they will lose their grip on essentially a 'greatest' label to the very hated rivals against whom it was deployed to lord it over.
In stating that 25 per cent of a pruned squad will be revamped in the summer with contracts expiring and "one or two" sold, up to seven summer arrivals can be anticipated. Beale, then, has enough to deal with in the here and now without concerning himself with the weightiest of historical contexts in pursuit of a Scottish Cup that will see Raith Rovers hosted in the quarter-final. Yet, he does remind that when Rangers' required a monumental achievement to be defended, in the form of their nine-in-a-row league-winning joint-best with Celtic, he came through – the Englishman at Steven Gerrard's side as they obliterated Celtic's quest for a record straight 10th title with their spectacular, without-loss championship triumph of 2020-21.
"When we had to win the league – when we wanted to win the league – it was the culmination of where the club had been and to get back to win the league and then get to the Champions League," said Beale. "It was a reset. We play for Rangers, things are on the wall but they are only important if you keep on winning. There will always be outside noise. There's always something in the background. The most important thing is that we win the trophy in front of us and then other things will take care of themselves.
"It's a strange one because the form, both in Europe and domestically, had been strong for quite a long time at the club. They could certainly have won more, this group of players. And when you're managing 35 players and, maybe overseeing 30 of a staff, how everyone sees it is different. It's trying to bring everyone together with a lot of clarity and cohesion in the way we think and where we're going to go. We need to cut the cord from the past. There have been some déjà vu moments in the last few weeks because it's me coaching the team and we have some issues we had before at the same stage when we were building and the same meetings. So we're cutting from the past and moving in a different direction in terms of the way we're playing. And we're moving in a different direction recruiting new players into it. A lot of people have done a lot of good things over the last few years but the club needs to move forward. The game doesn't wait for anyone. That's what the coming months are about."