When will the current Scottish Premiership season be decided - SPFL chief Neil Doncaster provides update
The SPFL have a Uefa deadline to inform of their next steps
Following the passing of the SPFL's resolution to terminate the Championship, League One and League Two last month, it was expected the top flight would follow suit, once given the green light by Uefa.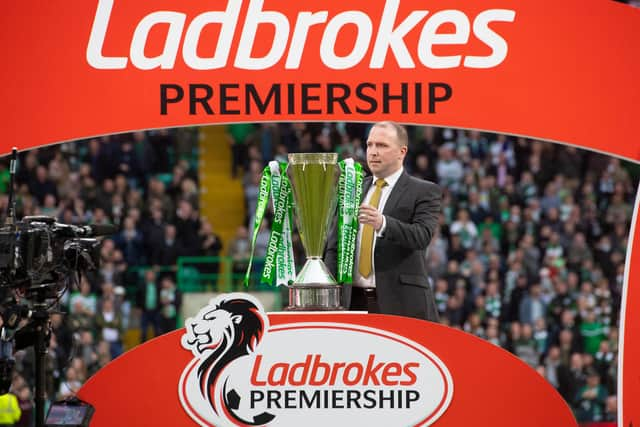 Aberdeen asked the SPFL to delay making a decision on the termination of the Premiership until a feasibility study be undertaken on finishing the 2019/2020 campaign.
The top-flight clubs met last week to discuss the situation.
Speaking on Sunday, Neil Doncaster was reluctant to put a date on when the Premiership will be deemed finished, which would see Celtic crowned champions and Hearts relegated on the points-per-game system which was used to determine the Championship, League One and League Two.
"The chairman (Murdoch MacLennan) has indicated there would be consultation with the Premiership clubs," he said.
"There was a Premiership club call on that on Friday so we are awaiting detailed feedback from that call. The SPFL board will want to take account of what the clubs have been saying."
He added: I'm not going to predict when a decision might be made. That's ultimately something the Board has said it will consult the Premiership clubs over. So let's see what detailed notes emerge from their meeting last Friday."
There is a deadline of Monday, 25 May for the SPFL to inform Uefa of how they are going to proceed with the current Premiership campaign.
Doncaster said: "That's exactly the date that UEFA have asked for leagues to let them know if they are going to try and play their remaining games of season 2019-20 or whether they cannot.
"They need to plan for their own competitions as their prime interest, and they need to know which clubs are going to be in the European places."
How the current season would be concluded has been overshadowed by the calls for an independent investigation into the SPFL which intensified over the weekend. A vote on whether the 42 member clubs back the request from Rangers will take place on Tuesday.
Aberdeen chief Dave Cormack said on Friday: "The strong feeling of the group was that we must focus all of our energies on emerging from the crisis we face, due to the pandemic, on getting back to playing football safely and getting fans back into grounds as soon as practicably possible.
"Whilst the group sympathises with the plight of the situation the relegated teams are faced with, it concluded that this is not the right time to consider immediate reconstruction in the midst of a crisis. But the group is willing to engage in and pick up on these discussions once we are through COVID-19."