Bring on a run-in that even Sky Sports are seemingly showing some willingness to promote. Aberdeen's clash with Rangers later this month has been put back over 24 hours and will occupy the slot normally reserved for the big game in the English Premier League. Clashes between Celtic and Rangers are what really stirs the broadcaster's juices, though, and there isn't long to wait until the next one. It takes place next Saturday at Celtic Park.
There are nine matchdays left in total, including this weekend. The race for the title might yet contain some dramatic possibilities if Rangers can secure a win at Celtic Park, and then repeat the feat when the teams meet at Ibrox after the split (there's also a Scottish Cup semi-final at the end of next month). There's no let up, which will suit the indefatigable Callum McGregor. The Celtic skipper is refocusing his sights on a trip to the Highlands on Sunday to face Ross County, with the midfielder having played every minute of Scotland's two victories against Cyprus and then Spain. He's probably jogging to Dingwall as we speak.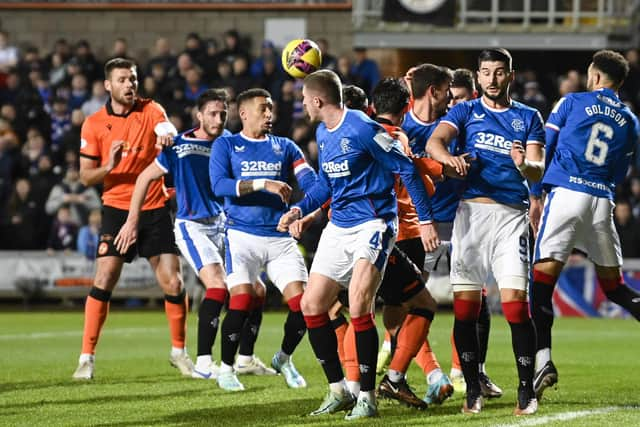 McGregor was one of only two outfield players from the domestic league in Scotland included in Steve Clarke's squad prior to belated call-ups for Anthony Ralston and Lawrence Shankland. Rangers' Ryan Jack was the other. The midfielders dovetailed well together in the first victory over Cyprus. But the fact only two Scottish-based outfield players were originally involved did develop into something of an issue.
This scant representation was cast up by some to prove a point. The point being that the Scottish Premiership is low rent and lacking quality. Even English Championship players were far preferable. But let's not do ourselves down. There is much to celebrate as the Scottish top-flight cranks into gear again following the fortnight break. Mention of the second tier in England reminds us that the so-called one-horse race in Scotland, where Rangers trail leaders Celtic by nine points, is far less of a procession than the Championship down south, where long-time pacesetters Burnley are 13 points ahead of Sheffield United (with a chance to go 16 clear against Sunderland on Friday).
If Rangers can beat Dundee United this weekend, the gap between between them and Celtic will be cut to six points, temporarily at least. Such an outcome would mean the Tannadice side staying bottom of the pile. Jim Goodwin's side are, however, still far from stranded despite not winning in the league since New Year. Indeed, just 22 points separate third-placed Hearts from United. It is so squeezed the league ought to be sponsored by Fairy Liquid rather than cinch.
Much was made of Hearts operating in their own private league not so long ago. Not good enough to challenge for the title but still far too good for the rest, it was claimed by some. And yet here they are, only four points clear of an Aberdeen side in the midst of a harrowing season that has included some of their worst-ever results. A significant element of jeopardy has been inserted into the duration of the season as far as Hearts, and particularly Robbie Neilson, are concerned.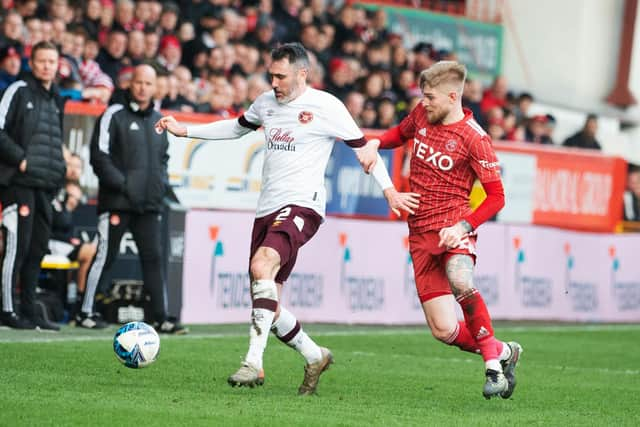 The manager knows it would be deemed unforgivable if Hearts were unable to hold off an Aberdeen side given fresh impetus by Barry Robson, whose appointment as sort-of-permanent-manager was confirmed this week. Then there's the prospect of Hibs overhauling both teams, which as well as being unforgivable, is something considered unthinkable by Hearts supporters. They would not be appeased by Neilson's argument, delivered on Thursday as he previewed this weekend's trip to Kilmarnock, that the league has improved markedly in quality.
"There are less teams you are more or less guaranteed points against," claimed Neilson. "Sometimes in the league you have two or three teams where you think, home and away, you're going to pick up points. But it is so competitive now. You have three or four (teams) battling relegation, a couple trying to get in the top six, a couple trying to stay in the top six and then there's the group challenging for Europe and the top two. Everyone is competing at the moment. Everyone has good squads. So it's a together league this year but we're still sitting in the same position we were in last year.
"The benefit (to) Scottish football is that everyone is getting stronger," he continued. "You look at Kilmarnock, they have a good squad with international players in it. You look at even Dundee United at the bottom, they have a good squad with international players. All the teams have good players now and decent squads. Gone are the days when there were money issues at most of the clubs. It's strong squads, strong teams and it makes it more difficult."
It might sound like Neilson is rehearsing a case for the defence should Hearts fall short of their ambitions, although as he noted, they are sitting on the same points total as last season after the same number of matches (29), and having endured a debilitating spate of injuries. And he has a point. Away from the Old Firm, it really does feel as if anyone can beat anyone else, which means issues such as the European spots, top six and who might finish in the bottom two, and face either automatic relegation or a play-off, are beginning to come to the boil very nicely indeed. The race for promotion in the Championship, meanwhile, is equally compelling.