Sizzling Scotland land famous win over Spain - Tika-taka perishes, McTominay is Tartan Army darling, poor Pedro Porro
Add this to your list of famous nights at this storied stadium. Hampden roared like it hasn't done for years, Scotland sizzled and Spain – yes, Spain – were left wondering what had hit them. La Roja were rocked. Scotland soared and triumphed 2-0.
What a ferment Hampden got itself into after 51 minutes when the Manchester United midfielder stroked home his second of a pulsating evening. McTominay is Clarke's man for the big occasion and he rushed to embrace his manager before kissing the badge on his chest. Somewhere Alex McLeish was smiling. The former Scotland manager drove through a blizzard to hear it from the player's own mouth that he wanted to play for Scotland. McTominay was being hailed by the fans even before kick-off last night. He led the way at the end as the players – including Angus Gunn, two appearances and two clean sheets – took a bow in front of the delirious home fans.
Oh this was epic alright. Football as it should be, including pantomime villains and a slippy surface that Clarke was asked to condemn on Saturday after several Scotland players, including Gunn, lost their footing. "It's just a wet day in Glasgow," shrugged Clarke. A wet night in Glasgow helped Scotland on the way to their best victory at Hampden since France were beaten 1-0 here in 2006.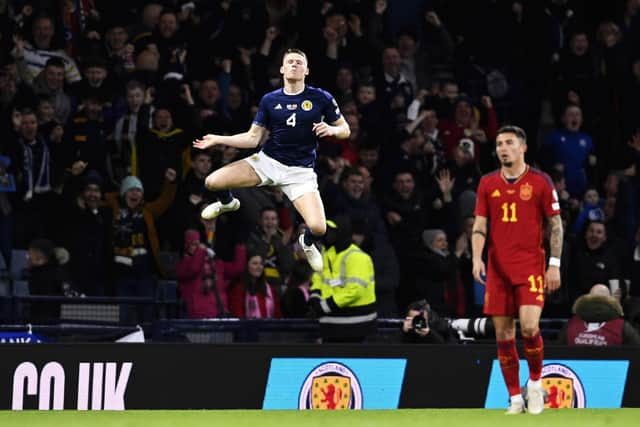 There was a pleasingly old school battle between a left wing-back wearing the No 3 shirt in Andy Robertson and a right back – Pedro Porro - sporting No 2 on his back. It had already been identified as a potentially significant contest even before the moment the Tottenham Hotspur player slipped on a patch of moisture. So integral was this puddle in the passage of play leading to Scotland's opener after seven minutes that it might have been poured there by the Hampden groundsman to order from Clarke.
Porro seemed to have everything under control before he lost his footing as dramatically as a flamenco dancer on a newly polished floor. Robertson seized on the opportunity by latching onto the ball and cutting it back for McTominay, whose finish lacked the assurance of someone now scoring at the rate of Ally McCoist. Potency was supplied by a significant deflection off Inigo Martinez that meant an unsighted Kepa Arrizabalaga was left helpless. It wasn't Kenny Dalglish in '84, the last time Scotland beat Spain. But nobody was complaining.
Ryan Christie almost did score a goal for the ages. The Bournemouth player skipped down the middle of the pitch and was pleasantly surprised to see the Spanish defence part like, well, the Red Sea. Christie kept on running before stabbing a shot that trundled just wide Arrizabalaga's left-hand post. A 2-0 lead after quarter of an hour of play would have been a dreamland scenario.
It would also have given the Scots the degree of comfort they looked like needing. It's hardly surprising that Spain summoned a powerful response to the rather dire situation they found themselves in even if they were also still guilty of some very un-Spanish things, such as taking a foul throw. The inventors of the celebrated form of modern football were frazzled enough to be forgetting the basics. Tiki-taka perished in Glasgow's southside.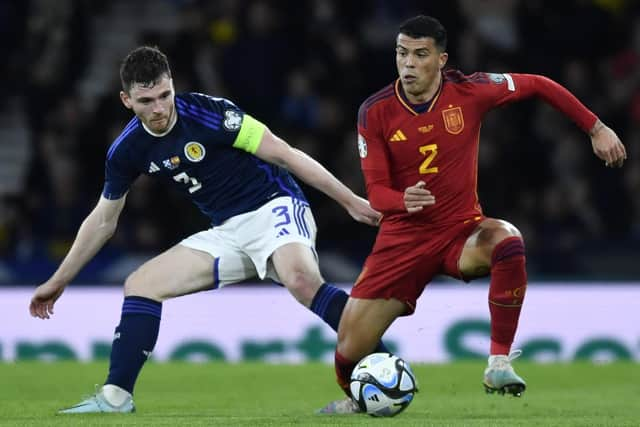 But Spain could not be discounted. Of course, they couldn't. Joselu, the surprise call-up from Espanyol, looked keen to add to the double he scored against Norway on his debut on Saturday. One header was placed too near to Gunn, who was relieved to clutch the ball almost in front of his face. The striker then bashed the bar with a header after getting the better of Ryan Porteous. An equaliser looked imminent but then something potentially more ruinous to Scotland's hopes threatened to dampen the Tartan Army's ardour.
Porro clashed with Robertson on the far touchline and collapsed to the turf once more. The Scotland skipper seemed to barge a shoulder into the side of the Spaniard's head after the ball had gone dead for a throw-in to Spain. It was unnecessarily risky from Robertson but, not for the first time on a famous night, Scotland benefited from a let-off. Referee Sandro Scharer produced a yellow and Porro spent the rest of his evening – which lasted only until half-time – being mercilessly booed by the Hampden crowd.
It was all getting deliciously old school. Porro's blood was up and he saw a shot tipped over by Gunn. Yeremy thrashed a half-volley just over. But it was Scotland who came closest to scoring as the interval neared. Robertson's clearance up the park curled into Dykes' path and the striker scampered through on goal. Hampden held its breath. Dykes lifted a shot just over under pressure from David Garcia. It felt like a moment the hosts might come to regret. But this is a different Scotland. It's also a different Spain, ranked ten in the world, not one.
Kieran Tierney was allowed to gallop up the left flank, like Jordi Alba in his pomp, before delivering a cross that was only half-cleared by Garcia. The strong-running McTominay skipped in and slammed a left-footed volley beyond Arrizabalaga.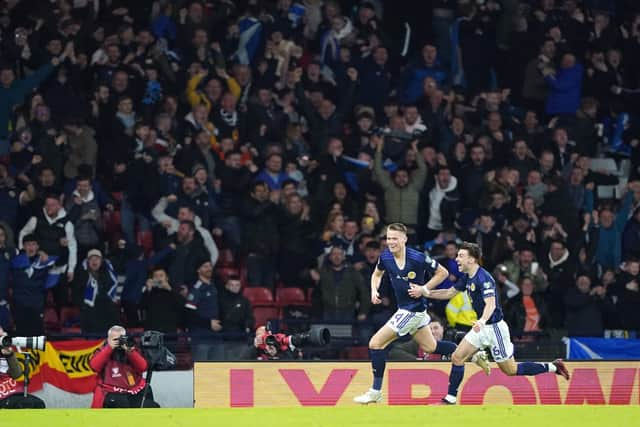 There were still nearly 40 minutes left? Too long? Not long enough. A John McGinn free-kick curled against the bar. Lawrence Shankland, who replaced Dykes, almost squeezed in a goal in injury time. Hampden savoured a night of nights as that blessed rain began to fall again.