Steve Clarke hails his Scotland players and explains why he wasn't disappointed with Spain
Steve Clarke stressed that his players deserved all the plaudits after they produced a result with the potential to echo through the ages against Spain at Hampden on Tuesday night.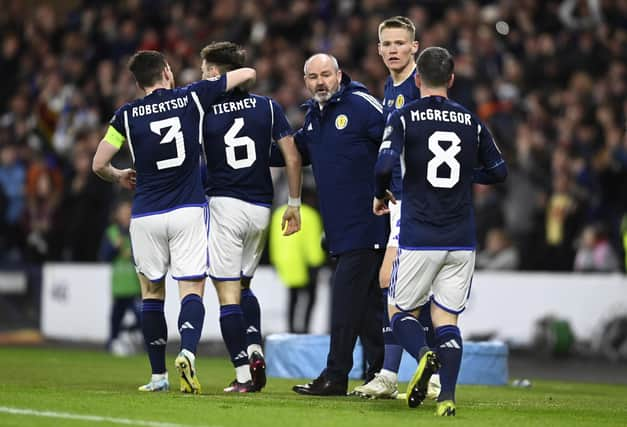 Goals from Scott McTominay near the start of each half gave Scotland their first win over Spain since a 3-1 victory in 1984 on the way to Mexico '86. Clarke is not one for getting carried away. Unsurprisingly, the Scotland manager cautioned that nothing had been achieved yet on the road to the European Championships in Germany next year. But he praised all 16 players who took part in the 2-0 win that leaves his side leading the way in Group A after two games, with Scotland overcoming the top seeds at Hampden for the second qualifying campaign in a row.
"You don't qualify with six points," said Clarke. "There's a long way to go. We're really pleased with the performance – two good performances over the nine days we've been together. It was important to capitalise on the two home games as much as we could and we've managed to get maximum points. All the credit goes to the players. We had 16 players on the pitch and none of them let us down. The seven players in the stand were every bit as happy as everyone else was. We have a good group but we're working hard to get better and better and tonight was a chance to put our mark on the group. We wanted to be competitive against a top team."
Spain responded strongly to McTominay's opener and Joselu hit the bar with a header. But they had no answer to the Manchester United player's second goal six minutes after half time. John McGinn hit the bar with a free-kick soon afterwards. "We knew it would be a night when Spain would have a lot of the ball, so it was important that when we had it we had to capitalise on the moments," said Clarke. "We did that. If you look at the statistics, they were very similar in terms of shots at goal, shots on target. We got a little bit fortunate when their defender slipped (for first goal) but we capitalised on the moment. It's very important that if the opposition make mistakes you capitalise on it against the top sides."
One Spanish journalist asked if he had been disappointed by Spain, who looked a pale shadow of the team that have been so celebrated over recent years. "I wasn't disappointed with Spain," he said. "I think they tried to play the way they normally play. We have to credit our team because we had an idea of what to expect from them and we closed the spaces well out of possession and we capitalised very well when we had the ball. We knew we would have to do that.
"It wasn't an easy game. I have spoken to a lot of the players in there and they are very tired mentally and physically. You have to think a lot against Spain because the movement is good. The way they play is very clever. I think tonight was just our night so we look forward to the rematch in October."
Scotland's next game is against third seeds Norway in Oslo in June. Clarke was asked if a result such as this one can transform the players' belief in themselves. "It should certainly give the players a little bit more belief for when you come up against the top sides," he said. "That's the last two number one seeds, Denmark in the World Cup qualification and Spain in this one that have come to Hampden and left with no points. So that's a step forward in what we are trying to do. But it's very important to stay grounded. There is still a long way to go in the group and as we know to our cost that one game can cost you dearly."