Tony Docherty opens up on taking Dundee job, the Mexican connection, striking out on his own and education
If it's the middle of July, then it must be time to meet the new manager of Dundee FC. Although not quite an annual event in recent years, it's not far from it.
Tony Docherty is the tenth incumbent since 2010. It's hardly providing penetrating insight to point out the peripatetic nature of a football manager's existence. But few positions have proved more volatile than the one at Dundee to the extent it's a surprise to discover a revolving door has not been fitted at the club's new training academy.
A look back at the diary for this week 12 months ago details a plan to sit down with the (then) new manager of the Dens Park club, Gary Bowyer, ahead of his first competitive game in charge against Stranraer. He was already enjoying the role. "Even if I packed up and went home tomorrow, I could not speak highly enough about it and would recommend it to people," he told The Scotsman on July 16, 2022.
While it wasn't as soon as the next day, Bowyer's stay in Dundee was short-lived. He left the area after just ten months but having achieved what he set out to do, which was deposit Dundee back in the top flight. Despite everything, he kept another promise by recommending the job to his successor. So they've spoken? "We did," says Docherty. "We have a mutual friend. I had a good conversation with him. No ill-feeling at all. He wished me all the best."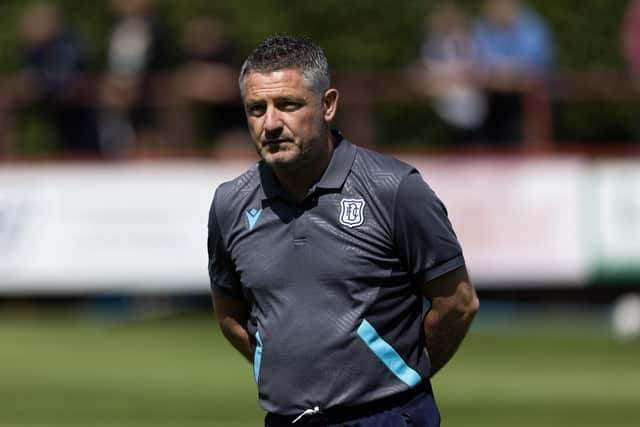 But Docherty is no fool. He has signed up for a club where his predecessor's employment prospects dimmed within days of a title win amid reports of strained relationships with the club's upper hierarchy. Even success, it seems, cannot guarantee avoiding the axe – or in Bowyer's case, being handed a letter spelling out the termination of his contract. After waiting years to strike out on his own, does Docherty consider this a wise place to take the plunge?
"I did feel that, when I got word about the job, all things stacked up," he says. "I would be crazy if I had not done my due diligence. As you say, there has been a pattern here. I'd like to think that the club's on a real upward trajectory having got back into the Premiership. I know they have done it before, but there is a good feeling about the place."
It is strange to be sitting in the same seat in the same office one year on with the intention of getting to know another Dundee manager. As much as Docherty is a well-kent face who has, bar a spell at Bristol City, been part of the Scottish football furniture for nigh on two decades, he has mostly been identified as "Derek McInnes's assistant". One imagines that might begin to grate after a while.
"I feel as if I am ready at this stage," he says. "That may sound a bit crazy at 52. I served a long apprenticeship. I watched Derek. Some days you were like: 'You don't need to do everything Derek!' But he wanted to do everything right. It is great learning from that. I try to make sure I do everything right as well. But I do feel ready."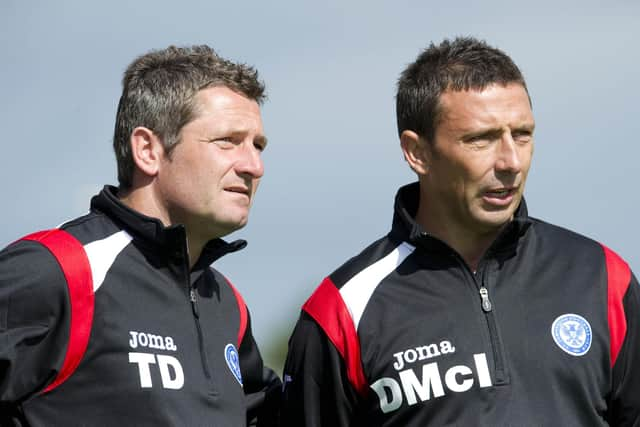 So, who is he? His ties to the area are well established. Dundee has become his adopted home. This proved helpful when Dundee needed to act quickly after their manager search was diverted elsewhere when initial target Callum Davidson rejected the opportunity. Docherty lives a ten-minute drive from the club's new training base.
"How I ended up here I do not know!" he says of his shift from west to east coast. "I've lived here for 18 years. I am from Glasgow, East Kilbride. I would never have seen myself venturing out. I moved up to Perth initially. Big Gordon Chisholm brought his family up in the Ferry. He said to me: 'Get yourself to the Ferry'.
"Me and my wife didn't have any kids at that point so we moved up. Within a year we had Sophia, she is 17 now." Another daughter, Isabella, quickly followed. "And we're still here," says Docherty. "When we went to Bristol for those couple of years, we rented the house out and then came back again. I think you could say I am a Broughty Ferrian ..."
Living nearby is not his sole qualification. Far from it, in fact. He's been preparing for this day since he was in his mid-twenties, when he was forced – by SFA red tape – to give up what was, by his own estimation, a moderate playing career as a midfielder.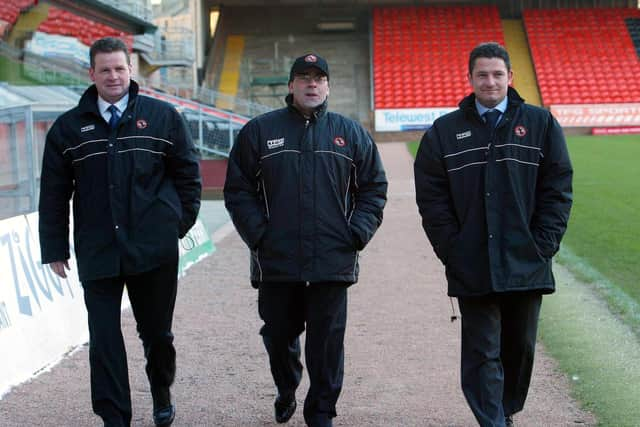 "It was always football for me," he says. "I signed an S-form with St Johnstone when I was 14, 15. I turned pro with Dunfermline. I actually combined it with a PE degree at Jordanhill College of Education. Because of that I went part-time, and my career from there went to Stirling Albion, and on a part-time trajectory from there."
Docherty was then given the opportunity to work at the SFA under Craig Brown, the then technical director. "I always had a relationship with Craig," he says. "When I was at Jordanhill he was one of the ones who would come in and take modules."
Docherty was at Albion Rovers at the time of the SFA offer. "Because it was a full-time coaching role in the SFA technical department, I had to actually resign from playing. Jim Farry was in charge (at the SFA) at the time. That is why I went into coaching at such an early age. Looking back, I think I was 26, 27.
"I always thought it was a bit harsh," he adds. "I think you could combine it and it would probably have benefitted you. I used to see players becoming better players because they were doing coaching badges at the same time and they could understand it more."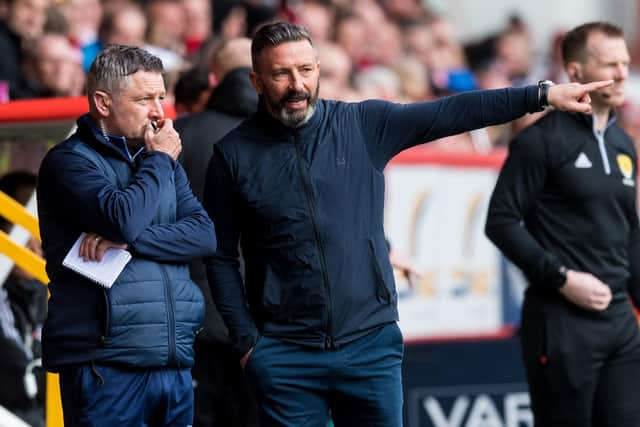 Nevertheless, he acknowledges the premature end of a football career that was unlikely to reach elite level helped put him on a different road. "I suppose it's paying off now," he says.
Like his mentor Brown, it's a case of what-might-have been in a playing sense, although the former Scotland manager, who died last month, did win a Scottish League title medal at Dundee. Brown would be enormously proud to know another Jordanhill old boy has taken charge of a club he once represented and held in such high regard. Indeed, although Docherty already aware that it was not looking good health-wise, the absence of a congratulatory message from Brown was a sign that his mentor was gravely ill. "I didn't get a text," he says. "That's when I knew."
----------------------------
A further sadness is that his father Gerald did not live to see his son take this next big step in his career. "He died during the pandemic, but I know he's looking down," says Docherty. His photograph takes pride of place in the windowless office the new manager has inherited from Bowyer.
It was his father who insisted that he combined football with obtaining a degree: "My Dad made the decision for me, when I had been offered the chance to go full-time at Dunfermline. I was a young boy. I just wanted to play football. But my dad made the decision: 'No, you will get an education'. Whether it hampered my playing career, I don't know, but I am doing what I am doing now because I got that start."
The Dochertys are a high-achieving family. His older brother, Vincent, is Aberdeenshire Council's head of education while Cambridge-based sister Geraldine is an artist specialising in murals, having graduated from Edinburgh College of Art. His father had no background in education. "He just knew it was important. He was a salesperson, mum was a nurse," says Docherty.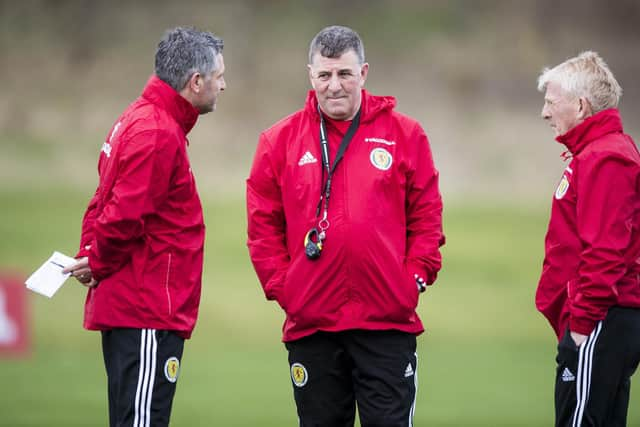 Another mentor is on hand. After chatting for an hour, the new Dundee manager suggests a tour. A familiar silhouette can be detected through the frosted glass of one office: Gordon Strachan. The technical director is in a meeting with John Nelms, the Dundee managing director. As much as Docherty might feel ready for management, so much relies on his relationship with this pair – as Bowyer can attest.
Docherty worked with Strachan for a short spell with Scotland. "He is brilliant in terms of recruitment. If you are on a Zoom to a big club and you have Gordon Strachan sitting beside you… "Gordon gives it that gravitas when you are attracting players. It shows when you are attracting players who have just signed a long-term contract at Liverpool."
On loan left-back Owen Beck is the Anfield recruit in question. Players have been arriving at a steady rate, with more to come. "I was just checking the wall planner there," says Docherty. He is currently reading The First 100 Days, a book by former Dundee United manager Micky Mellon with headmaster Phil Denton. Its subtitle is: Lessons in Leadership from the Football Bosses. Case studies including West Ham United manager David Moyes underline the importance of those first 100 days in those embarking on new leadership challenges. Docherty's not even at the halfway mark. "I think it 35 days," he says. "And you know what, I am really pleased with the progress the team are making, and myself. I am enjoying the role. Yes, it is crazy, it is bonkers. But it is good."
The absence of Dundee United in the forthcoming season's fixture list meant there wasn't an obvious match Dundee fans rushed to circle with red pen. But an intriguing one is the first meeting between the sorcerer, McInnes, and his apprentice on September 23 at Dens Park. Did Docherty race to see where Kilmarnock fell when the games were announced last month?
"Not really to be honest," he says. "The most important thing was looking at the start. I wanted to get off to a good start, the fifth game in, I think, is Celtic. You look at the games at Christmas, you look at when you have the Old Firm.
"So no, I would not say that was a huge thing. I know other people will make a huge thing out of it, but I know Derek would not have looked for it first either. I know his personality. When it comes around it will be competitive, but every game is."
They first met at Dundee United, where Docherty was part of Ian McCall's background staff and McInnes was winding up his playing career. "We have been through a hell of a lot in those 15 years," he says. "There was an understanding from him as well. Obviously, I discussed it with him. By the end of that I had his blessing. We'll always be pals. But right now it's the end of an era, or a chapter."
If Kilmarnock finish a place below Dundee, it would guarantee that Docherty is a step closer to what he craves, in the first instance – survival. The Rugby Park side achieved this without the need for a play-off last season in their first season back in the top flight. Docherty knows what's required.
He believes he has the components of a competitive side. Some of the ingredients are positively exotic, stirring memories of the days when foreign elan was a distinguishing mark of Dundee. Two Mexicans, Antonio Portales and Diego Pineda, have been signed from clubs in that country's second tier. How so?
A five-person recruitment team is now in place at Dens Park, which includes Docherty, Nelms and Strachan, the club's technical director. A player's recruitment requires unanimous approval. "John had a contact in Monterrey, which allowed us to look at this market," explains Docherty. "Quite quickly we identified Tony Portales as a really competent player that we think will suit the Scottish game. We did our due diligence and were really impressed. For a start, the way he plays – he is a passionate, old-school defender, who I think will really appeal to Dundee fans.
"I don't want to go back to the days of Caniggia and the nostalgia that evokes, I don't want to put pressure on them, but hopefully things go the way I hope it will go with these boys. They'll certainly inject a bit of passion. I think the two of them will enhance the Scottish game." They are due to arrive in the country next week after visa delays, though probably not in time for Tuesday's Viaplay Cup clash at Bonnyrigg Rose, Docherty's first competitive match in charge.
Older, experienced pros will blend with the array of talented young guns, including last year's player of the year Lyall Cameron. "What I am trying to bring is an identity to the club," says Docherty. "These young, raw, hungry talented footballers, I want to try and help them realise their potential. The way to do that is to bring in four or five what I call cultural architects, who carry the cultural identity of the club. Your Joe Shaughnessys, for example, guys who set the professional standard."
Eight top-flight relegations since reconstruction in the mid-1970s have hampered efforts of successive regimes to restore the Dens Park club's fortunes for a consistent spell. There have been glimpses of potential but only glimpses. Asked what Dundee meant to him in the 1980s, when he was growing up, Docherty smiles: "I just remember Dick Donnelly! It was always the Dark Blues and the Tangerines!" In addition to a legendary Tayside broadcaster, he recalls "the Albert Kidds, Cammy Frasers, Jim Duffys. They were always a good football team.
"I remember the first time I came up here and saw the two stadiums, and I was like, really? This is a football place. I understand the passion. It is not a rivalry like Celtic-Rangers, Hibs-Hearts even. But it's fierce. It's all about the football here, which I really like." While there's no Dundee United to worry about for the time being, there's plenty else on the driven Docherty's plate.