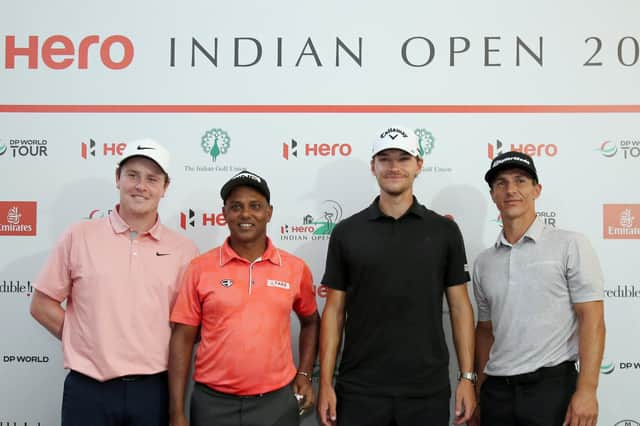 The Oban man is among five Scots, the others including defending champion Stephen Gallacher, heading into battle at the notoriously-difficult DLF Golf & Country Club in New Delhi.
It's MacIntyre's debut in the event, which, due to a Covid hiatus, is being held for the first time since Gallacher landed a fourth DP World Tour title triumph at the same venue in 2019.
"I've heard a lot of stories about how difficult and almost wild it is," admitted MacIntyre as he joined Danish duo Nicolai Hojgaard and Thorbjorn Olesen along with home player SSP Chawrasia at a press conference.
"I played the back nine today and, standing on the 15th, I thought 'this is alright here, we can deal with this' then the last three and a half holes, it blew my mind a little bit. It's the same for everyone, it's just different, it's going to be difficult, it's a mental test rather than a test of your golf game."
The Italian Open champion is running out time and chances to climb back into the world's top 50 before the final cut-off for invitations to The Masters in April. But he's certainly not given up the ghost yet and hopes this test might suit him.
"I don't mean to sound disrespectful to anybody, but there are golf courses that suit me and it's the difficult ones where you're not needing to shoot 20 under par to win golf tournaments," he added.
"When it's more demanding off the tee and more demanding into greens, that's when I play my best golf. I've shown that throughout my years on Tour and this golf course is a tee to green monster.
"I'm happy with the way I'm playing with things tee to green, it's just going to be a mental test. My last five mental tests, I've failed, so hopefully I'm going to pass this one.
"You've got to try and stay out of the bunkers, I've not been in one yet. I'm trying to avoid that. It's beautiful to the eye, it's stunning. You know if you're off line, you're in trouble. It's just a tough, tough golf course.
"I would be amazed if you see double digits this week. This week is the first week of the new season that I've got a calm head on."
MacIntyre, who has been paired with follow Ryder Cup hopefuls Hojgaard and Guido Migliozzi in the opening two rounds, hit his ace at the 16th on Tuesday.
"It's a difficult hole and I'm just trying to hit it on the green," he said. "It's playing 243 yards, so I just wanted to get it around the green. I hit a good one (4-Iron) and I thought 'that might have a chance' and I get down there and it's in the hole."
In addition to MacIntyre and Gallacher, David Law, Sandy Scott and Euan Walker are also teeing up in the event, which starts on Thursday.