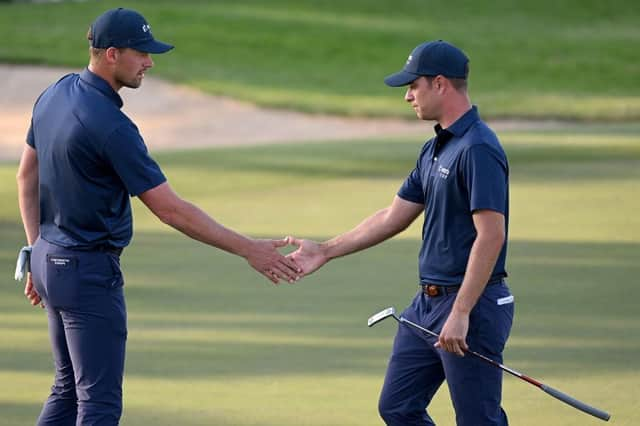 Helped by Perez picking up two-and-a-half points so far, including a brace of second-day wins, alongside Italian Guido Migliozzi, Continental Europe, captained by former Open champion Francesco Molinari, lead Tommy Fleetwood's Great Britain and Ireland side 8.5-6.5 heading into the concluding singles at Abu Dhabi Golf Club.
MacIntyre had recorded two wins out of two and Ferguson had been unbeaten before they both suffered defeats in the second of two foursomes sessions on Saturday, but, with the contest set to be decided by ten head-to-head tussles, it's still all to play for.
"Win the first two games tomorrow and it's all level - that's what we've got to focus on," said Fleetwood of the concluding session. "We've been behind all week but, if we can get off to a fast start in the singles and try and build momentum to get level with them and then past them, that would be a really big deal to start with."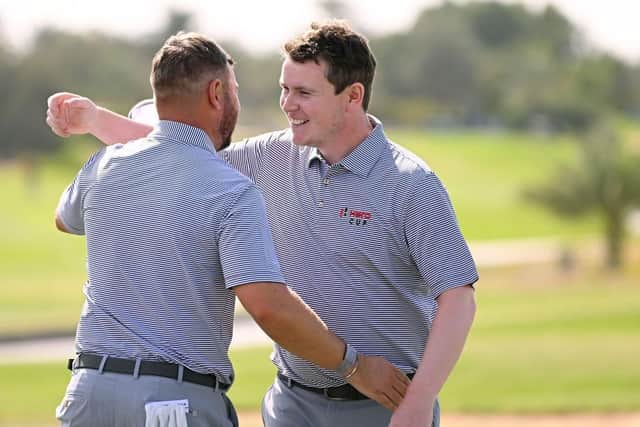 In a tightly-fought encounter, Molinari's men have edged two of the three sessions so far. "The team is on the right path," said the Italian. "The boys have done great and it's been a real pleasure for me in getting to know them better in spending quality time with them both on and off the golf course."
In Saturday's morning session, which ended up being shared, MacIntyre and Englisman Jordan Smith had recovered from being three down early on to beat Adrian Meronk and Antoine Rozner on the last hole.
MacIntyre, who'd already tasted victory alongside Irishman Seamus Power in the opening fourball session on Friday, holed out from a bunker for a birdie-2 at the short 12th. The Oban man then produced another piece of short-game magic to secure a half at the 17th before holing from five feet for a birdie at the last then seeing Meronk miss from closer to the hole for a half.
"It was massive as it was such a difficult shot," said a smiling MacIntyre of his timely heroics at the 12th. "We'd done nothing wrong all day and Mike [Thomson, his caddie} said to me, 'you are never dead' and I suppose he was right. We both played unbelievable, even when we were down early. They were superb early on, but both our games gel tee to green and I am delighted with the way we finished."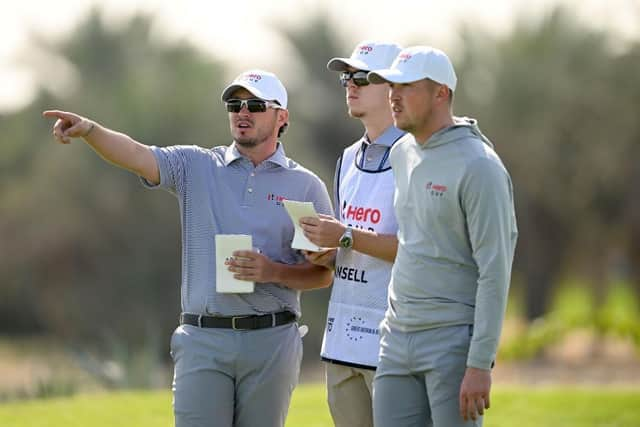 Back alongside Power in the afternoon, Perez and Migliozzi ended the Scot's winning week, though not without putting up a fight, as was the case with Ferguson and Englishman Richard Mansell as they went down to Molinari and Nicolai Hojgaard.
"It's very, very close and I am proud of the guys," added Fleetwood, who won both of his second-day matches, firstly alongside Tyrrell Hatton then with Smith. "Richard and Ewen led the team off all day and did an amazing job and I'm also proud of Bob and Seamus anchoring the team this afternoon. Everybody's attitude has been great."
Hojgaard, a late replacement for his injured twin brother Rasmus, has picked up two-and-a-half points from three matches, all of which have been at Molinari's side. "It's been great for me and I found a great partner in Nicolai as we have gelled really well while having a lot of fun out there," he said, smiling. "I am pleased also as my golf game has shown some good signs, so it's a nice way for me to start the year."
With Migliozzi also grabbing his opportunity to shine, there's a good chance the Italian crowd could be sent into a frenzy at Marco Simone Golf Club in September. "When an event like the Ryder Cup and being held in your own country, it is such a big occasion that everyone is super motivated to be there," admitted Molinari, who became the first European player to win five points out of five in the 2018 match in France.
The reinvention of the Seve Trophy came in the wake of a heavy defeat for Europe in the last Ryder Cup at Whistling Straits. Overseen by Donald, it has included motivational talks from four winning captains against the Americans. Jose Maria Olazabal, Paul McGinley and Thomas Bjorn did their bit earlier in the week and, on Friday night, Sam Torrance addressed the 20 players. "It has been great to have so many good vibes at this event," said Molinari, who will lead from the front in the singles against Shane Lowry, the Irishman bidding to end his week on a high after tasting three defeats so far.
Both in the bottom half, Ferguson takes on Austrian Sepp Straka while MacIntyre faces Swede Alex Noren. "It's wide open tomorrow," insisted Ferguson. "While Europe lead by two points, that lead can quickly be wiped-out playing match-play. I know that will be Tommy's message tonight and I've lost none of my excitement heading into the singles."
Second-day results (Continental Europe names first)
Thomas Pieters/Alex Noren tied with Ewen Ferguson/Richard Mansell
Sepp Straka/Thomas Detry lost to Tommy Fleetwood/Tyrrell Hatton 1 hole
Francesco Molinari/Nicolai Hojgaard bt Callum Shinkwin/Matt Wallace 3&1
Antoine Rozner/Adrian Meronk lost to Jordan Smith/Bob MacIntyre 1 hole
Victor Perez/Guido Migliozzi bt Shane Lowry/Seamus Power 3/2
Thomas Pieters/Alex Noren lost to Tommy Fleetwood/Jordan Smith 2&1
Francesco Molinari/Nicolai Hojgaard bt Ewen Ferguson/Richard Mansell 2&1
Antoine Rozner/Adrian Meronk lost to Callum Shinkwin/Matt Wallace 2&1
Sepp Straka/Thomas Detry bt Shane Lowry/Tyrrell Hatton 1 hole
Victor Perez/Guido Migliozzi bt Seamus Power/Bob MacIntyre 2&1
10:35 Francesco Molinari v Shane Lowry
10:45 Thomas Pieters v Tommy Fleetwood
10:55 Antoine Rozner v Tyrrell Hatton
11:05 Nicolai Hojgaard v Seamus Power
11:15 Thomas Detry v Matt Wallace
11:25 Adrian Meronk v Callum Shinkwin
11:35 Victor Perez v Jordan Smith
11:45 Sepp Straka v Ewen Ferguson
11:55 Alex Noren v Bob MacIntyre
12:05 Guido Migliozzi v Richard Mansell