The 27-year-old Ayrshireman was one of the last players into the event and looked to be heading for an early exit as he covered his opening 14 holes on Thursday in six-over-par. But, after finishing birdie-birdie when he returned to finish his first round early on Friday morning, Walker then carded a two-over 70 in his second circuit to comfortably make the cut. Boosted by that, the Challenge Tour player made another leap up the leaderboard on the back of a polished performance that saw him card a four-under 68 in the penultimate round.
Germany's Yannik Paul leads the way ahead of Sunday's final round but his five-shot overnight advantage has been trimmed to just one stroke. Paul carded a 71 on Saturday, his worst score of the week, after hitting three bogeys and is sitting on 11 under par, just ahead of his compatriot, Marcel Siem, who shot a third-round 67.
"I played really well today," said Walker of picking up birdies at the first, fourth and eighth going out before adding another one to finish as he moved into a tie for 12th on two-under. "It's the first round in a while where I've had really good control of the ball all the way round. I had maybe two shots out of position on the front nine and I was able to recover for pats. But, other than that, I was on the fairway and on the green - exactly how I wanted to play."
Opportunity
He was particularly pleased with his closing birdie after running up a 7 in the opening round then dropping another shot in the second round.
"Finishing with a birdie was really good as I've not played it well the last two days," he admitted. "Today I hit three good shots and a nice putt and it was really good to finish like that."
Walker's main focus this year will be the Challenge Tour, having made it to the season-ending Grand Final in Mallorca last year but coming up just short in the battle for 20 main tour cards.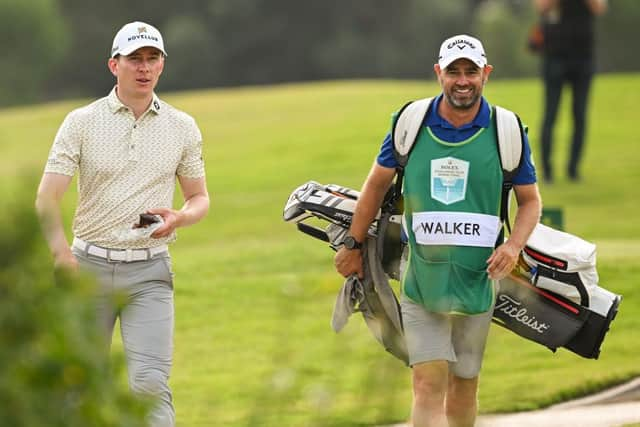 "It's been good," he said of his opportunity this week. "On the first day, I was out in the afternoon and it was quite windy. I think for my first round out here in a breeze it was very difficult as it's obviously a difficult course. But, on Friday and Saturday, the weather conditions have been much better and I've had really good control of the ball.
"It's my third week of the new season and my fourth in some warm weather and it's good to see that my control of the ball is coming back a bit. If you get the chance to play in a DP World Tour event, you want to do your best as it's an opportunity to earn quite a lot of money so you've got to try and make the most of it."
Bob MacIntyre, the other Scot to make the cut, sits in a tie for 48th on three-over after finishing birdie-birdie for a 71.