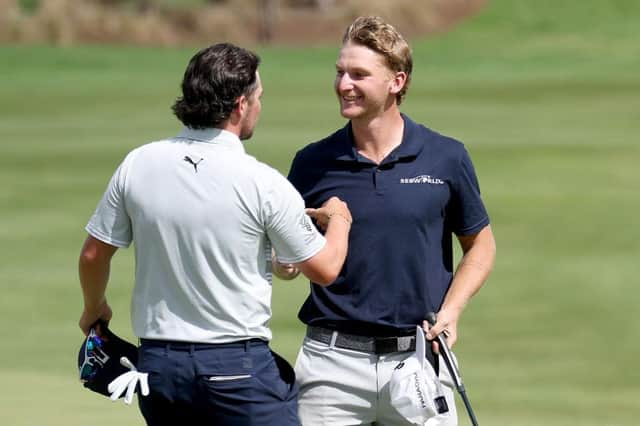 On the back of securing a tie for third in the SDC Championship at St Francis Links on the Eastern Cape, the 26-year-old produced another polished performance in the Jonsson Workwear Open.
Victory at The Club at Steyn City in Johannesburg in an event co-sanctioned with the Sunshine Tour went to Nick Bachem as the German signed off with a scintillating 64 to land his maiden win on the main tour by four shots on 24-under-par.
But Ferguson had nothing whatsoever to be disappointed about after closing with a bogey-free 68 to finish on 19-under and claim a share of fourth spot on this occasion
"I tried my best," said the Bearsden man, a two-time winner in his rookie season in 2022. "Just didn't hole as many putts as I needed to and Nick just played too well to catch him. There was nothing more I could have done apart from holing a few more putts here and there.
"But sometimes that's the way the golfing gods are at times and you just have to get on with it, so I will just move on."
Ferguson earned around £56,000 for this effort, taking his haul for the two weeks to just over £110,000. He's now recorded eight top-ten finishes in total on the tour tour.
"Yeah, two top-five finishes, which is pretty good golf," said the Dubai-based player of his trip to South Africa. "You don't get a lot of chances to win and it's about embracing being in these positions, take it all in and try and learn from it for the next time."
Bachem's rise has been incredible from only recently playing on the PGA EuroPro Tour and the Challenge Tour, to now being crowned a champion on the DP World Tour.
"It feels amazing," said the 23-year-old. "I think it's my tenth start on the DP World Tour. I always believed I could win out here. But, to be honest, just playing on the DP World Tour has been overwhelming, and now to win on it as well is amazing. I actually can't process what's happened to me over the last few years."
Calum Hill closed with a 66 to finish joint-46th on ten-under, two ahead of Connor Syme following his last-day 71.
Elsewhere, Craig Howie and Liam Johnston both secured top-ten finishes in the Duncan Taylor Black Bull Challenge, the first leg of a Challenge Tour double-header at Karnataka Golf Association in Bangalore.
In an event won by home player Om Prakash Chouhan, Peebles man Howie tied for sixth, jumping seven spots to 16th in the Road to Mallorca Rankings, with Johnston just behind his compatriot in joint-eighth.
Meanwhile, David Drysdale claimed his first top-ten finish as an Asian Tour card holder after signing off with a 65 in the World City Championship at Hong Kong Golf Club.
In an event cut to 54 holes, Taichi Kho made history by becoming the first player from Hong Kong to win on the circuit, securing a spot in the 151st Open as an added bonus along with Australian duo Michael Henry and Travis Smyth, as well as Korea's Bio Kim.