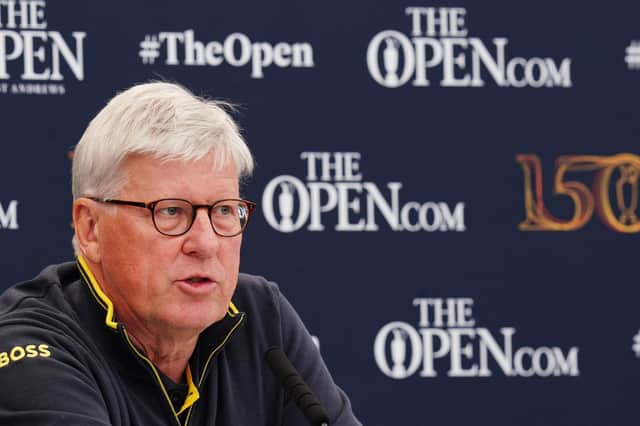 In feedback about the ball issue possibly being tackled overall in the game and drivers being targeted again, the game's two governing bodies – The R&A and USGA – were delivered one resounding message. "Don't do anything to affect the recreational game" was what came across loud and clear from a wide group and, in fairness to R&A chief executive Martin Slumbers and his USGA counterpart Mike Whan, they have both listened and responded to that.
In a step aimed at tackling the distance issue at the top level in the men's game in the next couple of decades and not necessarily straight away, the two bodies have proposed a Model Local Rule (MLR) that gives competition organisers the option to require use of golf balls that are tested under modified launch conditions.
The aim is to introduce testing parameters for today's game but retain 320 yards as the permitted maximum distance in testing, the same as it was back in 2003/04 when hit at 120 miles an hour club head speed before players really started to step up in terms of athleticism, as well as benefiting from enhanced club technology.
The MLR is intended for use only in elite competitions and, if adopted, will have no impact on recreational golf. The modified testing set-up in the proposed MLR is expected to reduce hitting distance by 14-15 yards on average for the longest hitters with the highest clubhead speeds.
Manufacturers and golf stakeholders, including the likes of the PGA Tour and DP World Tour, will have the opportunity to provide feedback until August 2023 and, if adopted, the proposal would take effect in January 2026.
Both Slumbers and Whan said the MLR would be implemented straight away in events run by their organisations, including The Open and US Open, though, according to Slumbers, there is no need at the moment for it to be utilised in events such as the AIG Women's Open or US Women's Open.
"As custodians of our sport, we're of the view that at the elite male level, both amateur and professional, we've crossed the Rubicon with regards to where hitting distance is but, more importantly where it is trending, and it's our responsibility as governing bodies to propose change to protect the long-term integrity of our sport," said Slumbers in a joint-media conference with Whan.
"Golf has become far more athletic and technology has improved substantially, and it is the future impact that is the most pressing concern to the USGA and the R&A. The notice and comment puts forward a new Model Local Rule for elite golf that updates the parameters for the overall distance standard to today's game.
"If you're a keen follower of elite men's and boys' golf, it's clear that the next generation of top players are bringing even more technique and athleticism to golf and using the best of technology innovation to deliver even more consistent faster swing speeds.
"During the last four to five years, I've been asked about what are we going to do many times. I've always responded by saying this is a serious issue and needs serious people thinking very carefully. I have been hugely encouraged with the level of collaboration and debate by serious people.
"Change is difficult, and we fully recognise that not all agree with our thinking. But we have listened and considered other points of view very carefully. Our role is to protect the future of golf, both in terms of its overall integrity as a sport, its broad mix of skills to deliver excellence, and its environmental responsibilities over the next 20 to 30 years.
"It would be irresponsible of us to not address these matters which have had so much attention. We know this is challenging, but it's our responsibility as governing bodies to do what is right and not what is easy and ensure we leave the game in a better state for future generations."
Is the proposed step bifurcation? "Look, that's a word that I think has caused some anxiety for governing bodies in the past," admitted Thomas Pagel, the USGA's Chief Governance Officer. "But, in this instance, if somebody wants to call this bifurcation, I'm not going to have an argument over words with them.
"Use of a Model Local Rule – they have always existed; there are 80 plus model local rules currently in the book and more than ten are related to equipment - is something that we've done consistently over the years. We've always said it gives the game options and, in this case, we're just giving the game options."
Speaking in 2021, Augusta National chairman Fred Ridley said a "Masters ball" would be a last resort in the battle to limit hitting distances, with the par-5 13th at the Georgia venue having extended by 35 yards for this year's tournament on the back of several other holes having been lengthened in recent years.
The PGA of America, which runs the PGA Championship, has yet to comment, but Slumbers, speaking after the media conference, told the PA news agency: "As part of our consultation on this proposal, we sought the views of the other major championships and that has certainly shaped our thinking. Each of them will have to give their own view on this in due course, but we will do everything we can to bring the game along with us on this."
He also said: "We're not the first sport to do this. There are many other sports that have this sort of split model, and they seem to find a very clear way of being able to do it, and I'm sure we will."