Ken Schofield on European Tour, Ryder Cup and golf's 'Famous Five'
Ken Schofield would have been perfectly happy to remain in the banking industry in his beloved Perthshire if an opportunity to venture into sports administration hadn't arisen.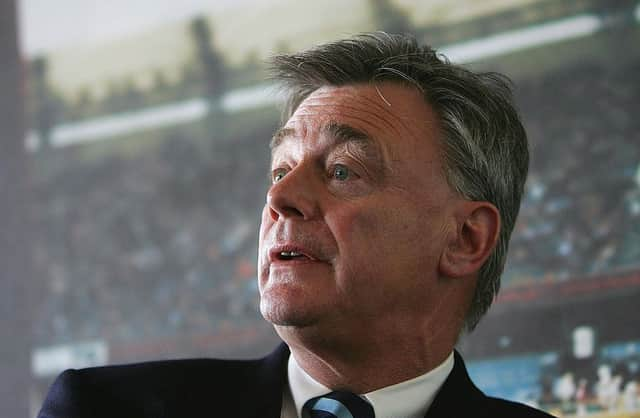 That was with the European Tour shortly after it was formed and, after succeeding John Jacobs in 1975, he served as the circuit's executive director for just under 30 years.
Schofield, who now lives in Woking, was inducted into the World Golf Hall of Fame in 2013 for his services to the game and takes a trip down memory lane in this exclusive interview.
How did your first career in banking come about?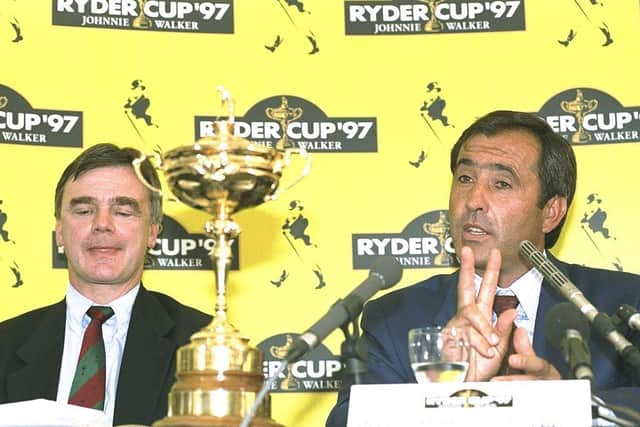 KS: Well, my attempts to get into a sporting career early on did not materialise. I wanted to try and play football for St Johnstone, but I discovered that I wasn't good enough. When I left school in the first year of the O Levels in 1962, I got the chance to join the Trustees Savings Bank in Perth and I immediately set about the School of Banking Exams by a correspondence course. I was very lucky as I did the 10 exams in four years, got my qualification and enjoyed nine-and-half very happy years in the bank. I can honestly say that, 50 years on, I would probably not have left the bank but for the chance to get into sports administration.
Is it right that your father, Douglas, was a decent footballer?
KS: He was a Lancashire lad and was signed on provisional forms by Bury, but that was in 1938-39 and he then had to serve his seven years in the Second World War. Near the end of the war, in 1944, he ended up teaching machine-gunnery at Cultybraggan Camp in Comrie, met his wife to be, a Perthshire lass named Jessie Gray, and I arrived in 1946. From the moment I could walk, he had me trying to trap and kick a football, as well as bat, bowl and catch a cricket ball because those were his two sports.
Was it during your time in the bank that you first got into golf?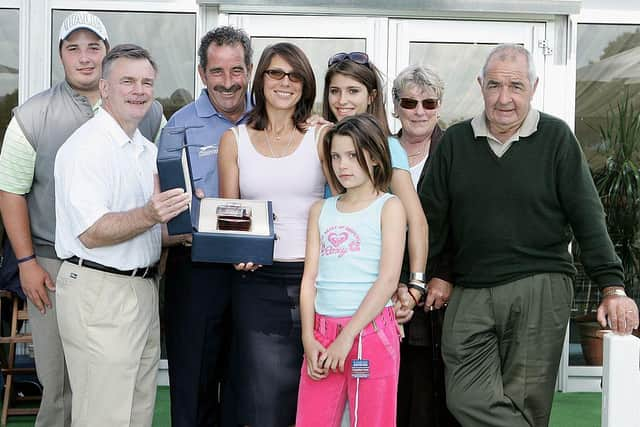 KS: It was before it, actually, because, although football and cricket were my first two sports at school, my father took me to Gleneagles for the first time in October 1958 and that was the first time I ever saw Peter Alliss. He was in the final of the old Saxone Foursomes, which finished the season. He lost to Donald Swaelens, the Belgian pro, who sadly died prematurely with cancer. He and a local draper from Alloa and a Dunwhinny member, Ian McDonald, beat Peter and the American staff sergeant who had stayed in England after the war, Harold Ridgley. Peter was 27 or 28 at the time and I said to him on many occasions over the years that he was an adonis (laughing).
It seems that left a big impression on you?
KS: It certainly did and, two years later the Dunlop Tournament was played over the King's and Queen's Courses and again my father took me up there and I saw the generation of the John Pantons, Eric Browns and Christy O'Connors and Peter again. That kind of probably fired my enthusiasm to play. My father played in the Auchterarder Primrose team with a chap called Ian Mailer. His brother, Ronnie, captained lifted the Scottish Cup for Dunfermline in 1961. They were fine golfers, probably three of four handicappers, and they made it easy for my father to take me up and join Auchterarder and that's when I started at probably 13 or 14.
How did your move to the European Tour come about then?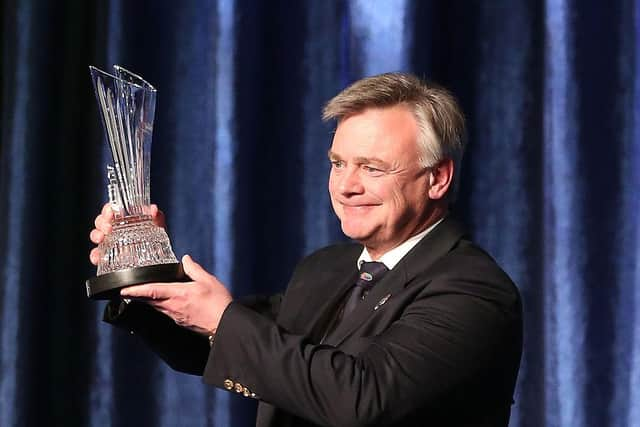 KS: It really started from August-September 1971 because the players held their big meeting at Fulford in the Benson & Hedges event to appoint John Jacobs as the first tournament director general with the target of starting their own tour, if you like. I got The Scotsman every day back then and read Norman Mair. I also got Golf Illustrated every Thursday and Golf Monthly as well. I saw an advertisement from a chap called George Simms, whom I'd never heard of. He'd got the contract to be John Jacobs' press and PR man. He was advertising for a deputy and I applied for that job when I was on holiday at a time when I was the branch manager of the bank in Dunblane. I did three years with George, who taught me an awful lot and then as John started to want to go back to running his teaching business, he told Neil Coles, who was chairman by then, and the generation of Bernard Gallacher, Tommy Horton, Peter Townsend, 'Ken knows my mind, so he will take it forward'. That's when I started in 1975.
How many events were on the circuit back then?
KS: John's great move was to unite western Europe, as it then was, with what had been the PGA's circuit in GB&I. When I took over, John had got the total tournament purse up to half a million a year over about 17 or 18 events. He really united western Europe as there was really no golf east of the Berlin Wall back then.
You must be proud of how the tour grew in your time at the helm?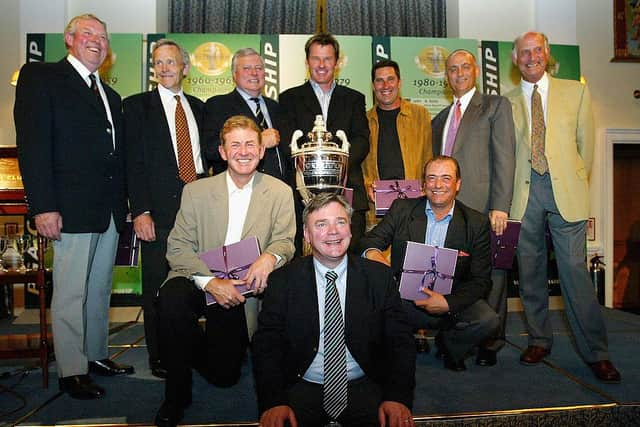 KS: If you look back, we were able to build a sustainable schedule and get better prize-money and eventually get better playing conditions for the guys. Of course, at the time you never think about that, you are just going from year to year trying to make it better.
Was there a particular tournament you take pride in, having helped establish it and watch it grow?
KS: If there was one above the others, it would probably be the old European Open. When Sven Tumba, the charismatic Swede who played football and ice hockey for Sweden and finally golf in the World Cup, came to the Ryder Cup at Lytham in 1977 and told us he was going to start a European Open the next year with multi-sponsorship, which he and we did at Walton Heath, what we didn't know that behind the scenes that the financial backing he had wasn't really secure. The second edition at Turnberry in '79 was the week before the European team for the Ryder Cup took off for the Greenbrier but there was an ITV strike so there was no TV coverage of that European Open. In fact, there was no TV coverage of that Ryder Cup, either. After the 1980 one back at Walton Heath, the financial backers Sven had pulled the plug. There were a lot of people who had supplied genuine services to the tournament like the tentage contractors, grandstands right down to the local ladies who supplied the flowers in Tadworth that were still to be paid. We felt a moral obligation, if not a legal one, to try to make that good and we did eventually. We paid all the creditors off and we kept the tournament going. We took it to Hoylake under new management in 81 and it was still going strong until I finished. I know it is under different management and has been played recently in Germany, but I think they still use the old European Open trophy with all the Continental flags on it. That was one that I was associated with as much as any, just as unquestionably what is now the BMW PGA Championship was always George O'Grady's baby. He really grew that tournament when it was under the Volvo banner. He did a wonderful job on that.
How was it dealing with the likes of Seve Ballesteros, Nick Faldo, Sandy Lyle, Ian Woosnam and Bernhard Langer?
KS: Many refer to them as the 'Famous Five', of course, but I have always referred to them as simply five guys who were all born in the calendar year of 1957, early 1958. We weren't to know immediately, but they changed the international golfing landscape. The great fortune we had is that we managed to keep them playing in Europe by expanding the schedule each year and, of course, their pulling power and, in particular, the sheer magnetism of Seve, who was really the leader, was a great drawing card.
Did you have any issues with them?
KS: The only thing was on the odd occasion when you had to say 'no' to them about something. Rightly, they had their own personal managers, though, in those, days they didn't have as big a team around them as all the leading sportsmen and sportswomen do now. Occasionally, someone, and that someone was me, had to say, 'sorry, but we can't release you for this or that'. But they were five wonderful players but also, in different ways, five great guys.
The face of the Ryder Cup changed during your time. How pleasing was that?
KS: Well, the first five Ryder Cups I attended, starting at Laurel Valley in 1975, all ended in wins for the United States, and I have always said that if I'd been a football manager, I would have been sacked (laughing). But the widening of the team to Europe obviously changed the history of the Ryder Cup and from the moment the team got very close, when Jack Nicklaus kissed the divot left by Lanny Wadkins after he stiffed his wedge shot at Palm Beach against Jose Maria Canizares to just get the Americans over the line in '83 and Seve said in the team room, 'why everybody down as we are going to be the real winners when they come to The Belfry in two years?' And, of course, he was right. From then on, Europe has had a tremendous run, really.
What have you made of the recent strategic link up between the European Tour and PGA Tour. Was that inevitable at some point?
KS: I don't know if it was inevitable, but, in my time, we always felt we had very good relationships with the PGA Tour. I think we probably understood they were the piper calling the tune because of money and because they always had a full 10-month schedule. In many ways, when we started going over there to the Players' Championship and to other events, we tried to follow them and do many things, if you like, that made their tour very successful. I never quite understood why some people felt we were opponents. I always felt the real opponents were the other sports as they were trying to chase the same sponsors in Britain and Europe as we were or indeed the broadcasters. If the European Tour needed a cash injection, my only concern would be if that cash injection was needed pre-Covid. In the 16 years I've been gone, I've not been quoted with any comments on how the tour is being run because I think it is inappropriate. I was very fortunate to have a great time but now is a very different time. But, if it needed - and I stressed needed - a cash injection and that may be for a very good reason, then I would have thought the natural partner would be the PGA Tour.
Your honours include a CBE and a place in the World Golf Hall of Fame. How nice does that sound?
KS: Dear, dear (laughing). Well, as we know, the Hall of Fame honour is for service outside the ropes because as David Fay said on the night when he kindly introduced me, that it wasn't for my ability as a player. George and I chide each other as we think we are candidates for the worst golfer ever to have led any tour (chuckling) and, in my case, the combination of John Jacobs and John Stark at Crieff couldn't do anything about that. But to be honoured in that way and to be able to attend the Hall of Fame gathering and rub shoulders with all of the great players of our time and many who kind of pre-date Jack and Arnold as they were kings when I first kind of got into it. Then the great Americans of the day, including Lee Trevino, and Gary Player was probably the only international who jousted with them in the majors. To sit with them all is a wonderful privilege.
How enjoyable was it to be part of the Golf Channel team for a spell?
KS: I think that's the other big thing for. I'm now starting my 17th year away from the tour and to have half of the 30 years that I had at the tour as an additional time with the Golf Channel has again been another privilege as it's enabled me to meet a lot of talented people, either behind the camera or the likes of Rich Lerner, Brandel Chamblee and Frank Nobilo in front of the camera. To work with them, even readily accepting that I was a bit part player, I so enjoyed it and it kept me in touch.
You have enjoyed watching St Johnstone from afar over the years and that Scottish Cup win in 2014 must have been special?
KS: I will never forget it as I had been invited that day by the captain of West Byfleet Golf Club - West Hill is my home club in Woking - to his charity day and it was a blazing hot day. As soon as we came off the course, I got a text of congratulations saying the Saints had done it. As recently as a week past Saturday night - and you will probably think I've gone bonkers in this lockdown - at 11 o'clock, I watched BBC Alba as they put on a full replay of Saints winning 3-2 at Rugby Park from 2-0 down to Killie at half-time (laughing).
Current manager Callum Davidson, of course, was a promising young golfer before pursuing his football career. Did you know that?
KS: Yes, apparently he was a very fine golfer, but what I didn't realise was that he was Dunblane-based. I also read recently that he was club champion at Dunblane and the only guy who could outdrive him was Jamie Murray, Andy's brother. I must say that is one of my other claims to fame. I was the mixed doubles badminton partner of Shirley Erskine, Andy and Jamie's nan and Judy's mum. I met Andy when he won the US junior championship in my last year at the tour and he got the BBC Young Sports Personality of the Year Award in London and I was able to say 'hello' to him.
Sum up what golf has brought to you in life?
KS: Well, of course, it was the largest part of my working life. It has enabled me to travel all over the world. It has enabled me to meet wonderful people, inside and outside the ropes. It's been my life.
A message from the Editor:
Get a year of unlimited access to all of The Scotsman's sport coverage without the need for a full subscription. Expert analysis, exclusive interviews, live blogs, and 70 per cent fewer ads on Scotsman.com - all for less than £1 a week. Subscribe to us today https://www.scotsman.com/subscriptions/sports
Comments
 0 comments
Want to join the conversation? Please or to comment on this article.