But, judging by the initial response to a bid by the game's two governing bodies, The R&A and USGA, to roll back the ball at the elite men's level, we're going to get one, unfortunately.
While some have welcomed a move that Martin Slumbers, The R&A chief executive, described as trying to "protect the inherent qualities of the sport and reduce the pressure to lengthen courses", others hate the idea.
"If they do it in a way where it only affects the top end, I see the rationale," said 2020 US Open champion Bryson DeChambeau. "But I think it's the most atrocious thing that you could possibly do to the game of golf. It's not about rolling golf balls back; it's about making golf courses more difficult."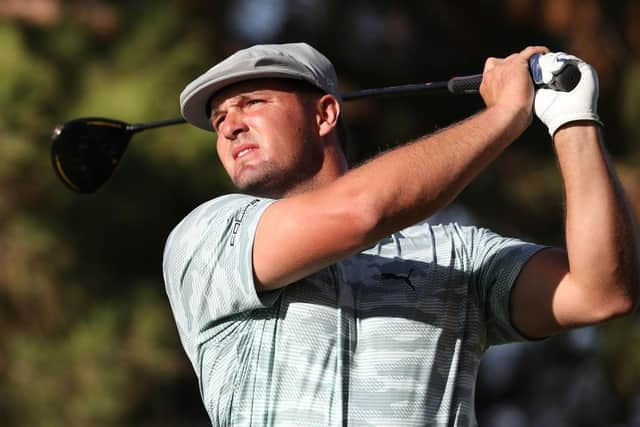 Not according to Richie Ramsay, one of the straightest-hitters on the DP World Tour but never always rewarded for that in a world where length often comes out on top over accuracy,
"People's argument where you simply make the rough on courses way thicker and narrow it in means more people will miss the fairway," said the Scot, who prides himself in being educated when it comes to course design.
"More people have less choice and more people will hit driver, so the longest gain. But that slows the course down and it costs way more (to maintain). Bethpage '19 (in the US PGA Championship) was a great example."
While The R&A and USGA intend to implement a proposed Model Local Rule (MLR) from 2026 onwards to try and curb the ever-increasing distance issue in the game, it doesn't necessarily mean the PGA Tour, DP World Tour or even LIV Golf would follow suit.
All those organisations will be sounding out their members over the coming few months and they'll probably have a fight on their hands to convince the majority that this is a positive step for them.
But, if does indeed turn into a fall-out, please let's not insult the intelligence of either Slumbers or his USGA counterpart Mike Whan because both those individuals are hugely passionate about game they represent and it's perfectly understandable that they feel action needs to be taken now that can be important for the sport in 20 years' time.