Heading into the season-ending Grand Final, which starts on Thursday at the stunning Club de Golf Alcanada on Thursday, the 27-year-old Troon man sits 21st in the Road to Mallorca Rankings and knows it can be job done with one big final push.
The top 20 in the standings after a 72-hole shoot-out at the picturesque Robert Trent Jones jnr-designed venue in Port d'Alcúdia will secured coveted cards for the main tour in 2023 and, buoyed by his recent breakthrough professional win, Walker is definitely up for, well, the challenge, of course.
"Really excited," he told The Scotsman. "It's great to be here and it feels like a proper, big event. Everything from the food in the players' lounge is amazing (something that can be seconded by this food-loving correspondent!)."
MacIntyre, Law and Forrest - Liam Johnston, too - all graduated at the end of the 2018 season, Hill and Syme then made the step up the following season before Ferguson and Craig Howie both secured top-tour cards 12 months ago. Ferguson, of course, has gone on to win twice in his rookie season.
"It would be absolutely amazing and all I can do is my best to try and make that happen," replied Walker to being asked how he felt about having a chance to extend a run of Scottish card success on the Challenge Tour.
The Dundonald Links-based golfer trails the player in 20th position, Frenchman Jeong weon Ko, by less than 5,000 points. A total of 500,000 points are up for grabs over the next four days, with the winner picking up 87,000 and the player in the 45th and final spot getting 2,895.
"I do want to know," admitted Walker of where he's standing as the event unfolds before heading into what will be a nerve-wracking final day for a lot of the players, even though it is reckoned that as many as 15 players already have cards secured. "I will kind of watch the leaderboard and see where I stand because it is always good to have an idea what you need to do, whether that is to win the tournament or finish in the top 10."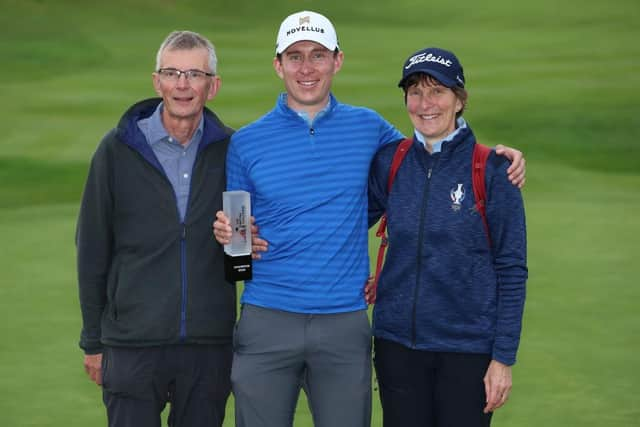 After winning in Spain earlier in the year, Johnston was in a good position to make it here only to come up just short. "It would be brilliant to be here with him," admitted Walker. "But, to be honest, a lot of the time this season I've been staying by myself anyway and meeting up with the guys for dinner or to play a practice round, so it doesn't feel that different."
And that's exactly what he's looking for, even though there can be no denying that, with Rolex as a partner and The R&A also supporting it, this tournament is a level about what Challenge Tour players are used to.
"Yeah, there is a job to be done and I have actually approached this week like a normal golf tournament," insisted Walker, who, like MacIntyre, Forrest and Hill, is part of the Bounce Sport stable. "You could bring your whole family out and make a bit of a holiday out of it, but I've not done that. My mum and dad are coming out, which is good, but, otherwise, it's very much like a normal week."
While he was pulling his own clubs when winning the British Challenge at St Mellion in Cornwall last month, Walker has Tim Poyser, an experienced DP World Tour caddie, on his bag this week. He immediately felt that was a good move on the pair's first trip up a steep slope to the driving range and is hoping it can continue to pay dividends.
"It is nice to have a caddie this week and Tim caddied for me before at the 2019 Q School," said Walker of Poyser, who has been working for David Horsey this year. "We get on well and he's a really good caddie, so I'm pleased to have him.
"I know what I am doing and obviously so does he. I mean, just having someone to chat to and get a bit of advice is a good thing. It would be great to have him on the bag long term but, at the moment, it's just this week."
Admittedly in bad weather, six-under-par was the winning total over the par-72 layout on the event's last visit in 2019. October was the hottest on record in Spain and there's still plenty of warmth in the autumn sun this week.
"The golf course is lovely and some of the views are amazing," observed Walker. "The cuts are well defined and, though there are a few worn patches on the greens, overall it is really good.
"I think the biggest test is going to be around the greens because they are quite firm and really fast as well. It's going to be very easy to have a difficult shot around the green and even putts from length are going to be quite difficult due to the pace of the greens as the day wears on. They were very shiny by the time I had finished 18 holes on Tuesday."
Swiss Jeremy Freiburghaus, who finished second in the Farmfood Scottish Challenge at Newmachar in May, leads the race to be No 1 ahead of South African JC Ritchie and Germany's Alexander Knappe, with 19-year-old Northern Irishman Tom McKibbin sitting 15th as he bids to follow in the footsteps of fellow Holyrood man Rory McIlroy in becoming a DP World Tour card holder.