The four-time major winner has had lots to say about Greg Norman's rebel tour, the majority of which hasn't been complimentary, but he adopted a different tone when he was asked about the arrival of LIV Golf in a press conference in the build up to this week's Players Championship in Florida.
"I'm not going to sit here and lie; I think the emergence of LIV or the emergence of a competitor to the PGA Tour has benefited everyone that plays elite professional golf," said McIlroy, who sits on the US circuit's Player Advisory Council.
"I think when you've been the biggest golf league in the biggest market in the world for the last 60 years, there's not a lot of incentive to innovate.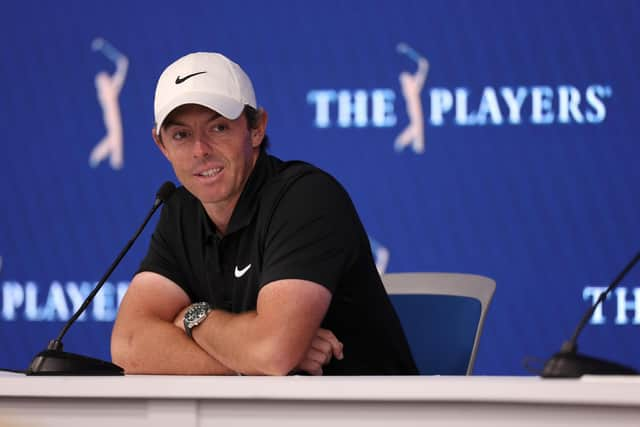 "This has caused a ton of innovation at the PGA Tour and what was quite, I would say, an antiquated system is being revamped to try to mirror where we're at in the world in the 21st century with the media landscape."So, yeah, you know, LIV coming along, it's definitely had a massive impact on the game, but I think everyone who's a professional golfer is going to benefit from it going forward."
PGA Tour bosses have reacted to LIV Golf League events offering $25 million prize funds by introducing designated tournaments carrying $20m pots this season. In another reactionary step to the breakaway tour being launched, the 2024 PGA Tour schedule will feature eight events with limited fields between 70-80 with no cut.
Also speaking at TPC Sawgrass in Florida, current world No 1 Jon Rahm echoed McIlroy's comments about a competitor effectively sparking the shake up.
"Oh, it's LIV Golf," said the Spaniard, already a three-time winner on the US circuit this season. "Without LIV Golf, this wouldn't have happened. So, to an extent, we should be thankful this threat has made the PGA Tour want to change things.
"I wish it didn't come to the PGA Tour being, you know, under fire from somebody else to make those changes and make things better for the players, but I guess it is what we needed. So, yeah, it is because of LIV Golf, otherwise we wouldn't have seen any of this."
Earlier in the day, McIlroy had attended a players' meeting, at which the plan for a mix of limited-field and full-field events going forward was outlined to the PGA Tour membership.
"Yeah, so I think when more information and data was presented to them, the people that maybe had reservations about it I think came around, or at least were more informed on their opinions," said McIlroy of that.
"I think the Tour executives did a really good job of basically just walking them through the slides that we saw in the board meeting last Tuesday. I think it was good for them to see that and to see what the thinking is behind what we're really trying to do here. I think the temperature in the room was nowhere near as hot as I anticipated it to be once the information was sort of laid out."
According to PGA Tour commissioner Jay Monahan, the first two designated events, the WM Phoenix Open and Genesis Invitational won by Scottie Scheffler and Rahm respectively, are a taste of things to come.
"This is what fans want and this is what fans have been asking for," he said, referring to the top players locking horns more often. "Here's a data point: Consider the last five years on the PGA TOUR. What percentage of the top 10, top 20, top 30 players in the world compete on average against one another at a major championship? The answer: More than 95 per cent.
"What about those same top players competing together at the remaining PGA TOUR events? Answer: Less than 40 percent. Let me repeat that. Less than 40 percent.
"We know that designated events can resonate both with core and casual fans, evidenced by the metrics of the WM Phoenix Open and the Genesis Invitational last month. But designated events can't stand on their own.
"You need strong, compelling full-field events to provide consistency and keep the PGA Tour top of mind week-in and week-out with storylines and breakout stars."
Monahan hinted that the World Golf Championships, which have been running for 25 years, could soon be a thing on the past while he vowed to "continue to deliver" on a commitment to see the DP World Tour grow in tandem with the PGA Tour through a strategic alliance.