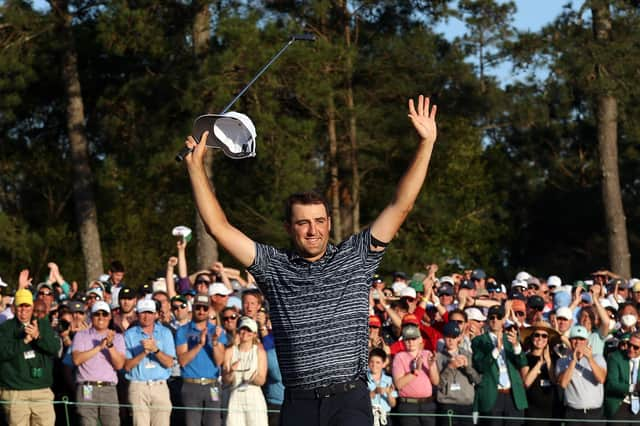 But, in a teleconference ahead of next month's Masters, the defending champion and world No 1 was happy to talk about sharing a room with LIV Golf players at Augusta National, as well as a new tee that has extended the par-5 13th.
Former Green Jacket winners Phil Mickelson, Dustin Johnson, Bubba Watson, Sergio Garcia, Patrick Reed and Charl Schwartzel will be among the LIV Golf contingent in the season's opening major.
Their exemptions have been honoured for this year and, in most cases, they'll be in a room for the first time with anti-LIV figures led by five-time Masters winner Tiger Woods at the Champions' Dinner.
"I haven't totally decided what I will say," said Scheffler of his role at that as the defending champion. "I'm aware I have to say a few words, but, for the most part, it's kind of a group thing. I'm not quite sure what the vibe will be like, but I think we are all there to play in the tournament and celebrate The Masters and celebrate all being past champions.
"I think the dinner will be really special for all us to be able to gather again and I am sure we will put all that other stuff aside and have a good time together. Just because guys joined another tour doesn't mean I'm not friends with them any more and think differently of them as people. They are still my friends and we are all just gonna hang out and have a good time."
Scheffler, who claimed his maiden major win with a polished performance last April, paid his first visit back to the Georgia venue on Monday and Tuesday as part of his preparations as he bids to join an elite group of players to win this event back-to-back.
"Being back there was really special," he said, wearing his Green Jacket as he spoke to reporters. "Got to play the course again, which was real fun. Any time you get to go on the grounds at Augusta is really special. I had a good time."
The tee at the 13th has been pushed back 35 yards, extending the hole to 545 yards. "I normally hit a big hooking 3-wood off that tee and now I hit driver on a little bit of a different angle," said Scheffler. "It's definitely changed the hole significantly. Whereas if you hit a good drive before you could kind of get it around the corner or I could kind of get it around the corner and have maybe a mid-iron in.
"But now you are hitting into that slope in the fairway and maybe having a 3-iron into that green, so you could see more guys laying up at that hole depending on the pin position. Yesterday I hit driver into the creek but the day before that I hit driver and I think it was a 4-iron."
Speaking ahead of his appearance in this week's Valspar Championship in Florida, PGA title-holder Thomas didn't hold back when he was asked about a move by The R&A and USGA to roll the ball back at elite level in the men's game.
"My reaction was disappointed and also not surprised, to be honest," said Thomas. "Why are this group of call it five to 15-handicapped amateurs determining the rules of golf for professional golfers or why are they saying that we have to do something? It's harsh, but I think the USGA over the years has, in my eyes, made some pretty selfish decisions. They're basing it off the top 0.1 percent of all golfers and it irritates me."