While most of the top clubs in the country have resident professionals who deliver coaching programmes for juniors in particular but also adult beginners, it's a different story at lots of other venues.
Seeing a gap in the market, former DP World Tour player Craig Lee launched a 'Pros on the Road' business two or three years ago and has been delivering coaching from Falkland in Fife to clubs in Skye, Arisaig and Cumbrae.
Now, in a bid to allow more clubs to benefit from such a concept, Scottish Golf has unveiled the introduction of the Roving Pro Club Framework, an enhancement to an existing scheme operated by the governing body, for 2023.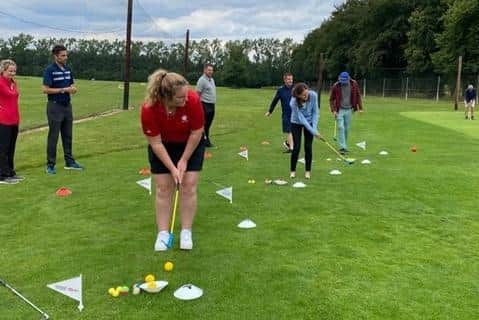 "The Roving Pro fund allows Scottish Golf to be able to help clubs that do not have a professional or a coaching programme create an inspiring and engaging environment, motivating golfers both new and existing to enjoy the game," said Stuart Clayton, director of pathways & coaching.
"A refined three-year framework allows for clubs to work with a professional to develop a sustainable coaching strategy to help grow and nurture the game."
During the current season, Scottish Golf will liaise with clubs as they transition beyond the initial three-year scheme, with the aim being to develop club-led coaching programmes in partnership with a 'Roving Pro'.
This area of support is separate from the governing body collaborating with partners across Great Britain and Ireland on a pioneering R&A-backed Community Golf Instructor Programme. The new training programme will create a dedicated new workforce to help develop the game in communities across the British Isles.
Designed in collaboration with all Home Nation Associations – Scottish Golf, Wales Golf, Golf Ireland & England Golf) - and the Golf Foundation, along with support from the PGA, the programme will deliver introductory group golf sessions, with the training developed and piloted in 2023 before being rolled out across Great Britain & Ireland in 2024.
The new programme, which has the full backing, financial support and ongoing guidance from The R&A, has been warmly welcomed by Scottish Golf COO Karin Sharp.
She said: "Our new four-year strategy contains a strong drive for greater inclusivity within golf. This training programme delivers highly accessible, fun and engaging programmes delivered by a workforce embedded in their local community.
"We know that getting golf into schools is a great way to get young people engaged early and, with additional participation and support from their families, a greater chance of them staying in the game long-term."
Meanwhile, the Great Britain & Ireland captains have been announced by the for two big team events against the Continent of Europe taking place on Scottish soil this summer.
In a double-header at Royal Dornoch, Ireland's Maria Dunne will lead the home team in the Vagliano Trophy while Janet Melville from England will skipper GB&I in the Junior Vagliano Trophy. Both matches take place on 30 June-1 July.
"It is going to be a tough match but hopefully we can make home advantage count," said Dunne of her assignment in Sutherland.