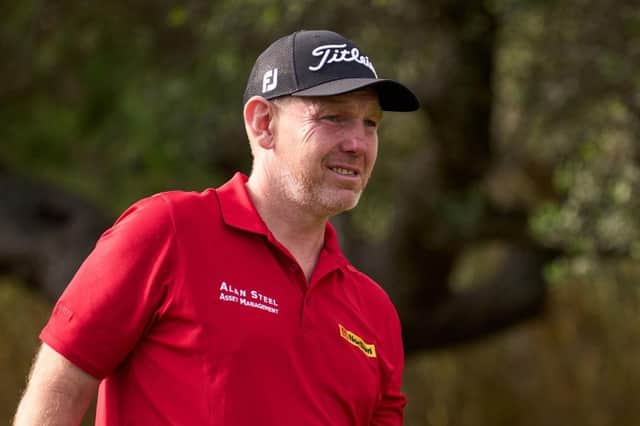 The Scot, after all, is synonymous with the event, having been the only player in its 33-year history to win back-to-back, as he did on the Majlis Course at Emirates Golf Club in 2013 and 2014.
"I've played here so many times that you feel that inch taller," admitted Gallacher, who shot sensational rounds of 62 and 63 in claiming his title triumphs in the shadow of the huge skyscrapers in nearby Dubai Marina.
This will be the 48-year-old's 23rd appearance in the tournament, which, for the second year running, is part of the DP World Tour's Rolex Series. Carrying $9 million prize pot, it's a huge opportunity to take a big step straight away in his bid to regain the coveted card he lost after finishing 173rd in last season's Race to Dubai.
"I was delighted to secure an invite as you can never take anything for granted," said Gallacher, who joined Austrian Sepp Straka, a winner on the PGA Tour last year, and rising Northern Ireland star Tom McKibbin in getting the nod from the tournament promoters. Falcon and Associates, to be added to the line up.
"You get yourself in a bit of bother by not hanging on to your card and you just want to play in this event, which you know you've played so well in over the years. This time around I'm hoping I can kick-start my quest to try and get my card back.
"It's always tough to get invites and I'm going to have a few late call, but it's something I'm prepared for. I've just got to be ready as often as I can. Playing in this one is massive for me. It's a Rolex Series event as well, so it's a huge opportunity to put a marker down.
"I've been working hard. It doesn't get any easier. My nephew, Chris, has been training Marc [Warren] and myself. I've also been going to the range and smashing balls in minus whatever. It's what you've got to do, put some hard work in to try and get something out of it at the other end."
Gallacher, who is among ten Scots in the field, had a microphone in his hand rather than a club as he did a stint for Sky Sports as an on-course commentator at the inaugural Hero Cup in Abu Dhabi a fortnight ago.
"I wanted to try it and I really enioyed it," said the Bathgate man, who will finally get the chance to defend the Hero Indian Open title – he won that in 2019 but has seen scheduled stagings in the interim cancelled – next month.
"It's a totally different side to the playing side. It was also great spending time at night with Sam Torrance and Ken Brown - I absolutely loved that. Two legends of the game, brilliant golfers, and they are awesome at what they do. Just great to reminisce with people like that. Golf is still my priority but, you never know, it's something I might look to in the future."