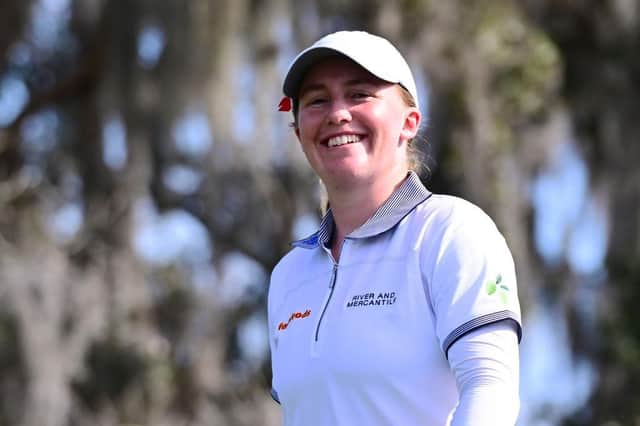 Mirroring a step taken by the US last week with Stacy Lewis, Pettersen will not only be at the helm at Finca Cortesin in Spain this September but also at Robert Trent Jones Golf Club in Virginia in 2024 as the contest moves to even years again.
It's an exciting challenge for the Norwegian, who will be bidding to emulate her predecessor, Catriona Matthew, by landing back-to-back wins after the Scot achieved that feat in 2019 and 2021.
"This was kind of part of the deal, especially because it's such a short gap," admitted Pettersen, speaking to reporters. "It's almost about 11 months, so we figured it's quite a short time to swap the entire leadership team.
"I've kind of known for a while that it was kind of part of the gig, so I'm very happy to announce it. I must say it's already overlapping a lot. Already had several meetings regarding the '24."
Dryburgh boosted her hopes of making a Solheim Cup debut this year by landing a breakthrough win in the TOTO Japan Classic in November then backing that up with more strong displays.
"Oh, she's been very impressive over the last six months I would say," said Pettersen of the Aberdonian. "Ever since she broke through, she's put her name right on top of that list or in contention pretty much every week.
"Extremely impressive. It just shows she's worked hard over years and years and, all of a sudden, she gets a little bit of a breakthrough and it gives her confidence, and obviously as soon as that confidence starts boosting, her true talent really starts showing off.
"I'm sure she's going to win before Solheim the way she's playing. She obviously does a lot of good stuff that kind of keeps the results coming week in, week out. We all know golf takes a lot of hard work, and she is a hard worker."
Pettersen, who retired from playing after holing the winning putt in a dramatic finish at Gleneagles in 2019, said her style of captaincy will be similar to the way Matthew led the Europeans both in Perthshire and in Toledo.
"I've thought a lot about this, but obviously my competitive side has kind of changed a little bit after, first of all, becoming a mother and then second stepping away from a competitive life," said the major winner. "That feistiness and determination I had inside the ropes is probably still there, but it doesn't come clear as often as it used to.
"But I really admire how Beany captained the last two. Obviously I've seen a lot of other great captains, as well, that I've played under, but Beany in particular kind of showed how her calmness. Her just being herself in all aspects made it so easy of a place to relate and kind of feel comfortable.
"So I think I'm going to be more of the outside-the-ropes not joker, but more relaxed Suzann that you've probably seen."