Tiger Woods and Rory McIlroy-owned teams discussed by PGA Tour and LIV Golf, probe reveals
Proposals for a long-term agreement between the PGA Tour and Saudi Arabia's Public Investment Fund (PIF) included Tiger Woods and Rory McIlroy owning LIV Golf teams, a Senate subcommittee investigation has revealed.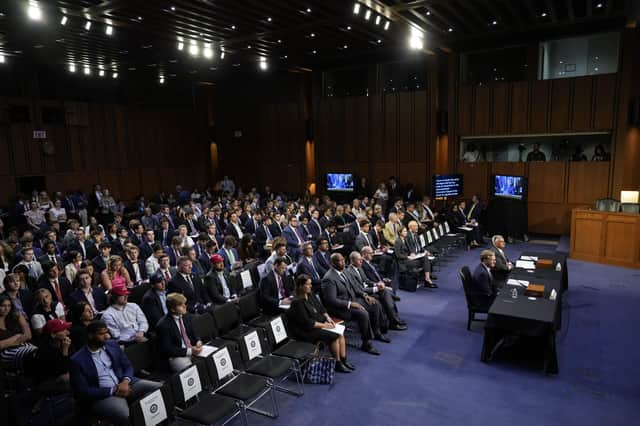 Woods and McIlroy were the two biggest opponents of the Saudi-funded LIV Golf League, but were kept in the dark when negotiations took place between PGA Tour board member Jimmy Dunne and the PIF's Yasir Al-Rumayyan in London in April.
Documents released by the Senate subcommittee on Tuesday show that, following those meetings, PCP Capital Partners gave a slide show presentation to Dunne and PGA Tour policy board chairman Ed Herlihy entitled "The Best of Both Worlds".
That contained proposals for a deal between the parties which included McIlroy and Woods owning LIV Golf teams and playing in at least 10 LIV events, as well as a minimum of two high-profile PGA Tour events to be sponsored by Aramco and/or the PIF, with one to be held in Saudi Arabia.
None of those details were cited in the Framework Agreement which was announced on June 6.
Other proposals included LIV players having full PGA Tour playing rights restored, world ranking points awarded to LIV events on a retrospective basis and LIV players having "unfettered" access to major championships and the Ryder Cup.
It was also suggested that Al-Rumayyan would become a member of both the R&A and Augusta National.
Also discussed was a request from the PGA Tour that LIV Golf CEO Greg Norman "would not be retained" following the execution of the Framework Agreement.
The subcommittee's memo states that they had not discovered whether this side agreement was executed, but during the Senate hearing PGA Tour chief operating officer Ron Price was asked by Senator Richard Blumenthal if Norman "is out of a job".
Price replied: "If we reach a definitive agreement, we would not have a requirement for that type of position."
In his opening remarks, Price had earlier outlined why the PGA Tour had agreed to the deal which shocked the golf world following 18 months of extraordinary acrimony.
"I welcome the opportunity to shed light on the predicament we found ourselves in, one that we did not seek, one that we could not sustain indefinitely but one for which we found a workable productive solution that benefits all who love the game of golf," Price said.
"We won some [legal] battles but the litigation was far from over. We faced a choice.
"One option was to continue the very expensive, disruptive and divisive litigation and we faced a real threat that LIV Golf, which is 100 per cent financed by the Kingdom of Saudi Arabia would become the leader of professional golf."
Dunne was later asked about an email he received from British businessman Roger Devlin which urged him to meet with LIV officials to exploit a "window of of opportunity to unify the game".
Devlin said he otherwise feared "the Saudis will double down on their investment and golf will be split asunder in perpetuity".
"They didn't have to double down to create the problem we already had," Dunne said.
"If they just kept doing what they were doing it would be significant enough because the PGA Tour is really not that big in terms of players. So if they take five players a year, in five years they can gut us."