In his first PGA Tour event since missing the cut in the 150th Open at St Andrews, the 15-time major winner carded a two-under-par 59 at Riviera Country Club in Los Angeles to sit in tie for 27th.
"I know, that's better," he said of closing out his round with those gains at the 16th, 17th and 18th. "I happened to actually hit some good shots finally and made a couple putts."
Woods, the tournament host, was in the same group as Rory McIlroy and Justin Thomas as they signed for 67 and 68 respectively, with all three of them making a birdie at the last.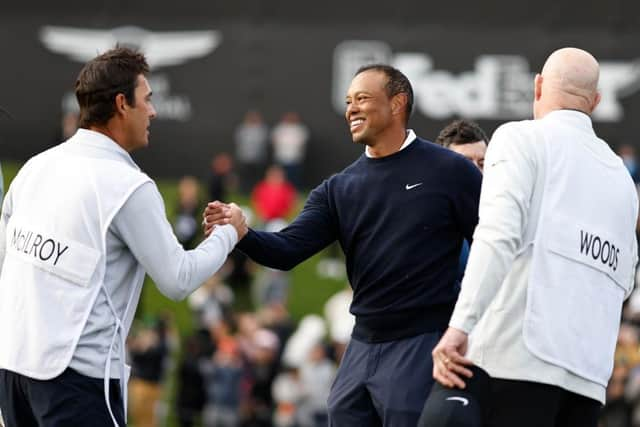 "It was nice that I had this unbelievable pairing, two great guys, two great friends," added Woods. "The people were obviously very supportive, they were just cheering all of us on, which is great. Just made this tournament better."
While he knew it was "loud", the 47-year-old admitted that he probably hadn't acknowledged the fans the way he should have due to being in the zone.
"I didn't really look up as much. I probably should have, but I didn't," he said. "I was trying to calm myself down all day, trying to figure out what the hell I'm doing out here because I haven't played.
"I had to try and figure out what the chess match is going to be. Misses, angles, wind, these are all things that have come second nature to a lot of these guys. I haven't really done this in a while.
"So I was so focused on what I was trying to do, talking to Joey [LaCava, his caddie], trying to figure it all out. No, I probably should have appreciated the fans more than I did, but there was so much going on in my head trying to get the ball in the correct spots and the correct feels just because I haven't done this in a while."
Woods, who almost lost his right leg in a single-car crash in Los Angeles exactly two years ago, was walking a bit better than he did in his handful of appearances last year.
"Yes. I'm a little bit sore right now," he admitted. "We were laughing, joking in the scoring tent here, Rory's going to go down and hit some drivers, I said I'll be right there right behind. Yes, I need to go and we can do some treatment and get this thing ready for tomorrow.
"There's a lot of ice going on here. As soon as I get back to the hotel, it's just icing and treatment and icing and treatment, just hit repeat throughout the whole night. Get ready, warmed up tomorrow, get this big sweat going on, big lift in the morning and stay warm and get off to a good start on 10."
As US pair Max Homa and Keith Mitchell shot matching 64s to lead Jon Rahm by a shot, Russell Knox battled to a 72 but Martin Laird faces a fight to make the cut following his 76.