The 15-time major winner, who is hosting the $20 million PGA Tour event at Riviera Country Club, was clearly seen handing the product to Thomas, who was in his group along with Rory McIlroy, as they walked off the tee.
It fell to the ground as Thomas let it go due to the fact he knew Woods was trying to have a joke with him as the 47-year-old hit a couple of drives past his younger rival and close friend on his return to top-level action for the first time since last year's 150th Open at St Andrews.
Woods wasn't asked about the incident at the end of his round but, after it received a mixed reaction on social media, he offered an explanation after completing his second circuit.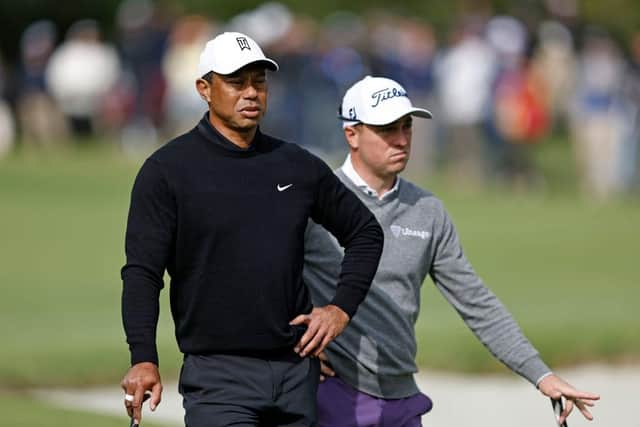 "Yeah, it was supposed to be all fun and games and obviously it hasn't turned out that way," said the American. "If I offended anybody in any way, shape or form, I'm sorry. It was not intended to be that way. It was just we play pranks on one another all the time and virally I think this did not come across that way. But, between us, it's different."
Paige Spiranac, a well-known social media influencer, played down the incident. She wrote on Twitter: "If anyone tries to cancel Tiger over this we riot. It's funny. I need a LIV vs PGA tour Ryder Cup type event just so Tiger can give Phil (Mickelson) a tampon after out driving him."
Speaking on Sky Sports Golf, broadcaster Henni Koyack also defended Woods, saying: "When I watched that clip, I saw someone having fun and enjoying a connecting moment with his friend.
"I know from Tiger that is one of the things he misses the most is that locker-room environment being out there with the guys, more than competing and more than winning.
"Look, I'm probably biased as he's a good friend of mine, but I personally view it as just a silly joke. I believe he is very respectful of female athletes and women in sport."
Others were less impressed with Woods's sense of humour, with renowned sports journalist Rick Reilly writing: "All his humor is gross and tops out at 7th grade."
Sarah Stirk, another Sky Sports Golf presenter, also claimed it had been out of order, saying: "My overriding feeling is that the most recognisable golfer on the planet shouldn't be handing a tampon to a fellow pro mid round at a PGA Tour event. I appreciate it was a joke between two mates but the optics don't look good."
Spiranac added in a later post: "Instead of women being outraged by Tiger and the tampon, I would love for them to actually provide ideas to help. For example I would have Tampex team up with the PGA tour to run a campaign where they provide free feminine products at golf courses. Most don't actually have them and during long rounds it can be a problem for us."
Woods, who finished with three birdies in an opening 69, dropped three shots in his last four holes as he added a 74 to be left in a sweat to find out if he'd make the cut on one-over.