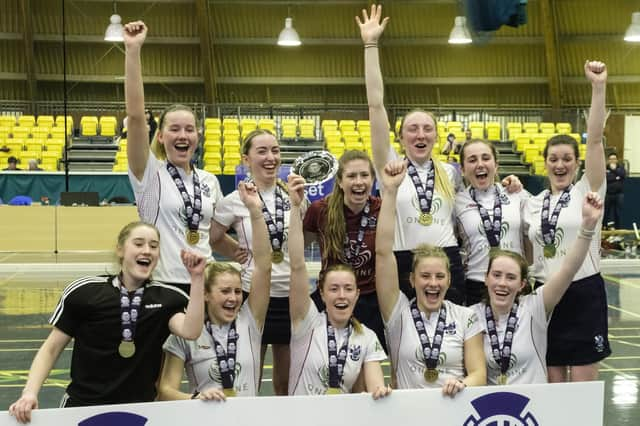 The success, based on Katie Stott's late strike to break the 4-4 deadlock when a penalty shoot-out seemed inevitable, is perhaps the clearest example yet of an upward trajectory for hockey at Myreside.
Captain Sarah Jamieson, who scored a "hat-trick" in the final, said: "We are absolutely delighted to win the indoor championship - we have never won this tournament before. It was tough as we went two goals down early on, and it wasn`t that we were playing badly, but I never doubted the girls` motivation and we kept it going right to the end, and it paid off. It was a classic game and all credit to Clydesdale for their part."
Watsonian president Elliot Bayley was full of praise, saying:
"It will be next year before the ladies compete in Europe but this is something that will really galvanise the club going forward after a roller coaster time partly down to the impact of Covid."
In fact, a European bronze medal last week for the 2023 Scottish entrants, Clydesdale, has meant Watsonians being the beneficiaries who will compete in the top group.
Domestically successes have put pressure on Fixture Secretary Tony Allan to find venues for an expanding player strength with seven men's teams and six women's playing regularly.
President Bayley, who turns out for the 3rd X1, says: "As an open club we are pleased to be attracting players from all over including state sector schools such as James Gillespie's and Balerno HS and Tony does a phenomenal job in rising to challenges.
"Of our seven men's teams two are essentially for youth with a couple of old heads helped by (ex-internationalist) Mike Leonard and it is roughly the same for the ladies.
"At the top end the men always seemed to fluctuate between the top of National League Division One and the bottom of the Premiership but under the guidance of (player/coach) Dan Coultas we have cemented a place in the top indoor division next season after winning the play-off match."
Coultas' counterpart on the distaff side is Keith Smith of whom Bayley says:
"Keith has also done a great job in creating a pathway for our younger players many of whom are now attracting representative recognition."
For example eleven Watsonian players have just been selected for the Scotland Emerging and Aspiring Girls squads.
Included in the Emerging Girls group are Jessica Garden, Charlotte Robertson, Fleur Stewart, Amy Clark, Gabriella Fontenia, Ava Miller and Jenna Park.
The Scotland Aspiring Girls group includes Darcy Littlefield, Kirsten Murison, Ruby Crawford and Sophia Anderson.
Additionally, Ellie Wilson and Emily Dark have been selected for the 2023 GB women's elite development programme.
The Watsonians ladies are pictured celebrating their indoor title and European qualification. Pic credit: Duncolm Sports.
• Unfortunately, Inverleith were unable to make it an Edinburgh double in the men`s indoor final as they went down 9-6 to Western Wildcats.