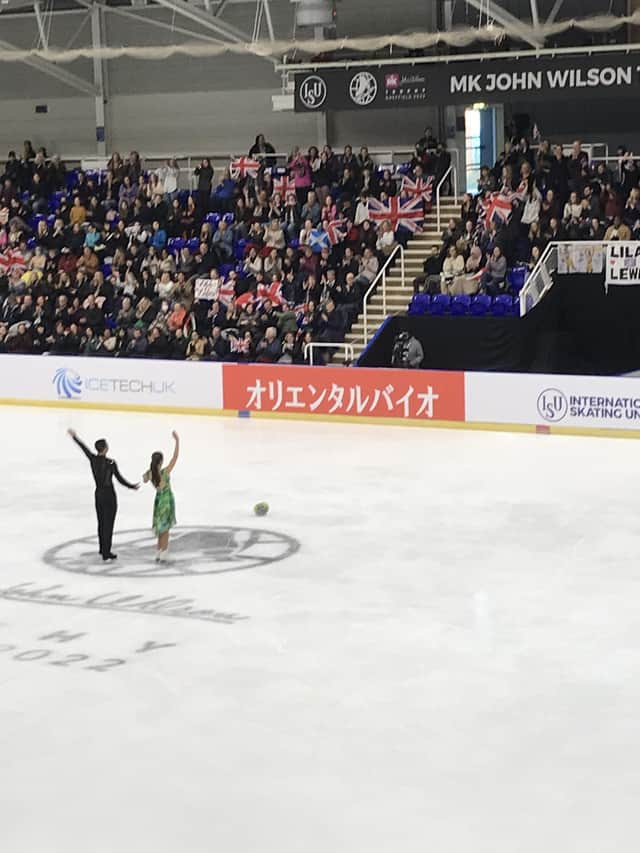 Gibson, from Prestwick and Fear, scored 85.37 in the rhythm dance at the John Wilson Trophy in Sheffield, less than one point behind Charlene Guignard and Marco Fabbri, from Italy, who scored 86.30.
The couple are four points clear of nearest rivals Marjorie Lajoie and Zachary Lagha, in third. If they win the silver medal after the free dance final on Sunday, they will qualify for a spot in the prestigious series final in Italy.
The pair said the experience of skating in the UK, backed by a home crowd, mirrored that they had seen competitors and training mates enjoy when skating abroad. The crowd was packed with fans holding Union Jack flags – and even one Saltire.
Gibson said: "It was crazy stepping out there as the other couple were still coming off and people were really cheering already. I felt like, 'this is not a normal competition'."
Fear added: "We're used to seeing that in other countries for their home teams, so the fact that it was for us was such a surprise.
"It was so emotional and overwhelming in the best way. I think when we skated out to our warm up and there were all these Union Jacks, I've never seen so many before in one audience."
It was assigned to the UK after competitions usually held in China and Russia were relocated due to the war in Ukraine and Covid travel restrictions respectively.
Fear said she hoped the UK would host another Grand Prix event soon. It is not known when or if China or Russia will be able to host the competitions again.
She said: "It has been so well run and such a positive experience, I hope it happens again. "The girl in the locker room, after they've skated, have all told me that it's been such a fun crowd, I said 'that's Brits for you'."