Allan Massie: Scotland's chances of scoring tries will be better when Finn Russell is back at No 10
Beta + might be the fair verdict on Scotland's Nations Cup matches. There was nothing much bad but little that merited an alpha mark, though that might have been awarded for the performance of the forwards against Wales, especially in the set scrum.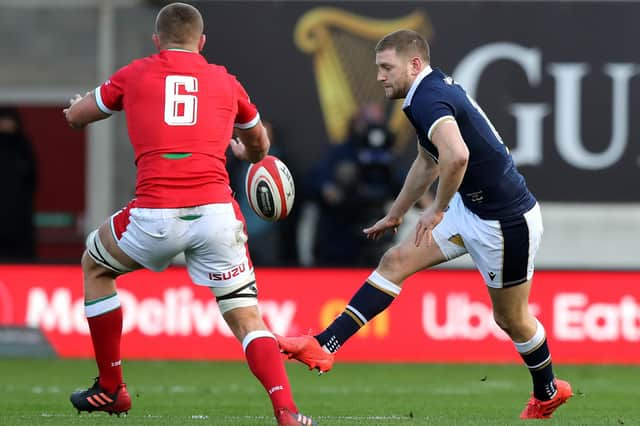 Disappointment came in Dublin, all the keener because for the first half-hour we played some very good and imaginative rugby. Yet no try was scored and one had the uneasy feeling that our inability to cross the line would boost Ireland's confidence.
This was indeed the case, and the yellow card given to Duncan Taylor was the turning point in the match. It seemed a somewhat harsh decision, though one might not have thought so if the offender had been Irish.
Still there was enough that was good in these matches to enable us to look forward to the Six Nations with some degree of optimism. Jaco van der Walt had a pretty good first international in Dublin, apart from a couple of handling errors, but it's no disrespect to him or to Duncan Weir to say that our chance of scoring tries will be rather better when Finn Russell is back in the No 10 jersey.
Starting the tournament at Twickenham is a bit daunting, even though England have been strangely lacking in ambition these last weeks. They got a fright on Sunday from a young French team which before the game had accumulated a sum total of 68 caps, half of them belonging to the full-back Brice Dulin. Perhaps the English players had been foolish enough to read the newspapers which were calling the game "a mismatch".
We now have more than two XVs of players with international experience, and this is good, at least if, when Gregor Townsend next shuffles his pack of cards, he manages to deal himself the strongest available hand.
Selection is perhaps the most important part of a coach's job. It becomes difficult when there are perhaps only eight or nine positions in the team about which there is no need for argument and this, I would say, is the case with Scotland at present.
It is also good that we have regained respect, but it is still the case that only Wales and Italy are below us in any reasonable ranking of the Six Nations countries. Indeed an honest judge might conclude that there are two levels in the Six Nations, with England, France and Ireland some way ahead in Tier 1, and Scotland, Wales and Italy in Tier 2.
It will be a great surprise if the European Heineken Cup which begins today doesn't confirm this. The strength of the top English and French clubs is something we take for granted. What is depressing for us Scots and the Welsh is that the Irish Provinces are at present well ahead of us. Edinburgh and Glasgow have each played the four Irish provinces this season. The results are depressing. All eight matches have been lost.
Of course international squad calls mean that neither Glasgow nor Edinburgh has ever fielded a first-choice XV in any of these games. But then neither have Leinster nor Munster, or indeed, though to a lesser extent, Ulster. Both the Scottish clubs have beaten Welsh and Italian ones – who incidentally have had no more success against the Irish provinces than we have.
This year's European competitions have been truncated. There are only four pool matches rather than six, before the quarter-final knock-out stage. Glasgow play Exeter Chiefs and Lyon home and away, Edinburgh play La Rochelle and Sale Sharks home and away. Frankly, a couple of wins for either Scottish club would be a considerable achievement. Exeter are champions of both England and Europe. La Rochelle are leading the Top14 while there are even more South Africans in Sale's squad than in Edinburgh's.
To look on the bright side of things, both Edinburgh and Glasgow have their international players back, and of players absent on account of injury, perhaps the only probable first choice men missing are Adam Hastings and Leone Nakarawa from Glasgow's match squad and Grant Gilchrist from Edinburgh's. Glasgow have performed creditably against Exeter in their half-dozen meetings in the Heineken, but very few clubs go to Sandy Park and win. Glasgow must avoid conceding penalties. No club, not even Munster, scores more often from attacking five-metre lineouts than Exeter, while their captain and fly-half Joe Simmonds is currently the best goal-kicker in England.
Edinburgh have home advantage against La Rochelle, but how much this counts in the absence of a crowd is doubtful. Still, in the last couple of years, they have often shone more brightly in European competition than in the Pro14. It's in their favour that they have Jamie Ritchie, Bill Mata and Hamish Watson together in the back row for the first time this season. As against that La Rochelle's No 8, Gregory Alldritt, is one of the brightest stars in the French international XV, a tremendous worker and ball-carrier.
Comments
 0 comments
Want to join the conversation? Please or to comment on this article.