The fluctuations seem more exaggerated in the social-media age where real-time reactions of the knee-jerk variety are commonplace. In the centre of it all are the players and it was interesting to listen this week to Zander Fagerson when he spoke of Scotland's impressive start to the Six Nations as the "culmination of some really good years of togetherness".
While nothing has yet been won and Gregor Townsend's side may go on to finish the championship empty-handed, there are enough signs to suggest this squad is in a good place. Last season was a tricky one for Scotland. Six Nations defeats against Wales, France and Ireland and a Test series loss to Argentina prompted suggestions that the current group had reached the end of the road, with some calling for Townsend to go before the World Cup which kicks off in France in September. Fagerson, as one of the squad's senior pros, looked at the bigger picture and he still likes what he sees.
"I've been really lucky and privileged to have played for Scotland as many times as I have," said the 55-times capped prop. "Ever since I've been involved in the squad it's been about going out there and trying to win. In years gone by we'd have the occasional good result but since I've been involved it's been about pushing every team that we play. Where we are now is a culmination of some really good years of togetherness. Most of the squad has been around for the last four years, a World Cup cycle, and the combinations are all really comfortable with each other. It's a real tight-knit group. We're all good mates and like hanging out with each other. We've really addressed that from the last World Cup. We're all bound to the same plan. It's an exciting time to be part of this squad."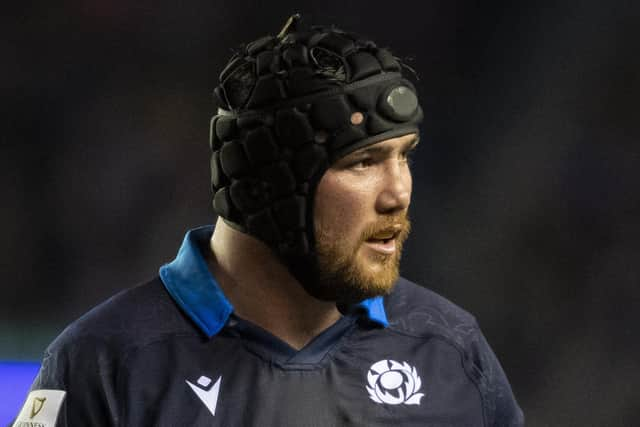 The 2019 World Cup in Japan was a hugely disappointing one for Scotland as they exited at the group stage for only the second time in the competition's history. Given they are drawn against holders South Africa and world No 1-ranked Ireland at this year's tournament, they will face an almighty struggle to avoid the same fate. But that's for the autumn. The here and now is Paris on Sunday as Scotland seek to follow their wins over England and Wales with a victory over France. Fagerson was part of the team which snatched a late, late 27-23 win in 2021 at the Stade de France as the hosts, leading 23-20, chased a bonus-point victory in a misguided attempt to wrest the title away from Wales. Another try for France would have drawn them level with Wales at the top of the table but the Welsh would have still prevailed due to their superior points differential. When France full-back Brice Dulin elected not to kick it out and end the game, Scotland won a penalty which led eventually to Duhan van der Merwe's decisive 86th-minute try.
"It was a great game of rugby first of all," recalled Fagerson. "Both teams played an exciting brand of rugby and threw the ball around. Having been involved in it, I was here, there and everywhere so I can attest to that. We took our chances. It was a close game, France weren't walking away with it. If they had kicked it out it was game over but they wanted to keep playing to try to get the bonus point. That was their mindset. But we stuck to our principles, got the ball back and won the game. It was a great spectacle, brilliant to watch if you were a neutral and great if you're a Scotland fan."
A repeat on Sunday would be most welcome but Fagerson is understandably wary as he prepares to go up against last season's grand slam champions, even if they did lose to Ireland in Dublin a fortnight ago. "They'll be gutted with the Irish loss and gunning for us at home, definitely," said the prop. "But they won't change anything from what they've been doing. They're pretty set in their gameplan. It will be attacking rugby and taking opportunities. We have to make sure we don't give them too many.
"France for the last four or five years have really loved throwing it about, that offloading game at a quick tempo. They've got threats all over the park, a pretty abrasive forward pack and dangerous backs. And their scrum-half's not half bad. I don't think they've changed at all since the last time. They've just finessed their key attributes. Shaun Edwards going in as defence coach has really helped them as well. They're a great team. It's going to be a big challenge for us."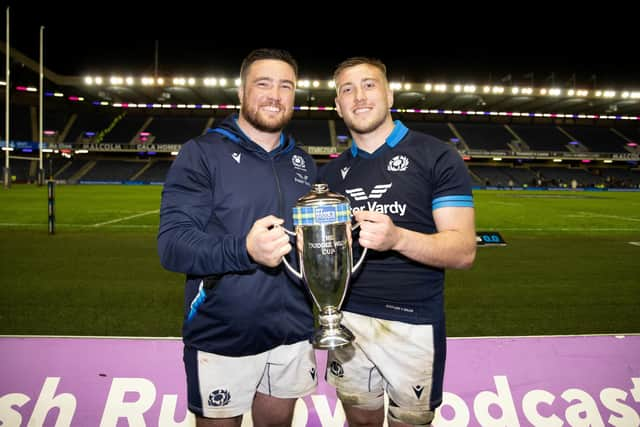 A hamstring tear sustained while playing for Glasgow against Zebre in early December threatened Fagerson's participation in this season's Six Nations and the tighthead sat out the opening win over England as he completed his recovery. He returned for the Wales game, bolstered by Scotland forwards coach John Dalziel's claim that he was "in the best shape of his life".
"I've not touched a carb since," laughed Fagerson. "He was putting pressure on me to make sure I had a six-pack when I came back. I had a really good rehab period, I worked really hard and I think I've got great staff around me at Glasgow and Scotland. I really pushed myself and I came back feeling really fit. I really enjoyed being back last week. I still wasn't 100 per cent match fit, but I was pretty happy with how I went."