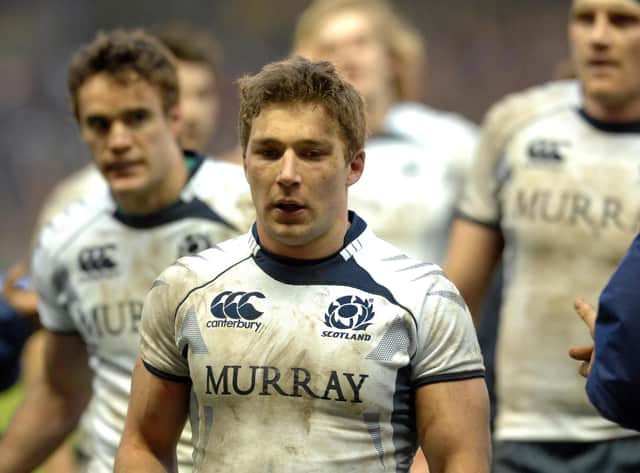 "Everyone wants to speak to you and you think: 'Oh great, I'm interesting!' That's not necessarily the case, simply that you have a certain status." The former Scotland scrum-half had it, to a degree. "We were an average team so I can only imagine what this is like for Stuart Hogg and Finn Russell. Even so, for us there were benefits – lots of attention, lots of free stuff."
Cusiter describes the pro sportsman as living a Peter Pan existence where everything is done for him and he doesn't have to think for himself – but it doesn't last. "Though we know the sensation will be fleeting, we get used to it. Then suddenly the free stuff stops and no one's that bothered about us anymore." What then? He had an idea for life after rugby but it would take him 5,000 miles from Murrayfield and the only thing he knew.
"All the connections I had … totally useless!" he laughs. "But I was aware that would be the case. I wanted to do something completely different – prove myself all over again." Which is how he ended up in Los Angeles, in what he's sure was the ugliest building in the vast and teeming sprawl, flogging booze to sometimes desperate men.
Cusiter, now 40, had yearned for a "challenge" and certainly experienced one. I tell him we have an image from the movies of American liquor stores – big space out front, high-stacked shelves, a sense that it's all about to kick off for the poor bloke behind the counter – and he nods. "It was a bit like that. This was Van Nuys, a pretty edgy district of LA. I'd bought the store with my rugby savings from a guy who didn't tell me until afterwards that he'd been held up at gunpoint a couple of times. That didn't quite happen to me but I was still robbed. The thief wore customised trousers. He was able to slip three bottles down each leg. I was in the office and could see him on the security camera. Looking back he was pretty furtive but at that moment I was on the phone. One of the bottles was cognac worth six grand.
"It was times like that when I wondered what the hell I was doing there," he continues. Every other whisky shop in Southern California seemed to be run by a shrewd Syrian. "In my naivety I didn't appreciate the enormity of the task. I didn't even know what the US coins were worth. I had a meltdown and felt like a complete fraud."
He knows the former rugby player readjusting to the real world cannot expect much sympathy. "We have a high old time playing the game and getting paid for it. Most folk's reaction will be: 'On you go. You're in with the rest of us now, finding out what hard work is all about.' And I get that." Still, maybe Cusiter deserves the acknowledgement that he was willing to attempt such a leap of faith.
The dream was whisky. A role in a world-class Scottish industry. Something about which he could be equally as passionate as pulling on a dark blue shirt no less than 70 times. Opportunities to nip back to the old country, visit distilleries, catch up with friends and family and maybe see some rugby. And to be able to do all of this from under glorious Californian sunshine.
Which, wouldn't you know it, as CEO of merchants and exporters Alexander Murray & Co, is exactly what his life is like now.
No one in the States knew about those 70 caps, or that he captained Scotland and was a British Lion – and as he says no one cared. But, from rugby, a work ethic and competitiveness have come in useful. In those tough first couple of years so too did resilience – something Cusiter needed immediately following his darkest day in the game and a disastrous defeat to Italy.
"Not overly keen to re-live 2007," had been his WhatsApp message referring to that 37-17 shocker, before we meet for coffee at Edinburgh's Waverley Station. He's Perthshire-bound to drop in on one of the company's key suppliers and the next day flying to Dusseldorf for a trade fair. This early-morning rendezvous is my only chance to catch up with him and, when more time is needed, I suggest riding with him part-way to Gleneagles. Probably he thinks I'll try mentioning the elefante – that's Italian for elephant – in the room. In the end, though, he brings it up.
This was the game at Murrayfield where Scotland found themselves 21-0 down after just five minutes and 40 seconds. Rugby crowds are more tolerant than football ones but after the third try the boos were deafening. Straight from kick off, Cusiter's half-back partner Phil Godman attempted to chip an advancing Italian flanker only to have his kick charged down. Then a Cusiter pass was intercepted. The next time he threw long the same thing happened again. Result: Italy's first-ever Six Nations away win.
He says: "The strategy for that game wasn't wrong, just badly executed. We knew Italy would come flying at us and hoped to catch them out right away, slowing down their defence for the whole game. Their second try was just bad rugby from me. I wasn't good enough at reading the play. The long pass had been planned and had worked well all week in training. I still can hear [head coach] Frank Hadden: 'Just chuck it.' 'Yes, no problem, Frank!'
"If these three things had happened over the course of 80 minutes it wouldn't have been great, but not as bad as boom-boom-boom. The team were shell-shocked. The only way we were going to avoid a bloody catastrophe was if we'd gone on to win the game, but we couldn't.
"After Dad dying that was probably the toughest day of my life. I felt so exposed, so vulnerable. At 24 I'd never known setbacks. Everything until that moment – winning games for Boroughmuir, being picked for Scotland, the Lions – had been good. Then I realised how quickly public sentiment can turn.
"As a young player everyone's generous with their compliments and you feel great. But you're not equipped to deal with the flip side and for me that came very quickly. In Scottish rugby at that time and probably around the world there wasn't a lot of mental health support. No one's fault; that's just how it was. But Frank was good. It would have been very easy for him to drop me and play Mike [Blair, one of his rivals at 9]. But he kept me in the team and I was grateful for that. Italy was 16 years ago. I've made my peace with what happened that day but there are a lot of deeply-buried scars."
Cusiter was that relative rarity in international rugby – an Aberdonian. At his state primary he'd been determined that he preferred football, believing rugby was for "posh boys at private schools". Then he and big brother Calum – who would go on to play for Glasgow Warriors and Border Reivers like Chris – were sent to Robert Gordon's College, their solicitor father Stan's alma mater. "That was it. I picked up the ball and loved rugby right away."
He remembers away days in Edinburgh when his school XV would be "smashed" by the likes of Merchiston Castle School, Hadden-coached, in which Godman was "already a superstar". Pre-internet, the young rugby bucks had to rely on "schoolboy rumour" for intel on who were the likeliest lads and Blair at Edinburgh Academy was one. The Cusiter boys missed out on selection for Scottish Schools. "Dad told us there was a bias towards Edinburgh so I got back that chip on my shoulder. It just made me more determined."
Then in 2004, to his absolute astonishment, came his debut. "[Head coach] Matt Williams told me: 'By the way, you'll be starting against Wales.' I'd only been pro for a year, playing in front of less than 1,000 for the Reivers, and suddenly I was going to be walking out at the Millennium Stadium. I was like: 'Holy shit, I'm not ready!'"
The first game, as it always does, passed in a blur. He can just about recalls a "nice break" against opposite number Gareth Cooper. His least favourite opponent, by the way, was another Welshman. "We all disliked Mike Phillips," he says, meaning his fellow No 9 contenders Blair and Rory Lawson. "He was super-aggressive, which is fine, but rude with it and would always sledge you." French scrum-halves tended to be the toughest: "The likes of [Dimitri] Yachvili and [Jean-Baptiste] Elissalde were on a different level to what I could do."
Cusiter stayed in the team for the rest of that Six Nations which ended in a whitewash. He had to journey all the way to Wellington for his first Scotland victory – against Samoa – and wouldn't win at Murrayfield until his 15th appearance.
"That was frustrating. It was great playing at Twickenham and Stade de France and all these famous grounds but I thought winning would have been part of the deal. At university I would have been happy with a single cap. But once in the team I really wanted to do something, beat England, win the Triple Crown. But it never really happened for us. We weren't good enough."
On this trip, when he's also fitted in a game of golf with Lawson in North Berwick, Cusiter was at Murrayfield on Sunday for his first Six Nations game since emigrating. Although the current generation failed in their Triple bid against Ireland, he's hugely impressed by Gregor Townsend's men.
"To me this is the best Scotland have ever been. They're winning in Paris, at Twickenham regularly, putting 50 [points] on Australia and playing fantastic rugby. I look at those guys and reckon they must be having an absolute ball.
"Finn Russell is critical to the way they play and a once-in-a-generation guy for Scotland. I remember him from my Glasgow days when he was this skinny wee kid from Falkirk with a great pass on him but I thought: 'He needs five years to bulk up.' Then he broke into the side and right away everything just seemed so easy to him. I think I knew he was going to be good, but maybe not this good."
Despite being enthused by the current team he does not miss rugby. "By the end it was less fun and the body was getting too sore." He carries around twinges in shoulder and knee as legacies from an often injury-disrupted career and wonders – indeed hopes – that occasional short-term memory loss is not the consequence of "a lot of concussions".
That whisky shop, which got a little too hectic at times, has since been sold, having served its purpose of helping Cusiter obtain his Green Card. It had been where an old rugby pal of his father's had bought his Macallan. Cusiter was a ballboy when Steve Lipp played for Gordonians and the latter's subsequent move to California, setting himself up in a bottling business, had always sounded attractive to him. Now Lipp is Alexander Murray's executive chairman.
Cusiter loves the Californian culture though jokes that as a native of the Granite City there will be occasions when the relentless optimism gets too much. Maybe these are the moments when he takes off on his surfboard. "It started as a lockdown thing. I'm still the worst in the state but it's good fun." He lives in the attractively-named Thousand Oaks, ten minutes from his wife Sarah from whom he's since separated, and they share the parenting of young daughters Sadie and Alexa. Rugby, he admits, seems a whole lifetime ago, although maybe the revival in Scotland's fortunes has encouraged him to dig his caps out of the garage and display them in his study.
I get off his train at the next stop but, since he's been so candid about that Italian horror-show, it seems only fair to remind him of a better day against the same opponents – the 21-20 victory in Rome won with a last-gasp Duncan Weir drop goal.
Cusiter delivered the bullet pass which Weir afterwards hailed as "perfect." "Aye, it wasn't bad," he smiles. "I remember we got some stick for celebrating that win, as if in the scheme of things it wasn't that big a deal. But to us it was!"