The winger, who was playing his first game in over a month after an ankle injury, went on to bulldoze his way over for a second with five minutes remaining as the Scots came from behind to open their Guinness Six Nations campaign with a 29-23 victory. In an endlessly engrossing game which swung back and forth, van der Merwe's first try was the standout moment. Taking a pass five metres inside his own half, he sidestepped his way past five opponents before touching down.
"It was incredible wasn't it?" said Townsend. "It reminded me, if you are a certain age, of when you played Jonah Lomu Rugby and suddenly one person can go quicker. Duhan has not had much rugby over the last few weeks but has trained really well with us. To play like he did off the back of an injury and not playing for Edinburgh is a real testament to how he has got himself in this position both mentally and physically.
"It was almost a different side to Duhan how he stepped and accelerated away. His finish for the second try was similar to two years ago when he finished in the opposite corner. It was a brilliant finish but that first try was amazing."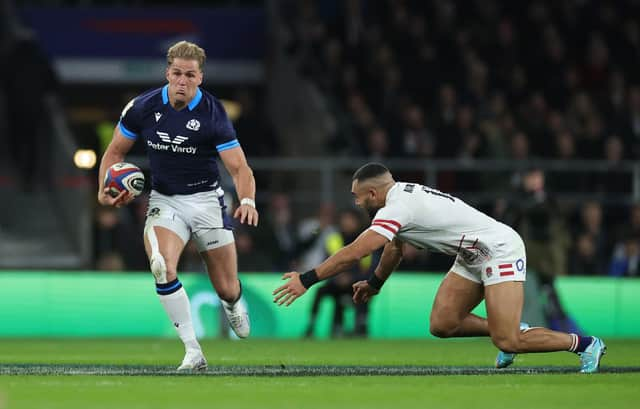 Despite the result, and the historic achievement of three consecutive wins over England for the first time since 1971, Townsend felt Scotland can play much better and called for an improvement for next weekend's round 2 fixture at home to Wales. "We have to be better – that wasn't our best performance," said the Scotland coach. "That's now the exciting thing for us, that we can grow more in this tournament. To win from behind, when you've only got five minutes, to score such a good try makes it all the more special. But it will mean nothing if we don't recover, train well and improve next week."
The result also meant that Townsend's side are the first Scotland team to win two matches in a row at Twickenham. In his tenure as coach, he has now beaten England four times, drawn with them once and lost only once. "England are a top, top side," Townsend continued. "Coming to Twickenham for any team is really difficult. You get belief from how you've gone against a team in the past. [The first win in] 2018 unlocked opportunities here. It's huge in this tournament to win your first game as this tournament is all about momentum. It's great now as we can look towards next weekend with positivity and belief. In the last two Six Nations we have played Wales after beating England and we haven't won. I felt a lot of emotion at the end, I don't know whether it was the noise, the occasion or that I never came close to winning here as a player.
Townsend made a couple of bold selection calls, picking Ben White ahead of Ali Price and Huw Jones instead of Chris Harris. He was rewarded, with both White and Jones scoring tries in Scotland's bonus-point win. "The players who started were given an opportunity, it can become a matter of opinion in pubs up and down the country but they were given the opportunity and it was up to them to grab it," added the coach.