Speaking after his inspired second-half performance spurred Scotland to a record 35-7 win over Wales in the Guinness Six Nations, the stand-off said that he had matured since becoming a father and that he was now "on the same page" as the head coach. But he also warned that the relationship could "fall apart quickly".
Russell, 30, and Townsend have not always seen eye to eye. The player walked out of the Scotland camp on the eve of the 2020 Six Nations and played no part in the tournament. The pair mended their relationship during lockdown but Russell was then dropped for this season's autumn Tests and was only recalled midway through the series when Adam Hastings was injured. Russell said he sought reassurances from Townsend before returning to the squad and is confident that they are now on the same wavelength. "There are a lot of different factors to why we are playing and attacking as we are now," said the fly-half. "Since November, Gregor and I have kept in touch, we've kept that relationship good. It's easy, but it can fall apart quickly if that makes sense. The way that me and Gregor have kept on the same page, he has allowed me to be me and I've probably matured a bit having a baby and my partner falling pregnant. There have been a few changes and I think Gregor and I get on better than we ever have done before. It's not just us chatting about rugby, him being the coach and me being the player. It's more just us chatting away and getting to know each other. We actually had that in 2020 and then came back in and had a good Six Nations in 2021. We are both on the same page now and have a good relationship."
Russell said the key was being "open and honest" with each other and having the opportunity to have an input.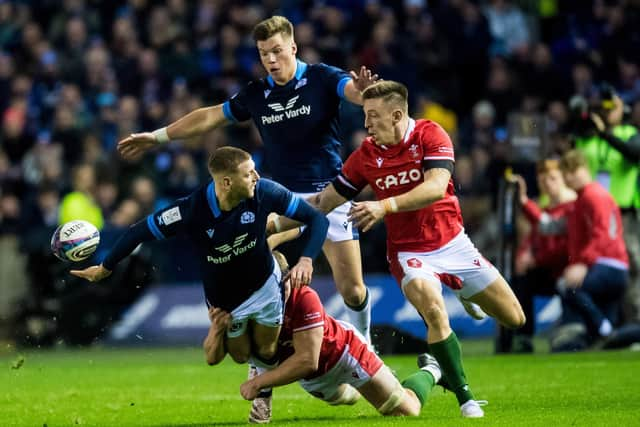 "When he asked me in November about coming back in after Hasto got injured, I said I was keen but I needed to chat through a few things before I came back in," said Russell. "There were a few things I may not have been happy with, or he might not have been happy with. It wasn't a case of clearing the air, it was more about us getting back on the same page and being open and honest with each other as to where he is at mentally with his gameplan and how he wants things to run, and me having my input and saying what I think as well. The best thing is both of us being on the same page and that allows us to play as we did."
Russell helped create all four of Scotland's second-half tries against Wales at Murrayfield and was a deserved recipient of the player of the match award. It was the biggest margin of victory Scotland have enjoyed in the 140-year history of the fixture and leaves them level with Ireland on 10 points at the top of the Six Nations table after two rounds. The Scots, who opened with a bonus point win over England at Twickenham, play France in Paris in round three on February 26, followed by home games in March against Ireland and Italy. Townsend said that Russell had been outstanding since his recall in the autumn and the coach believes there is more to come.
"Since he returned to the group in November, he's been excellent, on and off the field," said Townsend. "He delivered an outstanding performance [against Wales]. And he knows too, I've heard him say it already, there's a lot of improvement to come from us. We had an excellent week training, we worked hard, and I thought that helped deliver an improved performance. But there's still growth from this team, a lot of growth, and we'll have to be better to beat France."
Russell said things changed for him the moment he knew that his partner Emma Canning was pregnant and Townsend believes his growing maturity has been reflected in his on-field performances. "People evolve and change over their lives, he's now 30 and from a rugby perspective he's seeing the game as well or better than ever. You play 10 years at 10, you see pictures, you get used to different defences. He's had big changes in life so you do have to adapt. He led us very well and the intent and accuracy were matched, which led to some excellent tries."
Interestingly, Townsend said that Russell's input was most prominent on match days. "The huddle is where he thrives, in the changing room, not so much in the meeting room. But out there when he feels something, a play that he wants he gives the feedback to the players. That's when he'll lead the team in terms of attack."
The home-based members of the Scotland squad will now have a well-earned break before preparations begin in earnest for the France match, with the Edinburgh and Glasgow Warriors players who featured against Wales unlikely to feature in club matches this weekend. By contrast, Russell will return to Paris to play for Racing 92 against Brive on Saturday. "It would be great if he was rested, but sometimes a game is not a bad thing either, just keeping sharp," added Townsend. "As long as he gets through that game, and he's not the only one, we'll have players in England."
Stuart Hogg lasted only 13 minutes against Wales before going off for a head injury assessment which he failed and will now go through the return to play protocols. Luke Crosbie was taken off early in the second half due to a "stinger" injury but Townsend said the flanker was fine after the match.