All three games saw some brilliant play and gorgeous tries. Yet it would have been a pity to outscore the 1924 match because a try was worth only 3 points then and Scotland scored eight of them that day. By 1982 it was worth 4 and we scored five that afternoon.
Tries galore, and indeed in the first two games of this season's Six Nations, we have scored nine of them. There have been tournaments when we didn't score that many in the five matches. To be fair to the players of recent times, the game is more open now that it was in, say, 2007 when at Murrayfield we beat Wales 21-9 and lost to Ireland 18-19 with only one try being scored in the two matches, this by Ronan O'Gara. All Scotland's points came by way of Chris Paterson's boot – 13 penalties.
The 1920s were the great years of Scottish back play with the outstanding Phil Macpherson in the centre, Ian Smith (the original Flying Scotsman) on the wing and Herbert Waddell at fly-half. Macpherson was reckoned the best centre of his time; my late father-in-law never saw any Scottish centre to equal him.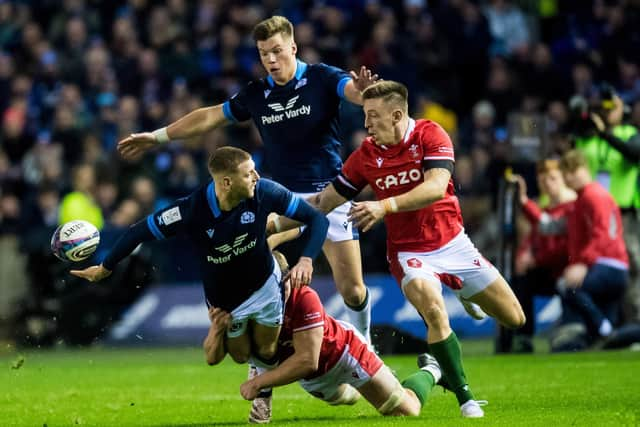 We have had fine back divisions in my time too. That one in Cardiff in 1982 was pretty good: Andy Irvine, Jim Pollock, David Johnston, Jim Renwick, Roger Baird, John Rutherford, Roy Laidlaw, and so was the 1999 one, the last Five Nations champion team, with Gregor Townsend and Gary Armstrong at half-back, John Leslie and Alan Tait in the centre.
Yet it may well be that this season's can stand comparison with any of the past. Obviously this is in part because Finn Russell has been at his quasi-magical best, pulling the strings like a puppet-master. But all the backs have been scorers or creators of tries – and Darcy Graham is still waiting in the wings.
We seem after years of hope and trial and error to have happened at last on the ideal partnership in the centre. Sione Tuipulotu and Huw Jones understand and complement each other ideally. We have, admittedly, had good centre partnership in the last twenty years: Alex Dunbar and Matt Scott did very well together until injury broke the partnership, while Peter Horne and Mark Bennett combined nicely in the 2015 World Cup. But the combination of Tuipulotu and Jones is rather special. They offer a threat which must make defences wary of trying to close down Russell. It's a measure of how good they are that the Lions centre Chris Harris is now only on the bench, and that there is no place in the match-day squad for Cameron Redpath, or in the training one for Mark Bennett and Stafford McDowall.
Well, it's very satisfying to have beaten both England and Wales, and to have done so in fine style, but everyone knows that the next two assignments are much harder: France in Paris and Ireland, even at Murrayfield. Their encounter in Dublin was of the highest possible class. On that form you might have backed Ireland to beat any team in the world and France to beat anyone but Ireland.
Meanwhile Gregor Townsend is in the happy position of choosing from strength rather than having to try to cover up weaknesses. The forwards have done well enough to justify being picked again "en bloc". No Scottish player, not even Huw Jones, has come on more in the last year than Matt Fagerson, who has been terrific against both England and Wales. And so of course has Richie Gray, a sleeping or somnolent giant, restored to full health and vigour. Considering how one had sadly and reluctantly judged his career at an end a year or more ago, with his brilliant promise never quite fulfilled, it has been sheer delight to watch the giant refreshed and returned to full vigour.
The game of Rugby may have a good many off-field problems and issues – not only in Wales where there is something more than turbulence. But on the evidence of the first two rounds of the Six Nations, anyone who judged only by what he has seen, might conclude that it is in the best and happiest of health.