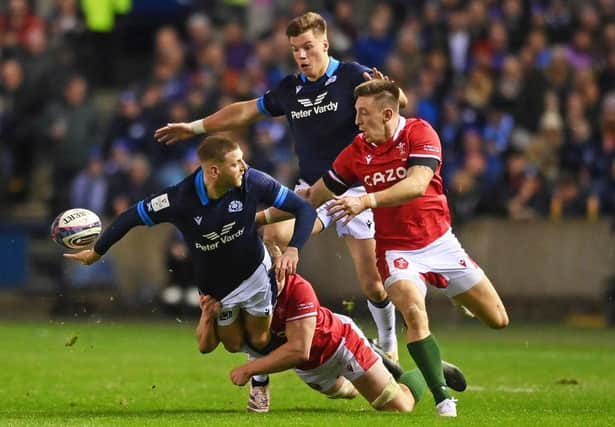 Defending champions France will be keen to make amends for their defeat to Ireland in their second match tie, while Scotland will be looking to continue their winning run and show they are title contenders.
Here's what history tells us about the international tie that dates back over 110 years.
What is the record between Scotland and France?
Since Scotland first played France at Inverleith on January 22, 1910, in the Five Nations Championship the sides have met 99 times.
France have the edge with 57 wins, compared to 39 for Scotland, while the teams have drawn on three occasions.
Scotland's longest winning streak against the French was five games between 1925 and 1929, while France won ten straight fixtures between 2007 and 2015.
Scotland's biggest winning margin was 28 points in 1912, while France triumphed by a hefty 42 poinits in 2003.
The largest points totals recorded in the fixure were 51 for France in 2003 and 36 for Scotland in 1999.
How have the two teams performed in the Six Nations previously?
In the history of the Six Nations – previously known at the Home Nations Championship then the Five Nations – France have lifted the trophy on 18 occasions, compared to Scotland's 14 triumphs. Scotland have had three Grand Slams compared to France's 10.
The Home Nations Championship became the Five Nations Championship with the addition of France in 1910.
France were then expelled from the tournament in 1932, with the four host nations once again competing for the title until France was readmitted for the 1948 competition.
Italy then joined to make it the Six Nations Championship in 2000.
When did Scotland last beat France?
Scotland's last away win against France in the Six Nations was in 2021, when they triumph 23–27 in a tight Six Nations contest at the Stade de France.
Their last win at Murrayfield was a 28-17 victory in the 2020 Six Nations.
Who is favourite to win the game?
The bookies have France as favourites with odds of 1/4, while Scotland are priced at 3/1 to won the match. The odds on a draw are 22/1.
When is the game?
Scotland will face France in the third round of the 2023 Six Nations Championship at the Stade de France in Paris on Sunday, February 26, with a 3pm kick-off.
Can I watch the game on television?
The game will be shown live on ITV1. Coverage will start from 2.15pm.
Does the winner of the game receive a trophy?
Since 2018 the Auld Alliance Trophy has been presented to the winner of the Six Nations Scotland v France fixture each year.