Fraser Brown: Where Scotland's World Cup opener was lost, the one thing that must change and serious refereeing issues
Scotland's World Cup opener in Marseille on Sunday was a frustrating watch for Scotland supporters.
After almost an entire first 40 minutes on the backfoot, Scotland somehow scrapped their way to half time, only three points down. However, we were blown away in a 15-minute period after the interval when the Springboks unleashed wave after wave of power on both sides of the ball but epitomised by the way in which their blitz defence dismantled Scotland's attack.
South Africa's midfield defence was excellent and nullified Scotland when they had the ball, but I was surprised Scotland didn't try to vary their attack more, although their cause wasn't helped by a misfiring lineout, denying them any kind of decent set-piece platform to work from. The other major frustration was around the refereeing and the inconsistency across the first weekend of the World Cup for all teams, not just Scotland – but more of that later.
The first half on Sunday was a scrap. Physical and unrelenting and Scotland did well just to hang in there and probably should have taken the lead going into the interval had they converted their only opportunity of the half when Darcy Graham went through and had Duhan van der Merwe on the outside. It wasn't the easiest of opportunities, certainly no walk in, but it's the World Cup, top-level rugby. You might only get one or two opportunities and you've got to be good enough and composed enough to take them.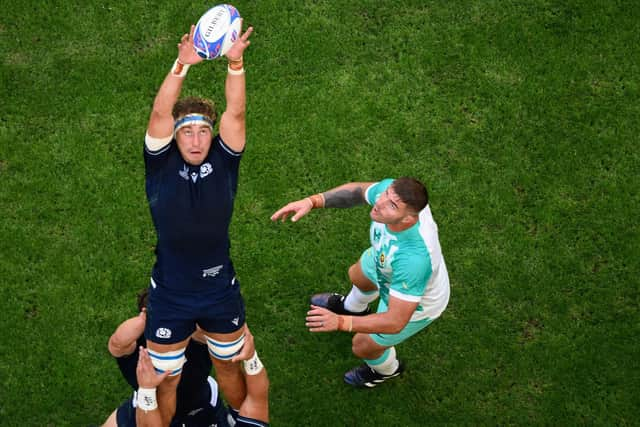 I thought Scotland would have more opportunities in attack to take on South Africa's blitz defence and more variety to put them under pressure which and I was little bit surprised at how they attacked the Boks. All summer we've seen really wide flat passes from 10 to the forwards in midfield and there has been success in doing so for Scotland, especially against a similar defence in France. South Africa's midfield blitz, though, is much more aggressive and unbelievably relentless, continuously getting in the passing lane between 10 and the widest forward preventing Finn throwing those wide passes and denying Scotland width in their attack.
It was frustrating that Scotland never seemed to change tactic, although it's much easier sitting here and passing comment than being on the pitch in the heat of the moment trying to breakdown the South African juggernaut. I'm not sure who picked Manie Libbok as man of the match, He played well, but Pieter-Steph du Toit was the best player on the pitch by some distance as he almost single-handedly shut down Scotland's whole attack. Libbok had some excellent involvements, his his no-look kick which led to Kurt-Lee Arendse's try being a highlight, but it was Du Toit's performance which most affected the game.
I felt Scotland could have tried playing a little deeper and tighter off 10 to try play around the blitz. They could have gone to what worked so well for them during the autumn and the Six Nations, with ball going straight from 9 to 12, with 13 short challenging the rushing defender and 10 out the back. It would maybe have challenged the outside defenders slightly more and given them a more difficult read to make. It would also have brought Finn's kicking game into the contest more, maybe allowing Scotland to get the ball to width easier, something we saw a lot of against Wales in February and in the summer against France and Georgia. For the first time in a long time Scotland's attack looked a little blunt and one dimensional.
Having said that, the South African defence was brilliant and is probably the best defence in world rugby. Richie Gray the breakdown specialist coach, did a podcast on the BBC a couple of weeks ago and he was talking about how one of the strengths and failings of the South African coaching system is that they will just coach the same thing for hours and hours and hours until they become brilliant at it. It can be tedious but the South African mindset is that they are going to become the very best at whatever it is they are doing and I think this was evident in the way the defended on Sunday.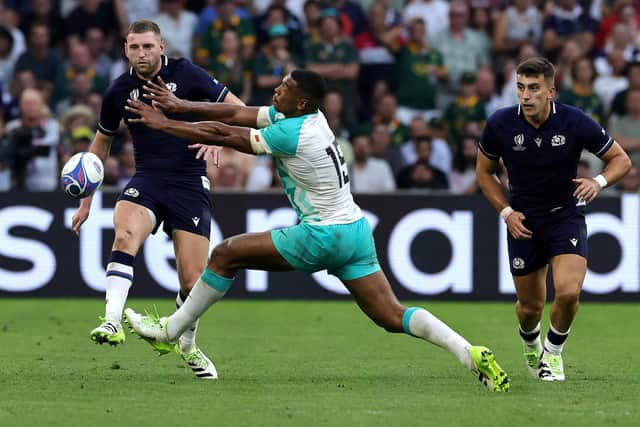 Against Scotland, it looked like they had been practising that for months. Jacques Nienaber and Rassie Erasmus are very smart. What we saw from South Africa in the Rugby Championship and in the warm-up games was not the full package and they were never going to show their full hand before the first game. That level of aggression from a defensive point of view – we'd seen it in bits and pieces, but we'd never seen it as aggressive as that. It's extremely well-coached but it takes special players to execute consistently and South Africa, with the likes of Du Toit, Siya Kolisi, Eben Etzebeth and Damian de Allende, have those players in abundance.
For all the threats in Scotland's backline, they just weren't able to get the ball into their hands in space enough. Finn didn't have his best game on Sunday with ball in hand (he was excellent defensively) and wasn't able to ignite the attack like we are so used to seeing but that's what pressure does to you, and I don't mean in terms of the occasion but the pressure that is being put on you to make the right decision, to pick out the right pass, to call the right play. You've got brilliant ball-players like Sione Tuipulotu sitting outside him and good strike runners like Huw Jones, Darcy, Duhan and Blair Kinghorn and we just weren't able to utilise those options enough. All of Scotland's back three were quiet and couldn't impose themselves on the game. Scotland need them to on the front foot and in space as much as possible if they are to win games at this tournament.
A big failing of this World Cup has been the refereeing inconsistency. On Sunday, South Africa's centre Jesse Kriel should have been sent off for the head-to-head contact he made as he tackled Jack Dempsey in the first minute. I was doing commentary on the radio and we saw it live and we thought it was a red card. Whether you agree with the current guidelines or not, the precedent has been set and we can't start picking and choosing when we apply the law. England's Tom Curry was sent off against Argentina in a similar incident on Saturday and it's the inconsistency that is maddening for players, coaches and supporters alike.
I don't know why, but there are no replays being shown on TV. Any contentious decision from high tackles to scrum penalties are not being shown again and I'm not sure why. It seems like it is an effort from World Rugby to deflect criticism from the officiating of matches. It hasn't and it won't, but what it is doing is stopping the viewer from enjoying the matches and leaving us confused about decisions made on the pitch.
The reality now is that Scotland will have to beat Tonga, Romania and Ireland to qualify for the quarter-finaIs from Pool B. The obvious thing they need to fix before they play Tonga in Nice on September 24 is the lineout. I'm not sure what happened on Sunday. There were throwing errors as well as roles errors in the lineout itself but certainly the way the lineout struggled at the end of the game will be a concern.
South Africa have a very good lineout defence, they're unpredictable and clever, and they chase you down but what will disappoint Scotland is that South Africa never really got anywhere near the ball on the occasions when Scotland got their drill right. It wasn't South Africa pressure that created havoc and that will really hurt. Its an easy fix – it's role knowledge, it's drill, so I don't think that's a major problem but it stopped Scotland getting any type of momentum in the game.
Scotland didn't have any set-piece platform to work from. I'm sure they would have talked about kicking the ball in behind and getting South Africa to kick it back to them so they could counter or kick it out and then launch from set-piece. But when your lineout is not functioning you are losing one of your major weapons so that probably influenced them to keep the ball in hand in the middle of the park and that just fed into that South African blitz. It's an area Scotland will look to tidy up.
I don't think Scotland will rest players for Tonga. They've got two weeks until that game so I think they'll go full strength. There will be some rotation for the third game, against Romania in Lille, and then they'll go full strength for Ireland.
I think it's important that Scotland put out their strongest team against Tonga. It will be a difficult game because Tonga have a lot of good players but Scotland really should be winning that. They will look to play the way they want to play against Ireland when they face Tonga. The Scottish backs didn't have much opportunity to attack on Sunday so they need more time in the saddle to get into their game and this would be an opportunity.
The positive from Sunday is that Scotland appeared largely intact at the end of the game with no major injury concerns. With both Ewan Ashman and George Horne hopefully recovered from knocks picked up in training, Scotland should be able to head into the match versus Tonga with a fully fit squad, and a fully motivated squad for what is a must-win game.