I say old but on video-call Glenn Metcalfe looks nothing like his 52 years in an azure-blue vest of the type with the un-PC, non-MeToo nickname, plus a New Romantic quiff. And at 7.30am in Hamilton, New Zealand he looks nothing like you'd expect of a firefighter who's come straight off a hectic nightshift.
"No huge dramas this time but lots of false alarms," he says in his wotcha-mate accent. Metcalfe was one of our kilted Kiwis back at the turn of the century and if anything can inspire the current team tomorrow then why not the fires - metaphorical ones - he started all over the Stade de France in what was our last championship triumph?
The vest, the accent, the tanned, outdoorsy appearance, the sparkling white walls - all of this suggests he's left the homeland of the grandmother he never knew far behind and indeed it's 20 years since Metcalfe was last among us. But when I ask if there are any reminders of his time as our fleet-footed full-back he jumps up with his laptop to run round the house.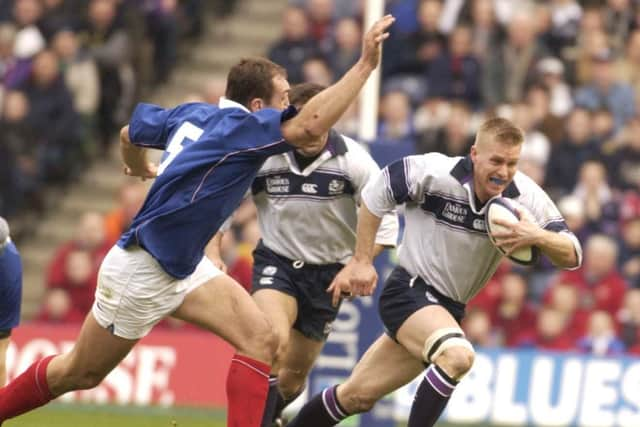 "Here's some art in the style of who's that fella? … Charles Rennie Mackintosh … I like this Glasgow panorama … the cathedral … the tenement flats where we lived … the shirt from my Scotland debut … and look … " He's pointing the camera at a newspaper front page, nothing else on it but him, thrillingly on the charge against France in the 36-22 victory. It's maybe the defining image of 1999.
Yes, I say joshingly, a break from deep not unlike Duhan van der Merwe at Twickenham and in fact begun from further back - so what went wrong, buddy? "I know, I didn't quite manage to score," he says. Then, out of shot, whipping up eggs for breakfast, his wife Lisa shouts: "Ah Glenn, you needed those extra 20 kaygees of Duhan's. Rugby players are way bigger now!"
But that 80-metre rush caused the French defence to cave, leading to a try for Alan Tait. His second most memorable intervention of the match set up Taity again as Scotland crossed the whitewash five times in 19 incredible minutes. We'll return to that contest and how we won the final edition of the old Five Nations but, as his Glasgow-born son Sam surfaces and Stanley the pet Shiba Inu from Japan jumps onto Metcalfe's lap, let's take his story right back to the beginning.
As the youngest of eight kids he was soon to be answering to "Snowy" like his brothers owing to his shock of platinum blond hair. That was to be his handle right through his rugby career and those 40 caps and it continues in the fire service. He dreamed of becoming an All Black, of course he did, but realised quite early this probably wasn't going to be achievable. "I didn't have the pathway to get to that level. I played a season for [provincial side] Waikato but wasn't able to establish myself. But, do you know, if it wasn't for Lisa I wouldn't have ended up playing for Scotland.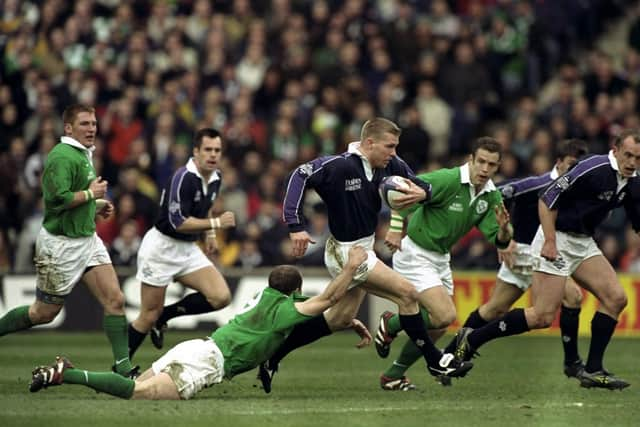 "She was desperate to do the OE thing [overseas experience], travelling and seeing the world. I was working for South Pacific Tyres, happy enough playing rugby for my local club with my mates, and not as keen on the big trip. She said: 'Well, if you're not coming I'll go myself.' I decided to pack a suitcase. It was the best thing I ever did.
"We toured Europe by bus and were always going to stop a while in Glasgow because of the family connection but international rugby was furthest from my mind. We both got jobs in a sports shop, me selling tracksuits to these young Glasgow boys with crazy accents. I had a contact at Glasgow Academicals - Kevin Greene was coaching and he'd been at Waikato - but in 1996 I was just this 26-year-old rugby backpacker. No one would necessarily have been expecting that much from me, least of all myself."
Accies, though, morphed into Glasgow Hawks and were able to offer Metcalfe a contract: "£15,000 a year, which was enough for a fella like me, and a cool opportunity to take the game more seriously." Playing full-back for the first time, he was a star man of the flamboyant div-two champs who lifted the Scottish Cup in their debut season. "Really, I was handed the ball on a platter," he insists. "Everyone in that team was running on top of the ground."
But, just weeks after the victory over Kelso, in June 1998, he was lining up in dark blue against Australia. "Mate," he says, "I'm still pinching myself about that. A couple of lucky bounces had gotten me a game for Scotland A. Then I read in the paper I was in the summer tour party and I was like: 'What?!' I expected to be one of the midweek XV and that was brilliant. But the Test team lost to Fiji, [coach] Jim Telfer wasn't happy, called everyone together and said: 'There are places available now.'" I got a crack against Victoria and was named man of the match. I kept my spot against New South Wales and Gregor Townsend - still my great rugby buddy - was fantastic in that one. Jim said to me: 'Well done, boy, this is just the start.' Then the Test came and I was named as full-back against the Wallabies. What a fortnight that was. As is traditional, the new cap had to sing to the rest of the guys and I went with 'Greased Lightnin'. Jim looked a bit alarmed - I was scared of him, to be honest - but by the end he was laughing. The game was at Sydney Football Stadium. My family flew over from New Zealand and my dad was blown away seeing his little boy run out onto the field."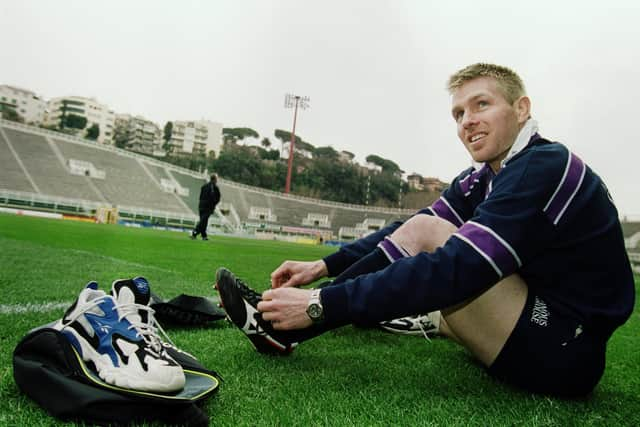 The first time Snowy did that at Murrayfield - February of the following year at the start of the Five Nations - he was joined by another kilted Kiwi. No need for a briefing from Metcalfe, though, as John Leslie required just ten seconds to bag a try against Wales, one of 16 a swaggering, swashbuckling Scotland would score in that blessed tournament.
Maybe not right after ten seconds, but did Metcalfe think we were onto something that year? "Well, our midfield was such a great dynamic. John was a massive part of our success. He was a terrific reader of the play and took the pressure off Gregor who could then play his flair game with the ball pretty much on a string. Then there was Taity: 'Give it to me if you want, guys, and I'll just crash into people.' He was a juggernaut running those rugby league lines which were so hard to defend against. And John being so deft with his hands - a wizard - and the opposition having to worry about him as well as Gregor, that allowed a lot of space for Kenny [Logan], Cammie [Murray] and myself to run into."
In that Sydney debut Metcalfe was left gobsmacked by the speed of international rugby. "Everything happens so much faster. A little gap appears and you think, yup, but then just like that it closes." In the second game of the championship, twice a tiny bit of Twickenham opened up for him and nearly a quarter of a century later he's still kicking himself for not seizing the opportunities. "One in particular, dropping a pass from Gregor, I was devastated about. It was the difference between us winning and losing [England edged it 24-21] and, who knows, it might have brought us a Grand Slam."
He well remembers his good friend's distraughtness at the final whistle. After eight years playing his rugby in Glasgow, eventually pro with the Warriors, Metcalfe followed Townsend to France and Castres. "We're in touch all the time. When Gregor comes out here to refresh the coach's toolbox he stays with us. I'm real stoked with what he's done for Scotland during his time in charge and the exciting way the team plays. They've got dangerous, world-class guys. Finn [Russell] is a genius, Duhan must be a total nightmare for the opposition and Hoggy [Stuart Hogg] has taken 15 way beyond what I was able to do in the role. As a result of course these guys are well-marked now. No one ever watched me too much so when I made those breaks in '99 I was able to put the hammer down and run and run like Forrest Gump!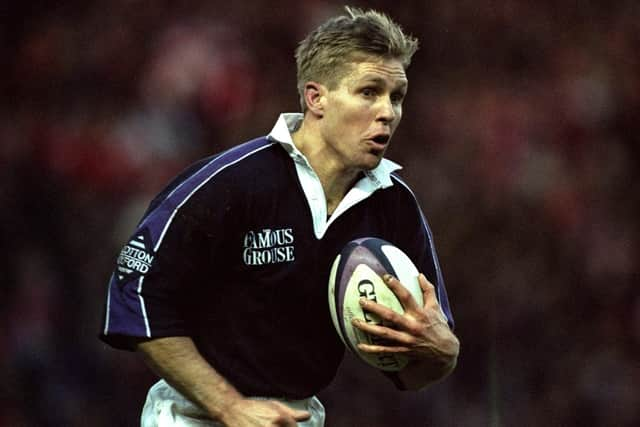 "I'm aware there's speculation about Gregor's future but I'm not engaging in the conversation with him. I'd love to be, by the way, but the best thing he can do right now is get the team out there, whip the French and win this championship. I know he'll be concentrating fully on that and afterwards, well, I hope that whatever happens it's what Gregor wants, and what Scotland want too."
Metcalfe and Townsend would have two further jousts with the French in what would prove to be their final year as internationalists - 2003, back at the Stade de France and in the World Cup in Sydney - but these were proper thumpings in which Les Blues totalled one point shy of 90. "Both times, bodies were just running at us non-stop. Obviously I think about these games a bit less!"
But Metcalfe will always have Paris. After the victory, the players could party, knowing they'd done all they could and would have to await the outcome of Wales vs England the following day, but he was back in his room, sound asleep. "I was heading back to New Zealand to get married and was petrified I'd miss my connecting flight back to London which was early in the morning - and my future mother-in-law told me on no account was that to happen.
"I was looking at having to hang around Heathrow until the early evening and went in search of a TV to watch the Wales game but couldn't find one. I bumped into [reserve lock] Andy Reed who lived ten minutes from the airport and he took me back to his place, both of us probably expecting England to win the Slam. It was looking that way so Andy went to walk his dog, leaving me on my own when Scott Gibbs scored that try and Neil Jenkins struck that conversion, so there I was jumping around in a strange house celebrating our great triumph.
"I still had nobody to share it with back at the airport. I tried to find someone who might have known me, though really why should they have done? My photo from Paris was in the papers and, saddo that I am, I hung around newsstands hoping to be recognised and even went to sit next to folk reading about the game!"
Never mind, Snowy, we know who you are and we're grateful for those Gumpian gallops. "I feel blessed," he says. "Winning the Five Nations, not many get to do that and it happened to me. I'm so grateful for the opportunity to have played rugby for such a great country and it'll stay with me for ever."