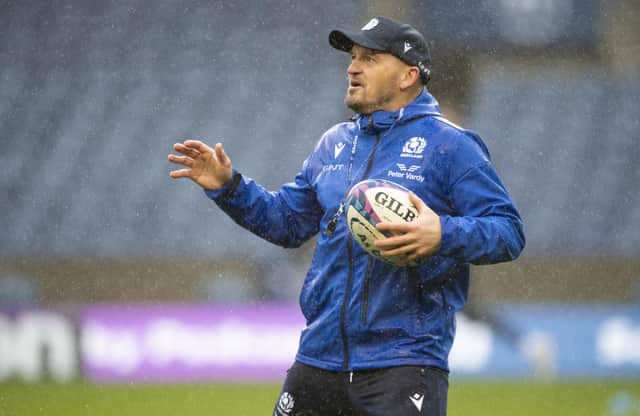 Only half of Townsend's 40-man squad for the forthcoming Six Nations Championship came through the Scottish system, an alarming statistic which should give pause for thought for those running the game. The coach will cast an envious eye across at Ireland whose entire squad is composed of home-based players which brings a number of advantages. In the meantime, Townsend will use all tools at his disposal to find Scottish-qualified players who he believes can enhance the national side.
"You have to play within the rules and my job is to evaluate whether it makes the team better and whether it helps us to win," said the coach. "You can't have any idealistic view on what would be better right. These are the rules. If players are committed, willing to work hard and play well, then of course we will make them available."
Townsend took advantage of changes to the eligibility law to include one-time England international Ruaridh McConnochie in his Six Nations squad, the Bath wing following Jack Dempsey, who was called up in the autumn under the same rule. The former Australia cap was the first to switch to Scotland under the amendment which allows a player to change nations after a three-year cooling off period provided they have a credible link to their 'new' country. Both McConnochie's parents are Scottish, he played for London Scottish as a youngster and his family are understandably thrilled that the 31-year-old will be pulling on the dark blue. Nevertheless, the wider issue that Scotland are not rearing enough of their own is not lost on Townsend.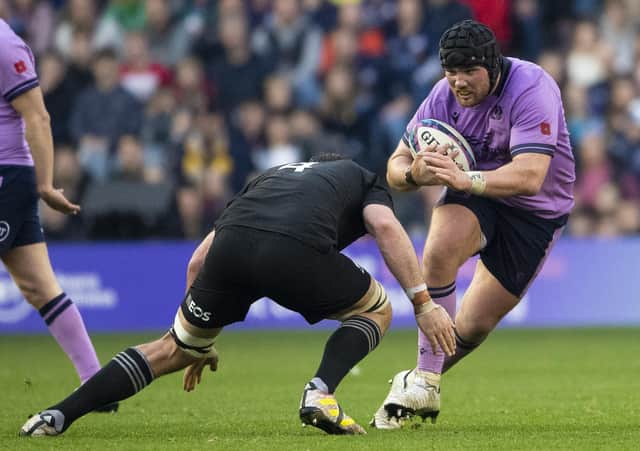 "We definitely have to produce and help our players come through better," Townsedn said. "Myself and my role and the pro teams as well, we need more choices and more difficult selections because there are more players coming through. Dual qualification is not simple. Players don't choose where they are born and a lot of people move out of Scotland for various different reasons. It has always been a pool of talent we are able to connect with because that's the nature of Scotland in its relationship with the rest of the UK for over 100 years. Players have always come from outside Scotland, but it would be great if we had more players coming through which will improve our under 18s, under 20s.
"It makes it easier to coach at international level if you have players who have come through your system. Ireland is a classic example of that. Players are coming to Leinster and Ulster and Munster. From a practical point of view you can have more camps, more relationships and they can be aligned with how the national team and the pro teams want to play. That would definitely be the goal."
Those in Scottish rugby charged with bringing through the next generation talk of a 'pipeline' of talent but it has been a difficult few years. The inactivity during the Covid pandemic for those below the senior level had a big impact and the national under-20 side suffered more than most from the lack of rugby. Back to back wooden spoons in the Under-20 Six Nations tells its own story but Townsend is optimistic that the work being put in by Kenny Murray and his colleagues will bear fruit. Murray was appointed a year ago to the new role of 'head of player transition' with a brief to ensure a consistent flow of players into Scottish Rugby's 'high-performance environments'. He also leads the Scotland U-20s."I back Kenny in his role because he is someone who is very diligent and is knocking hard on the door to get more access to the players to get them into Super6 and pro level," said Townsend. "That would help the 20s and ultimately help the national team if our young players are playing more rugby at pro level. In almost every other country players are getting to play professionally more than our young players are."
One of Townsend's more immediate worries is around the position of tighthead prop. Zander Fagerson has started 16 of Scotland's last 17 Tests but has not played since December 3 because of a hamstring injury. Murphy Walker, his natural success for club and country, is out with a neck problem and because it is such a specialised role there is no scope to swap players around.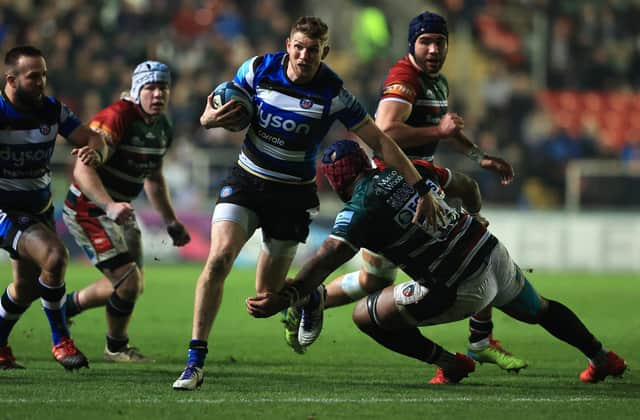 "This is the biggest concern around players coming through because we can't move someone across to tighthead," said Townsend. "You may not have a centre, but you can put a stand-off or a wing to that position to fill the gap, but you can't do that at tighthead. We need more players coming through in that position in particular. It shows you how reliant we have been on Zander and what a good player he has been for us. Let's see how he goes in the next two weeks in our squad. We believe he will be available for the England game which is a big positive."#
WP Nel, who is likely to have a key role over the next few weeks, has never let Scotland down but is 36 and is not going to go on forever. Like Nel, the other tightheads in the squad, Simon Berghan and Javan Sebastian, didn't come through the Scottish system a red flag for the SRU who last week launched a new programme designed to develop players in front-row positions.Townsend is unlikely to be around to see if the scheme bears fruit but in the meantime he goes into his sixth Six Nations campaign as head coach with his enthusiasm undimmed."The first game against England is our biggest game, of course it is, and playing away against England in front of a full house is the ultimate challenge for us," added Townsend. "I'm optimistic, definitely. I believe in this group of players and how they are playing. It has been a couple of months since we played, but I was very impressed with how they came together during November and I was impressed by how we played against New Zealand and then bounced back after a disappointing last quarter to play even better against Argentina. That gives me a lot of optimism that we can hit the ground running in a couple of weeks time."