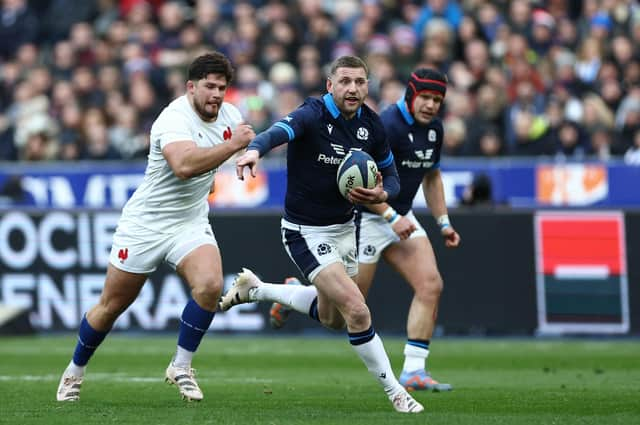 Thinking back to fine matches in Paris, I turned to his account of the 1987 match which France won 28-22. His admirable first sentence reads: "This was a sublime match which showed all the best qualities of the rugby game" – a pretty good summing-up of last Sunday's match too. We lost to a very good team on Sunday. The French had a pretty good one in 1987 too. "Scotland," Bogle wrote of the 1987 game, "were never able to overtake their opponents, but they played with great self-belief and made a stirring comeback when lesser teams might have crumbled." "Plus ca change, plus c'est la meme chose" as you might have muttered in a Paris bar, that year and this.
We came closer this time... That overthrow at the lineout... or was it a missed call or an ambitious plan that didn't come off? Was the idea a long throw to be collected by a rapidly advancing Sione Tuipulotu in order to set up a quick ruck in midfield? I don't know, though I like to think that was the plan. It would have been in tune with the audacity of our game. As it was of course the French got possession, got down to our 22, remaining there till they scored the try that deprived us of even a losing bonus point. Tough.
Nevertheless Kenneth Bogle's 1987 judgement holds good: a sublime match.This Scotland team is a joy to watch, and one feels that there is more to come. There's maturity, both mental and physical; and yet there is nobody necessarily near the end of his international career. As John Rutherford used to say to me whenever I suggested some player's time might be up – "you can't beat experience, Allan."
Quite so. A few years ago Finn Russell was often a delight to watch. I recall one game at Scotstoun against an English club which had the former England scrum-half Austin Healey declaring himself a founding member of "The Finn Russell Appreciation Society"; fair enough. Finn was a delight even then, but he wasn't a general, a controller. You never felt he was aware of the full picture. Now he is. Of course there are still mistakes – that ill-judged intercepted pass on Sunday, for instance. Only players with no sense of adventure don't make mistakes. Finn kicks more than he used to, but he kicks better and with purpose. Dan Carter kicked a lot. So indeed did all the best fly-halves I've seen from Ireland's Jack Kyle onwards. Intelligent kicking is very different from the boot-the-ball-in-the-air- and hope kicking we saw in the Wales-England game in Cardiff a week ago. Now with Tuipulotu and Huw Jones – also in sublime form – outside him we have the best midfield we've had since 1999 when Gregor Townsend, John Leslie and Alan Tait were together.
Of course no team can be consistently successful without a pack that can hold its own and more than that. Sometimes we have had a good eight but inadequate reserves. Whether we like it or not, professional rugby is no longer a 15-a-side game.
One of the reasons for confidence it that we are no longer usually weakened when forward replacements come on the field. Given that Townsend regularly has a 6:2 split on the bench, it's good that there is no sinking feeling when changes are made. You really need two international class eights, and we are either in that position now, or very close to it. The too frequently injured Rory Sutherland, one of our Lions two years ago, is now fit and playing for Ulster. Youngerer players, with already impressive records – Scott Cummings and Rory Darge – are active again. Luke Crosbie played well enough against England and Wales to suggest he is on the brink of a long international career. Moreover of the forwards who have been in this year's Six Nations, only the admirable WP Nel can be considered a veteran – but one playing well enough to suggest he has a few seasons left in him. Of course sometimes – too often – we have seen a promising, even lovely, morning turn into a dirty afternoon.
Nevertheless the forecast is "set fair" today. All-conquering Ireland come to Murrayfield next week. So we shall see. They came a bit close to defeat in Rome, but they will field what looks like a stronger team tomorrow week. What must this Scotland team do to beat them?