Huw Jones on Sione Tuipulotu's triple threat, why they combine so well and shedding unfair 'stigma'
Sometimes a partnership just clicks and the way Huw Jones and Sione Tuipulotu combined against England at Twickenham suggested they had been playing together for a long, long time.
In truth, it was their first joint outing at Test level after a measly three matches as a centre pairing for Glasgow Warriors. Jones has worn 12 for Glasgow and Tuipulotu 13 but they swapped jerseys for the Six Nations opener with impressive results. Tuipulotu created Scotland's opening try for Jones with a move straight out of the Glasgow playbook. Receiving a looping pass from Ben White, Tuipulotu threaded through a delightful grubber kick just before he got clobbered by an England forward. Jones read it perfectly, pouncing for his fifth Calcutta Cup try in as many games.
Tuipulotu's vision and execution has produced similar results for the Warriors this season and Jones spoke glowingly about the Aussie-born centre and the way they have been able to dovetail for club and country. "He's a brilliant player," said Jones. "We've only had a few games together, but the amount we've trained at Glasgow and now with Scotland, you get to know a player pretty well when you're alongside them every day. I think our skill sets help each other out. I think he's brilliant. He's a triple threat when he has the ball - he can run, he can beat defenders, he's got a good passing game and he's shown he's got a good short kicking game with some of his assists this season. So it's great playing outside of him. It really helps me pick my lines and run off him. And we connect well on the other side of the ball as well, in defence."
As ever, Twitter was quick to catch on to the pair's potential, championing the 'Huwipulotu' combination for Scotland in the aftermath of Glasgow's win over the Stormers last month. Jones, at 29, is the senior partner but has been impressed by the maturity shown by Tuipulotu who is four years his junior and was winning just his 12th cap at Twickenham.
"Yeah, I do often forget how young he is," said Jones. "But he's a great talker, he knows the game really well. He reads it well, he understands it, and he's good at meetings, he gets the point across well. And then out on the field as well, he's a good organiser. A key job for us is organising the forwards in front of us, but also chatting amongst as backs, organising attacks. That sort of stuff he's really key in high-pressure moments. To be able to make a call and then execute it - it's something that he's really good at."
Jones has had to be patient this season. He rejoined Glasgow in the summer after a year at Harlequins but his second debut was delayed until December 10 as he recovered from stress fractures in his lower back. He made up for lost time with a try in each of his first three games, helping the Warriors piece together a nine-game unbeaten run. Gregor Townsend was suitably impressed, selecting Jones ahead of Chris Harris for the England game and ending his near two-year exile from the national side. Jones repaid the faith shown in him almost immediately and now only the legendary Ian Smith has more tries by a Scotland player in the Calcutta Cup. Smith, 'the Flying Scotsman', scored nine in eight games between 1924 and 1933 so Jones - tied on five with Wilson Shaw - has a bit to go.
For now, the focus is on Saturday's home game against Wales and ensuring the good work against England is not undone, as has happened in each of the last two seasons. Wales is the only Six Nations side that Jones has not scored a try against but, equally important, will be stopping Warren Gatland's side finding a way through. Jones is all too aware that the 13 channel is targeted by opponents but feels he has improved his game defensively, one of the reasons Townsend trusted him at Twickenham.
"I was aware that at international level my defence needed to be better," said Jones. "We have a really good defensive system under Steve Tandy [Scotland's defence coach] which makes it a lot easier to defend. Everyone's on the same page. Thirteen is a hard channel to defend in and you can be put under a lot of pressure and almost hung out to dry at times. But with the team we've got and the trust we have in our defensive system that happens a lot less. The training we did at Glasgow, our defensive shape is similar to here. I feel better prepared to deal with any situation than I maybe was a few years ago."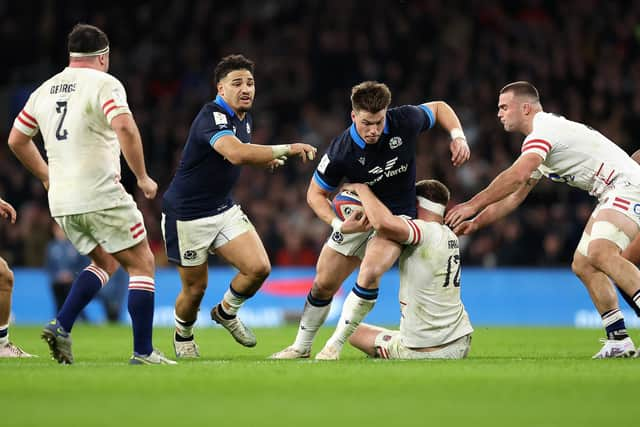 Jones thinks some of the criticism he has received for his defending was unfair.
"I like the quote, 'you're never as good as they say you are and you never as bad as they say you are'. A lot was made of my weaknesses in defence and some of it was pretty harsh and not quite accurate. I have missed some tackles, but so has everyone. Some of the tackles I missed led to tries and that really sucks, but that is just the nature of being an outside back sometimes. That's where the space is. I can improve every area of my game. It did hurt me that my defence was a big focal point for a number of years. I wanted to improve that and I knew it was an area where I needed to get better, but some of the criticism in the last couple of years has been lazy as I've been branded as a poor defender, when recently my defence has been good. I hope that stigma is now changing as I'm putting in good defensive performances. Hopefully I can put in another one on the weekend."
Comments
 0 comments
Want to join the conversation? Please or to comment on this article.