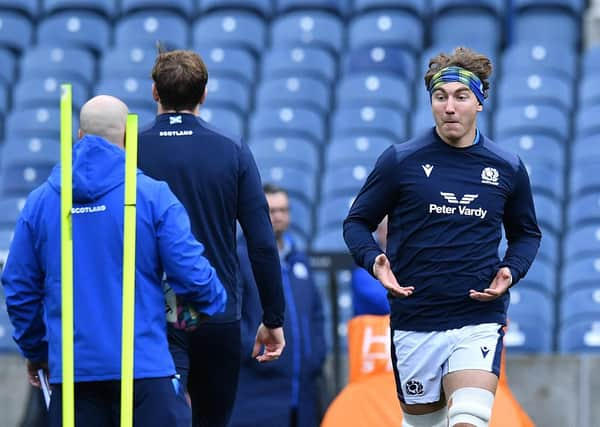 Thirty-one previous encounters with the All Blacks have yielded 29 defeats and two draws across 117 years and Ritchie acknowledged that the hosts must tread a fine line between respecting their opponents and being brave enough to take the game to them.
Ritchie grew up being inspired by New Zealand in general and Jonah Lomu in particular and had a couple of bruising experiences against the Junior All Blacks at under-20 level. But this is the first time he has faced them in a full Test match and he stressed that self-belief would be "hugely important". "It's been the theme of our week in terms of that courageousness and having the belief that we can go out there and win," said the Scotland captain. "Look, we're motivated to win every game but we want to make history as a group. Not just in this game but in other ways as well and this is a good one to get started with."
Scotland have huffed and puffed their way through an autumn campaign that has been dominated by the drama surrounding Finn Russell's exile and recall. A team of home-based players lost by a single point to Australia before the Anglo-Scots returned for last week's laboured win over Fiji. An injury to Adam Hastings triggered Russell's call-up and while it would be tempting to view the fly-half as the missing piece of the jigsaw, the reality is that Sunday's opponents represent a huge step up from what Scotland have faced thus far. New Zealand may have endured a stuttering summer, losing four times, but they looked close to their best in last week's 55-23 win over Wales.
Ritchie is confident enough in what Scotland have shown in this series, even if it has been disjointed at times. "I don't think there's anything missing, I think it's just a case of putting it together," said the flanker. "Our intention is to go out and fire every bullet we've got, leave nothing to chance. We're just going to be brave and take the game to them.
"It'd be the first time in our history that we'd beaten them in 15s, so we know it's a challenge but we're looking to get that monkey off the back but you saw them last week, they're still a very good side. But there are things that we've identified that we'll look to exploit and we'll be confident we can do that."
With self-belief so important, Scotland have hired Aaron Walsh, a mental skills coach from New Zealand, to work with the squad during the autumn series. Ritchie has found him a useful sounding board. "Yes, I've spoken to him quite a lot and he's spoken to the group a couple of times. In terms of his role, he's picking up with guys individually quite a lot around certain things. But for us, the biggest thing is going into this game and being courageous, playing our game and having the confidence and belief that we can go out there and win it.
"It's a fine balance, I think. We look at the threats they pose and prepare for that and then you hone the stuff you're good at. So this week we've spoken a little about the All Blacks and what we expect to see in certain areas of the game and then on the flipside what we think the good parts of our game can do to some of their weaknesses."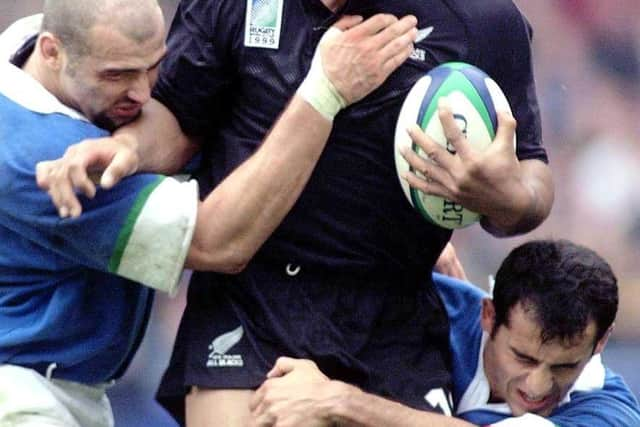 Ritchie took inspiration from watching the All Blacks as a kid and cites their former captain and back-row Kieran Read as a particular favourite. But it was the trailblazing Lomu who made the biggest impression. "When I was a little bit younger I had a Jonah Lomu video. I used to stay up at nights, and when I'd been put to bed I had a TV next to my bed and I used to watch the video on really quiet, so I'd sit really close and listen so they didn't know I was watching it in the next room."
Ritchie twice faced New Zealand at the Under-20 World Championships in what were eye-opening experiences for the young Scots. They lost 54-7 in 2014 in New Zealand and 68-10 in Italy a year later.
"There were a few guys we played against who have gone on to play for the All Blacks, like Damian McKenzie, Richie Mo'unga. I doubt they'll remember me but I was there! We lost. I'll leave it at that. And then in the next year, in Italy, we played them in our first game of the U20 World Cup. I think we were actually leading at half-time but, again, we lost. Heavily."
Ritchie knows such defeats can be consigned to the dustbin of history if they can find a way to overcome the All Blacks at a sold-out Murrayfield. Russell's return should galvanise the home side and spark a backline full of try-scoring threats but Scotland's discipline will need to be far better than it has been in the previous two games.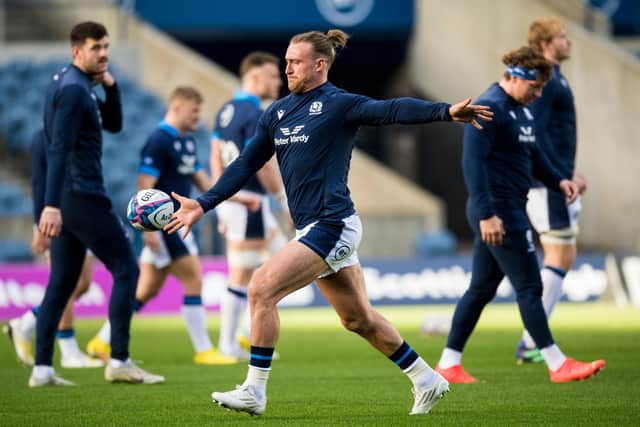 Ritchie is particularly heartened by the prospect of Doddie Weir's presence at the match as Scotland seek a result for the ages. "The strength and the courage that he's shown over the last five or six years since his diagnosis, just to keep fighting, is an inspiration to anyone," said Ritchie. "I know he as a person is special to the group and I'd like to think that the group is special to him. I said to the boys out there during the team run, 'If you need any other motivation than to do it for him, then I don't know what to say'. It'll be hugely inspirational for us."
Scotland: Hogg; Graham, Harris, Tuipulotu, Van der Merwe; Russell, Price; Schoeman, Brown, Z Fagerson, R Gray, Gilchrist, Ritchie (c), Watson, M Fagerson.
Replacements: Ashman, Sutherland, Nel, J Gray, Dempsey, White, Kinghorn, Bennett.
New Zealand: J Barrett; Telea, Lienert-Brown, Havili, Clarke; B Barrett, Christie; De Groot, Taukei'aho, Laulala, Whitelock (c), S Barrett, A Ioane, Papali'i, Savea.
Replacements: Taylor, Bower, Newell, Vaa'i, Frizell, Perenara, Perofeta, R Ioane.
Referee: Frank Murphy (Ire).