He's glad he took the role and has learned plenty in his 19 months in charge but he also knows it's time for change. He's loved the coaching. The rest, not so much. It's why he sees his next job as a dedicated attack coach, and a world class one at that. He may even stay with Edinburgh, a club that means a great deal to the local boy who played for and captained them with distinction. Scotland is another possibility. AB Zondagh parted company with the national side in January and Brad Mooar and Pete Horne have taken on attack coaching duties for the Six Nations. On the evidence produced so far, they've done a pretty good job but it remains to be seen what Gregor Townsend will opt for ahead of the Rugby World Cup.
Blair said yesterday he had thought long and hard about stepping down and had come to terms with it. "I am really pleased with the decision," he said. "It is something really positive for me. I have loved doing the role in terms of the learning I have got out of it, the challenges, how I have addressed them, how I have tried to improve myself and move on. It has made things really clear. The coaching part of it, when I come out onto the field, I have a buzz about me, thinking about what we can do differently, or better, or really well. Then I think about all the next bits I have got to do, whether it is recruitment, budget or academies or player release, and I had to make a decision on whether it would be the head coach bit I would stop doing or the attack coach bit because I believe whether it is the way I am, or time management, I want to put the focus on doing the best possible job in one or the other. I didn't feel that I could lead in both of them and do a really good job in both of them. The stuff on the field is the stuff I get the buzz from, improving the players, and that is where I have decided my focus is going to go."
Blair's arrival at Edinburgh in July 2021 had a liberating effect on the squad who began to play with a freedom seldom been seen under his predecessor, Richard Cockerill. The emphasis was on running rugby and their move to a compact new stadium with its artificial surface helped, allowing the likes of Darcy Graham, Mark Bennett and Emiliano Boffelli to flourish in an attack led by Blair Kinghorn, freshly converted to stand-off. They never got beyond the quarter-finals of either the United Rugby Championship or Challenge Cup in Blair's first campaign but there was plenty to be encouraged by and tangible rewards in the shape of the 1872 Cup and the Scottish-Italian Shield, the latter securing Edinburgh's place in this season's Heineken Champions Cup. They have done well on their return to Europe's elite stage, beating Castres twice and Saracens once to set up a last-16 tie against Leicester Tigers later this month, but their league form has dipped. They have lost six of their last seven URC games and are down to 11th with four games remaining as they seek a top-eight finish to make the play-offs.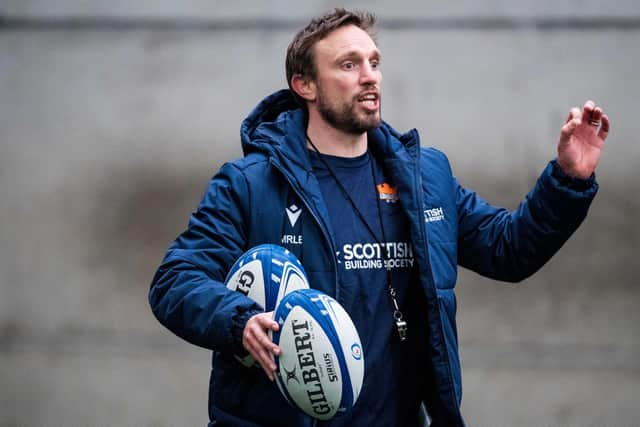 "This has been a rollercoaster and I've not really had the time to sit back and say 'where do we go from here' and 'if I were to do it again, what would I do differently?'" reflected Blair. "The opportunity to coach your home team, at the DAM Health, wasn't something I was going to turn down and I've learned so much from the experience."
He doesn't think the Edinburgh job came too soon for him – had spent five years previously as an assistant coach with Scotland and Glasgow Warriors – but he does think he could have been better prepared.
"The perfect timing is never going to come up so it's about making the most of your opportunity and I definitely feel I'm learning on the job," he said. "I believe I'm adapting, I believe I'm improving but when I put that aside it's partly the all-encompassing nature of it. When I go home I'm at home but I'm not really at home. I'm thinking selections, I'm thinking recruitment, I'm thinking scheduling, all these different bits, and it's probably taking away from stuff like 'how do we want to attack at our best, what can we do in training to make that better, can I watch the Super Rugby games and keep myself up to speed with that side of things'.
"It's just the ability to get your head out of the job – because I care so much. I genuinely care about our guys, as I said to them on Friday, I feel like I father some of them, I feel like a brother to others, and that does weigh on you a little bit. I want to put a real focus on what is my passion and that's around hands-on coaching."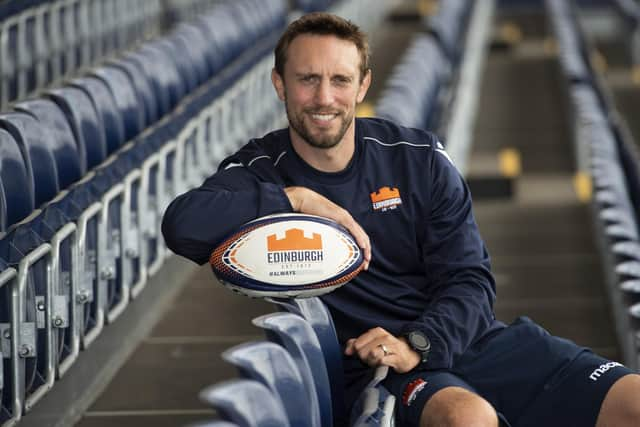 I asked Blair if that could involve a return to the national side. "I don't know how to answer this without giving a soundbite," he said. "Of course it's possible but it's not something that has been discussed at all. I've taken a risk with what I've done because I don't have anything lined up for next year, and I don't have a second plan yet. I'm sitting back, I'm waiting, I'm pleased I made the decision because it's something I've been deliberating for a few months. That decision has been made so I'm taking a deep breath and I'm putting all my focus into having a really good end of season with Edinburgh and then seeing what happens. I know as much as you beyond that."