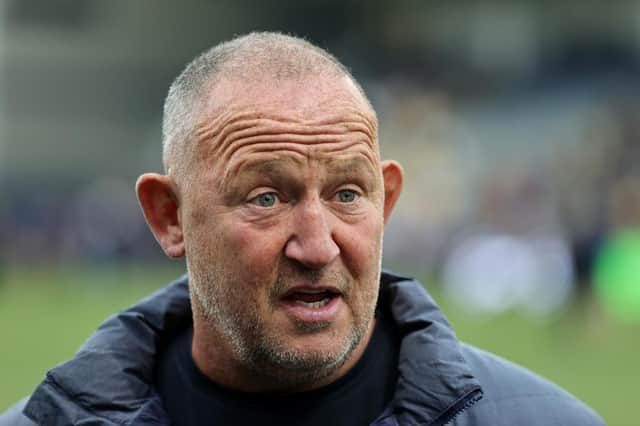 Diamond, 54, joined this week as the club's 'lead rugby analyst', a role he'll fulfil for the remainder of the campaign. The former Saracens and Worcester boss will work alongside Blair, who last month announced his intention to step down as head coach at the end of the season to pursue a career as an attack coach. It's an unusual situation but Blair said he was looking forward to working with Diamond. They will pick the team jointly and pool their talents to try to spark an upturn in Edinburgh's fortunes.
The capital club sit 12th in the 16-team United Rugby Championship with three rounds of fixtures remaining and need to finish in the top eight to qualify for the play-offs. It's a tall order and may be beyond even two chiefs. They have lost seven of their last eight URC games, shipping over 40 points in each of the last two, but Blair says he and Diamond have discussed how they can turn things around, pointing out that Edinburgh have picked up six losing bonus points this season, meaning they have lost half a dozen matches by seven points or fewer.
"We have talked about us not being far off," said Blair. "We've looked at stats that he uses to measure where teams are at, and in those stats we are sitting pretty high – in play-off places or above on most of those stats. We're not far off, we're doing lots of good things. We have six losing bonus points which could have gone the other way. It's not broken, we just need to find a ruthless edge – when we get on top of teams, put them away. We need to be prepared to work hard for each other from an attitudinal point of view. I believe we've had it in periods this season – the Saracens home and away games show we've got it in there, but it's just that consistency and the application."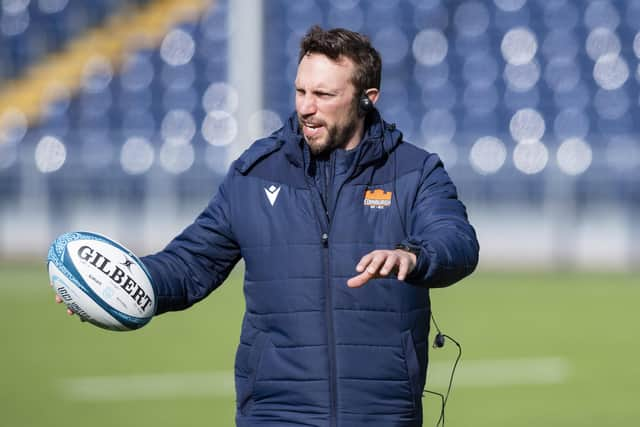 The Saracens matches were in the Heineken Champions Cup, with Edinburgh losing narrowly away before beating them at home. They have tended to reserve their best performances for Europe this season, also beating last year's French Top 14 runners-up Castres twice, and will face Leicester Tigers at Welford Road in the last 16 a week on Friday. Before that, they must travel to Galway to take on Connacht in the URC on Saturday. Edinburgh trail the eighth-placed Irish side by seven points so an away win is essential if they are to keep alive their faint play-off hopes.
"He's here to help, be another ear, give us observations and use his experience to help me and the other coaches, and our leadership group, to finish the season on a high," Blair said of Diamond. "My understanding and Steve's understanding is that we are working together, using our own individual skill-sets to get the best out of the group. He's come in to be another eye, be a sounding board, give his observations and opinions to enable us to win games."
Blair said Diamond would have a say in team selection for this weekend and beyond. "It will be a joint discussion. With Steve coming in just this week, we've had conversations about it, but it's the same as me with the assistant coaches. I don't just say, 'this is the team'. We have a conversation then we make a decision. Steve will be another opinion that joins that thinking pot."
It remains uncertain what direction Edinburgh will take at the end of the season. They are actively looking for a new head coach and Blair does not think Diamond's ambitions lie in that direction. Blair himself is unsure whether he will remain at the club as attack coach. "Steve doesn't have any desire to be an on-field coach," said Blair. "He likes overseeing things and dealing with the off-field stuff, but at the same time he's been a forwards coach. He's been an on-field coach so of course we're going to use that. My position is that I'll wait until a head coach is announced or found. There will be conversations on both sides as to whether it fits for both of us, then we'll see what happens."
Edinburgh welcomed some – but not all – of their Scotland players back from international duty this week and their participation this weekend will depend on how much game-time they had during the Six Nations. Jamie Ritchie, the national captain, has been given more time off after playing in every minute of every Scotland game. Darcy Graham, who missed the tournament with a knee injury, is back in training and will be assessed later in the week before a decision is made on his readiness to face Connacht. One player who is definitely in the frame for Galway is Grant Gilchrist who was suspended for Scotland's matches against Ireland and Italy after being sent off against France for a high tackle. The ban also covered Edinburgh's game in Connacht but Gilchrist was able to substitute the final match of his sanction for taking part in a 'Coaching Intervention Programme' aimed at modifying tackle technique. Dubbed 'tackle school', Blair said the forward went through the process meticulously.
"He did it a couple of times," said the coach. "You've got to do it right, spend the time on it, which is right when you're taking a game off the ban as a result. He did it a couple of times because they are stringent about what they want from it. It's not so much a box-ticking exercise. They say, 'this is what it looks like, this is what you have to do, you did this but you need to do this.' That's what we have done and he is available for this weekend."