The son of a former Scotland captain, he opted in the end for dark blue - but there was a brief flirtation with Eddie Jones' England. Redpath now finds himself ideally placed to guide clubmate and squad newcomer Ruaridh McConnochie as the winger takes his first tentative steps across rugby's Hadrian's Wall. McConnochie comes from a Scottish family but was born in London and capped twice by England in 2019. The Bath winger has now taken advantage of a change to the eligibility rules which allows a player to switch national teams after a three-year cooling off period. He joins Redpath in the Scotland squad which kicks off its Six Nations campaign against England next week. McConnochie's parents, Rennie and Seonaid, are both Scottish and the young Ruaridh spent his formative rugby years at London Scottish. Redpath insists he didn't try to influence McConnochie but he did speak favourably about the Scotland camp, and in particular the quality of service he would get from Finn Russell who will be joining the pair at Bath next season.
"He has been mentioning it to me for a while, but at the end of the day it's his own decision," said the centre. "At odd times in the gym the Scottish national anthem would come on and I would just look at him and smile. But I never pushed him one way or the other. I just told him it was a good environment up here and he would get a lot of ball in his hands from Finn moving it out wide."
If selected, the winger will become the first player since the 19th century to play men's Test rugby for both England and Scotland and Redpath said it would make the McConnochie clan very proud. "His family are very Scottish. I don't think they spoke to him for a few years when he played for England! So now they are happy and it's all good." Gregor Townsend spoke last week about the difficult decisions facing players who are dual (or more) qualified, something with which Redpath can readily identify. He was born in France while father Bryan was playing for Narbonne. The family then decamped to England when Bryan joined Sale Sharks. Cameron played age-grade rugby for England up to under-20 level and was called into the full squad by Eddie Jones for the 2018 tour to South Africa but forced to withdraw before departure because of a serious knee injury. He remained uncapped until Townsend took the opportunity to select him for the Covid-affected Six Nations of 2021 when he enjoyed a memorable Scotland debut in the win at Twickenham. Was it strange to play against England? "Not really," said Redpath. "It was more strange that there were no fans there. I had played against these lads with Bath and Sale so I felt I was playing against the same people."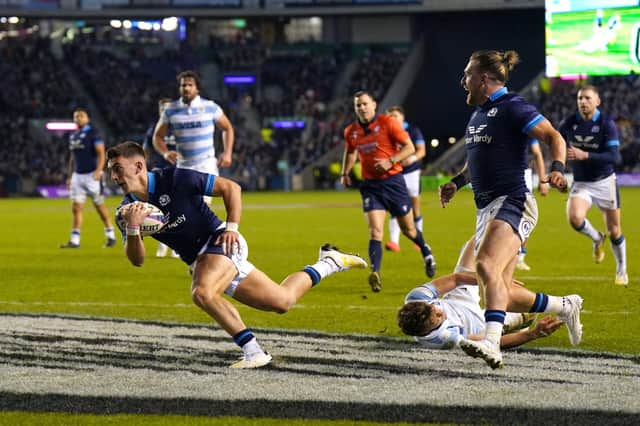 Redpath offers an honest assessment of his own path to full Test honours but knows there is no one-size-fits-all route for dual-qualified players. "It depends on where you are in your career," said the 23-year-old. "For some players the age-grade stuff is best for their development. For me it was never about what other people thought. It was just a case of 'what is in front of me right now? What stage am I at and what is going to benefit me the most?' I am very competitive and wanted to be playing as much as I could and pushing on to that next level at the time. When I spoke to Gregor prior to winning my first cap, I hadn't really cemented my place at Bath at that point and I wanted to do that before choosing either way. It is the same with Ruaridh. He made a decision a few years ago which he felt was the right thing at that time. He probably didn't get as many caps as he wanted and he might be 31 now, but he is at a point where he is still growing as a rugby player. He came to [15-a-side] rugby pretty late after sevens. It can be tough but you've got to look at it from a personal point of view and where you feel you can be playing at the top level."
Serious injuries stymied Redpath after that first cap. He played no further part in the 2021 Six Nations then had a blink-and-you'll-miss-it appearance as a late replacement against Wales in last year's championship. He was able to return for the 2022 autumn series and scored his first Scotland try in the win over Argentina.
"It was tough. I played my first cap, then I had a neck issue, had an injection and was back ten weeks later. A couple of weeks after that I had a knee and a shoulder op six weeks apart and I came back, played four games, had another neck issue and had another operation on that. After that I didn't rush it back, I just took my time. That was the hardest time, doing one Six Nations, one cap, second Six Nations, one cap.... I am only 23 and I forget that sometimes. I put quite a lot of pressure on myself to be playing every week. This season I have got better at dealing with it if I miss a game here or there. I know I have got to look after my body because if it is not up to scratch, I won't be playing. The mental side of it was tough but I have got a good group of friends and family who have been there for me throughout those times. So it was nice to see them at the Argentina game, when they got to see some good times as well."