Exclusive:

Scotland Rugby World Cup: Here's the team capable of beating South Africa and this is how they'll do it - Fraser Brown

Scotland will have to do something they have not done for 13 years if they are to make a winning start to the 2023 Rugby World Cup in Marseille on Sunday.
The last time they beat South Africa was back in 2010 when Dan Parks kicked all our points in a 21-17 victory. Can the current side emulate them? I think they can. Why? Because this Scotland team is full of top-quality players and that is the most important thing. It's the most talented squad we've had in terms of raw ability and it's the best group of professional Scottish rugby players I've seen. I saw comments from John Jeffrey this week saying it's the best ever Scotland team. I understand why he said it and I think they have the potential to be but, at this moment in time I can't agree. You can't compare amateur and pro eras, the game is completely different, so all we can judge them against is other Scottish teams in the professional era. In those terms they probably are the best team but for me, to be successful, you must win something. That's the reality of professional sport.
Winning the World Cup seems like a pipe dream when your group includes the number one team in the world and the defending champions. So, what does success look like for this team? A win against South Africa on Sunday for starters and progression from the group. It's a tough ask but the potential is certainly there.
I think the team that Gregor Townsend picks will be pretty close to the one that started the second warm-up game against France. I expect the pack to be a front row of Pierre Schoeman, George Turner and Zander Fagerson; Richie Gray and Grant Gilchrist in the second row; and Jamie Ritchie, Rory Darge and Jack Dempsey as the back row.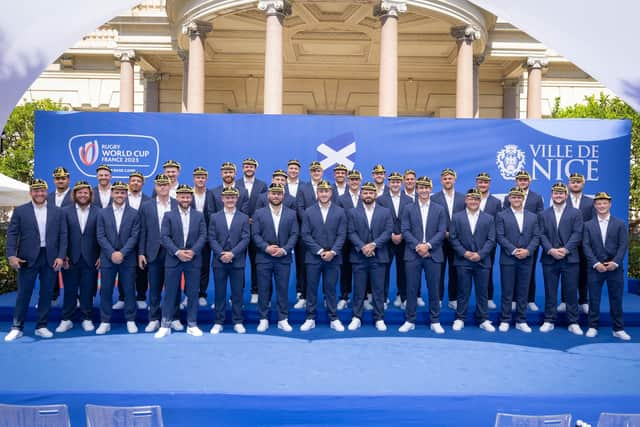 Dempsey showed in Saint-Etienne and in the second half against Georgia just how important he is in creating go forward and front foot ball for Scotland. His ball-carrying has been so good over the last couple of games, he's an out and out No 8 and I think he'll get the nod to start ahead of Matt Fagerson. It's harsh on Matt who has been Scotland's most consistent performer over the last two years but his versatility in covering six and eight off the bench gives Scotland more options later in the game than if the roles were reversed.
Scotland can't go out with a defensive mindset on Sunday. They can't afford to try to contain South Africa and then attempt to nick the win at the end and I don't think they will. I believe they will look to play, push the tempo when possible and move the ball to space to stress the South African defence. They're going to go out and attack South Africa. I think their mindset will be to play on the front foot, look for quick ruck ball and attack them in the wider channels. If the game slows or if they lose momentum, then they will look to kick on the front foot and keep South Africa inside their own half. Scotland will probably look to kick long and keep the ball away from touch to negate the power of the Boks at the lineout, tire out the big South African front five with ball in play and hope space will open in the middle of the park for the Scotland counterattack to exploit. I'm not saying Scotland should be uncontrolled and frenetic but the way for them to approach this game is to go for the throat, attack them and play with pace and power.
I think the backs pick themselves, more or less. Ben White will be at nine, Finn, obviously, at 10, Sione Tuipulotu and Huw Jones as the centres, Blair Kinghorn at 15 and Darcy Graham and Duhan van der Merwe on the wings.
It's a strong team and I'm really excited to see that front row in particular. I know George really well and this is the type of game he'll thrive on. It'll be physical, confrontational, with big impacts. For Scotland to be successful against South Africa it's essential the front row plays well, and I think they will. I'm certain Schoemy's going to go out and have a huge game against his country of birth. I think this is a real opportunity for him. Pierre has spoken about wanting to be a Springbok when he was growing up but he has come to Scotland and immersed himself in our country. It might sound a little strange but you couldn't find a more Scottish South African. He's embraced everything about Scotland and it's way of life, he absolutely loves the place and I think it's fair to say that almost every single Scottish fan loves him. That emotion will bring the best out of him and he's level-headed enough to not let it go too far.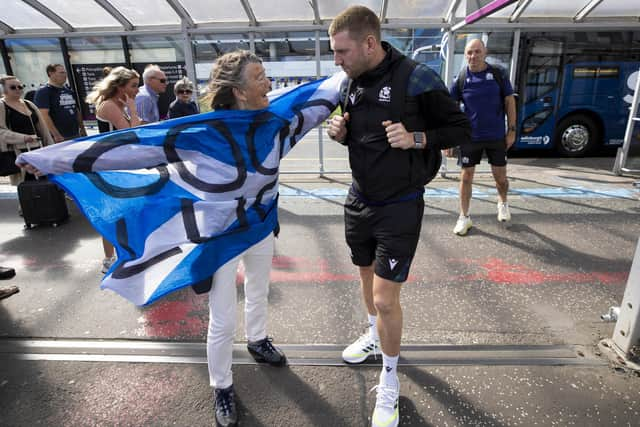 I think the emotional factor will be more of a help than a hindrance for our South African-born players. WP Nel has played against South Africa a number of times. He's been in Scotland since 2012 and in the national side since 2015 so I don't think it will affect him. He will treat it like he would any game, in his usual professional manner.
Duhan has spoken at length about how appreciative he is of Scottish rugby and Edinburgh and what they have done for him. He was at Montpellier and had a bad hip injury which limited his opportunities. He came to Edinburgh and the support he's had from Scottish rugby has allowed him to go and do what he's done and he is now joint fifth on the all-time list of Scotland try-scorers. There will be extra emotion for Duhan but he's just got to let it wash over him and play the way he's been playing. The same goes for Kyle Steyn who was also born and brought up in South Africa.
I think Steyn and Nel will be on the bench but Gregor has tough calls to make here and I'm a bit torn about which back-up hooker he'll pick. I think if they want to go solid, they'll pick David Cherry but Ewan Ashman's set-piece was really good when he came on against Georgia and I thought he just added something extra around the pitch. He is more dynamic in the loose, he's a good ball-carrier and physical defensively. It's 50-50 but I think they'll put Ewan on the bench. I'd be picking Jamie Bhatti as replacement loosehead because I think he's scrummed really well, he's defended well and he's connected around the squad. I think he and WP Nel scrum well together and are the strongest scrummaging replacements available. If Gregor goes with six forwards and two backs, I think both Scott Cummings and Sam Skinner will be on the bench. Sam can play six if needed and Matt Fagerson will be there too.
That leaves two backs and I fancy George Horne to get the nod ahead of Ali Price. He can raise the tempo and move Scotland's attack up a gear. The other back probably comes down to a choice between Cam Redpath, Chris Harris and Kyle Steyn. A 6-2 bench always means there's a hard choice to make for backs cover. Kyle is comfortable on both wings and has played 13 at club. With the ability to move Blair to 10 and Finn to 12 I think Kyle will probably take the last spot on the bench and it's nothing more than he deserves.
Will that squad of 23 be enough to defeat the world champions and kick-start Scotland's Pool B campaign ahead of matches against Tonga, Romania and Ireland? I think Scotland have every chance. They've got a world class defence and if you want to be successful you need that. They have a world class set-piece and how they use that will be important. I don't think you can get into an arm wrestle with South Africa but equally, you can't run scared from them and you can't stay away from the set-piece because you're worried about their power. A lot of people look at the set-piece in terms of winning penalties. The biggest thing about the set-piece - lineout drive and scrum - is your ability to tire out the opposition. If you move the ball wide the whole time you don't tire out the opposition front five enough, you don't get enough lactate into their legs. So you have to pick and choose the times when you play fast and move it wide and ideally it's when your opponents' front five are really suffering. So how Scotland use that set-piece will be really important.
For me, the biggest factor in Scotland's favour is they have Finn who's the best 10 in the world at the minute. His game is so well constructed and so balanced. He takes risks but they're calculated risks. I think we've seen a shift from Finn in the last couple of years. He doesn't take the high end risks any more. The ones he does take tend to come off because they are calculated risks, not Hail Marys. His skill set has improved and he is without doubt the best passer of the ball in world rugby. Those big, flat missed passes look risky but he has that confidence in himself to pull it off and having that belief helps make him the player he is.
Finn, Huw and Sione work so well in that midfield combo and then they have the threats out wide. The opposition can't focus only on Finn because if you do that Scotland will shift it one out to Sione and he can create space for Huw or go out the back and get it wide. And if they do that they have Blair coming into the line and he has looked brilliant at 15 for Scotland all through the summer. The wingers are especially potent. Darcy always beats the first two tackles and Duhan beats something like six defenders on average every time he runs.
Scotland have threats all over the park and that's what makes them so dangerous. But it's how they construct that 80 minutes and how they deal with those pressure moments, before and after half-time, the start of the game and the last 10 minutes. How will they deal with that? Will they be able to squeeze teams instead of allowing teams to squeeze them? If Scotland can master these moments on Sunday, with the talent in that squad, then they undoubtedly have the ability to start this World Cup with a win.
Comments
 0 comments
Want to join the conversation? Please or to comment on this article.