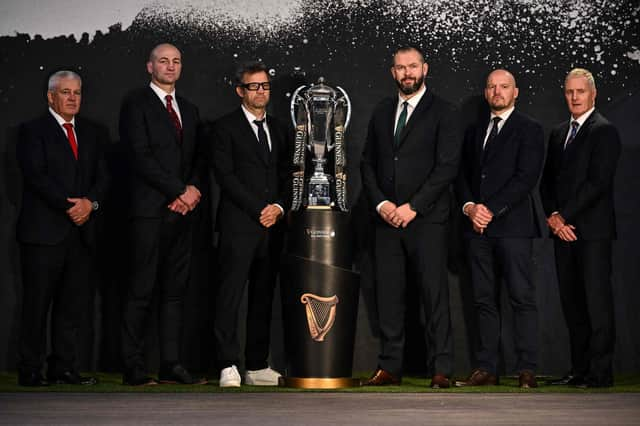 It's easy to forget that Scotland lost to England eight years in a row prior to his arrival in summer 2017, but have gone home with the Calcutta Cup in four of the five campaigns under his watch. Higher standards have raised expectations and that was never more apparent than last season with the general air of dissatisfaction that greeted a Six Nations campaign which yielded just two wins. The fact that one was against England – a result as rare as hen's teeth not so long ago – didn't seem to buy the coach much goodwill, possibly because it came at the very start of the tournament.
It contrasted sharply with the feeling of optimism 12 months earlier when Scotland won at Twickenham and in Paris to end long barren runs at both venues. Townsend is comfortable with the change in perception. "I believe our supporters come to our games, home or away, really believing we can win," the coach said at the launch of 2023 Guinness Six Nations in London. "Expectation brings more demands, more responsibility and criticism when you don't reach those levels. We have to take that on board. We would much rather our supporters come to our games expecting us to win rather than just hope. You're not going to win all the time. But seeing the supporters staying for an hour and a half after the New Zealand game, waiting for the players after a defeat, it shows how well the players are connecting with them and how much the supporters drive us forward as well."
Those same supporters are entitled to now ask when Scotland will actually challenge for the championship. Since the Five Nations became Six in 2000, England have won seven titles, Wales and France six apiece and Ireland four. Scotland have never finished higher than third and never won more than three games in a single season, something they have done three times in five championships under Townsend. The 31-23 defeat against the All Blacks came during an autumn campaign which finished with a flourish for the Scots. They played with great courage against New Zealand before letting a winning position slip, and then produced a scintillating display to triumph 52-29 against an Argentina team which had beaten England at Twickenham two weeks earlier. Consistency remains Scotland's Achilles' heel, more specifically their inability to back up one big performance with another. In each of the last two seasons they have opened their Six Nations campaigns with a win over England only to lose to Wales in week 2. The 2021 defeat at Murrayfield was particularly vexing as the Scots looked well placed to win only for things to unravel as Zander Fagerson was sent off.
"It's been discussed and it's certainly something we talk around, being more consistent," said Townsend. "Consistency isn't just about playing your best every week, it's making sure that when you don't play well you don't drop to the level of a bad performance. In the last two Six Nations we've opened with victories and we haven't followed them up in round 2. The opposition have a big part to play in that. Two years ago we played well against Wales and we were obviously affected by a red card. Last year we didn't [play well] down in Cardiff and that's something we have to improve. We have to improve within games as well, when momentum goes the way of the opposition, how to keep our togetherness of our emotional control and knowing what the next solution is. And that's something I really encouraged in the autumn. We went 14-0 down against New Zealand after seven minutes and then in the next 53 minutes we were 23-0 up on the scoreboard, and that takes a lot of calm and leadership from the players, and accuracy to get back to score those points."
Scotland have employed a mental skills coach to help in this regard, with Aaron Walsh joining from the New Zealand Super Rugby side, the Chiefs, ahead of the autumn series. Townsend is certainly not afraid to scour the globe looking for ways to gain an edge and this extends to his playing squad as well. He took advantage of the new World Rugby eligibility rules to cap Jack Dempsey in the autumn, and has brought Ruaridh McConnochie into his squad for the Six Nations. Both men have already played Test rugby for the nations of their birth – Australia and England, respectively – but were able to switch because a three-year period had elapsed since their last cap and they both have a Scottish bloodline. Townsend revealed on Monday that he was considering bringing in a third player via the new eligibility rule. John Cooney has won 11 caps for Ireland but last played for them in the 24-12 defeat by England on February 23, 2020. The Ulster scrum-half, whose father is from Blantyre, would therefore become eligible for Scotland from round 3 of this season's Six Nations when Townsend's side travel to Paris to take on France. Intriguingly, the fourth round sees Scotland host Ireland.
With Ali Price, Ben White and George Horne already in the squad, and Ben Vellacott in good form for Edinburgh, it's a moot point as to whether Scotland need another scrum-half, especially one who is 32, but Townsend is keeping his options open. "I spoke to John when the rule change came about," said the coach. "He actually reached out to me to let me know that it would be something that he would consider as a lot of his family live in Scotland. In terms of timelines he's not available until later in the championship so it wasn't something we considered for the beginning of the championship. But we'll look at it when he's available and whether we feel it's right to bring him in in terms of his performances compared to the other No.9s that we have here."
Townsend has already brought Irish stand-off Ben Healy into his squad. The Tipperary-born Munster player qualifies through his mother and is uncapped at full Test level. He has played for Ireland Under-20s and will join Edinburgh next season.