It now transpires that the evening in question may have had beneficial consequences, with Sione Tuipulotu attributing his burgeoning on-field partnership with Finn Russell to getting to know the stand-off a little bit better off the field. The pair were among the half-dozen renegades who headed into town on returning home from beating Italy in Rome. News of the putative night on the tiles leaked out on the eve of Scotland's final Six Nations match against Ireland and cast a bit of a cloud over what was a disappointing campaign.
Fast forward 11 months and Gregor Townsend's side are in a far better place, with two wins from two and a huge sense of anticipation building for Sunday's match with France in Paris. Russell, Tuipulotu and Huw Jones have been the creative hub during bonus-point victories over England and Wales but it didn't all click immediately. While the two centres have had the benefit of playing together at club level this season, Tuipulotu admits it has taken him a little longer to get on the same wavelength as Russell.
"He's a player you do need to learn how to play with, for me anyway," said the Aussie-born Scot. "When I play at Glasgow there is a bit more of an even share of creativity, from the 10 to the 12 to the 13 to the full-back, whereas at Scotland we've got this guy who is a bit of a magician and we've got to learn how to play with him and play to his strengths.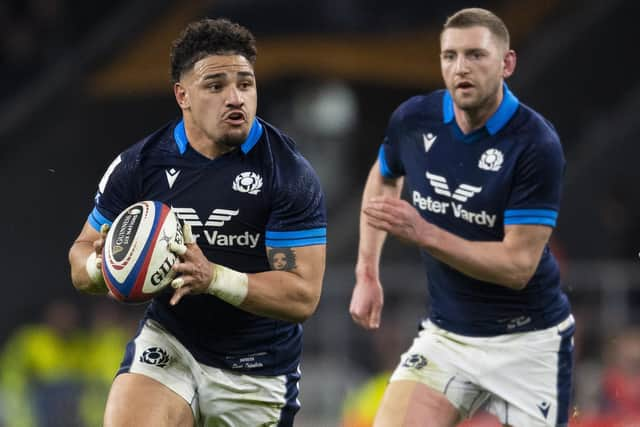 "I think it took me or five or six games to get used to Finn but to be honest I think where we made the biggest strides was in our relationship off the field and we started to trust each other off the field through our many experiences, as you guys probably know!
"I don't know if we bonded on the naughty step, it was more just after games you have beers together and you spend a bit of time. You gain each other's trust and you just become more comfortable when you've shared moments off the field as well."
Tuipulotu says he now feels more comfortable sharing his opinions with Russell and hopes Scotland will be the beneficiaries. "I think we're now in a place where we know where we want each other to be and I suppose that's what you want for your 10 and 12."
Interestingly, the pair have bonded over a shared interest in clothes. "I'm quite into my fashion and Finn, weirdly enough, is really into that type of stuff," added the centre. "The type of stuff he wears is pretty out there. I don't know if he always dressed like that or maybe since he's moved to Paris he's become quite edgy. He wants to express his style like that. But I enjoy it and we often send each other stuff on Instagram of clothes and shoes and so on."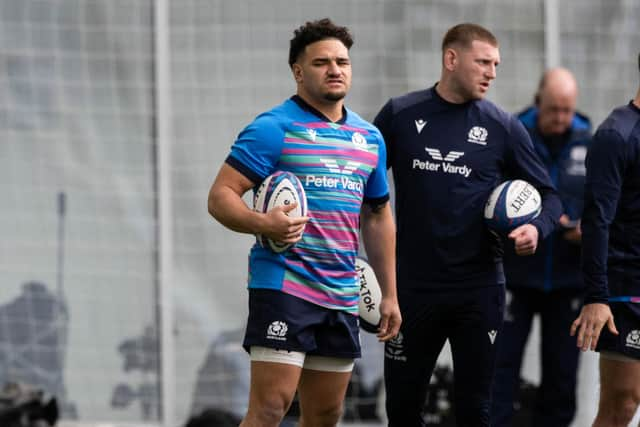 It's not clear where Huw Jones stands on fashion but the way he dovetails with Tuipulotu has transferred from club to country almost seamlessly. The latter remembers watching Jones when the Edinburgh-born centre first burst onto the international scene and is delighted that he has been restored to the Scotland fold after a handful of games together for Glasgow. "I feel like I get the best out of him and he gets the best out of me," said Tuipulotu. "We go hand-in-hand in terms of that chemistry. I'm really comfortable playing with him on both sides of the ball."
Tuipulotu's form has made one supporter in Australia especially happy - it is through his grandmother from Greenock that he is eligible to play for Scotland. Jaqueline Thomson, who emigrated to Australia, hasn't been too well recently but has been able to cheer on her grandson from afar.
"My grandmother has been just stoked, to be honest. She's just over the moon with how Scotland are doing and how the country is getting behind us. I really wish she could get over for a game soon, but it gives me a lot of pride playing for Scotland and knowing that she's watching at home. We're playing for everyone in the country and everyone around the world who supports Scotland, but for me, personally, every time I play for Scotland it is for my little Grandma back home, and that's all the motivation I'll ever need. I'm really, really proud to represent her."
It's not beyond the bounds of possibility that she could have a second grandson to support in dark blue. Sione's little brother has been impressing recently for the New South Wales Waratahs and although Mosese Tuipulotu recently came out and said he wanted to play for Australia, big brother begs to differ.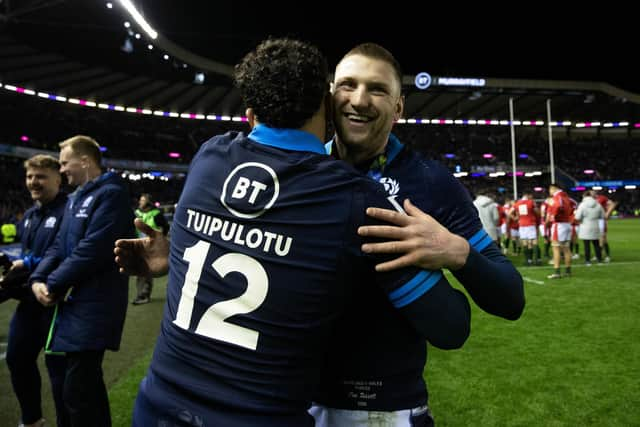 "I'm not sure it's that true, to be honest," said Tuipulotu senior. "I don't know if they mixed up a couple of quotes or whatever. I speak to my brother quite often and his motivation is that he's still got six months left with the Waratahs and he wants to play as much Super Rugby this year as he possibly can. He's started well in pre-season but at the end of the day he's got two Wallaby centres ahead of him in Lalakai Foketi and Izaia Perese.
"My brother dances to the beat of his own drum and while I'm over here he wants to do his thing, so that might be staying in Australia or might be coming over here. He holds his cards close to his chest. He's a centre too so maybe Gregor is talking to him on the sly. I always say that if he was to come over then send him to Edinburgh because I don't want him to steal my position at Glasgow!"