"The first time I saw him was one afternoon in Gala, as a 16-year-old playing for Hawick in the Gala Sevens," recalled the Scotland coach. "There was already a bit of chat about him. He was much slimmer then but with the same length of hair. I remember seeing his change of pace, and you register in the back of your mind, 'there could be someone coming through here'."
Fast forward 14 years and Hogg is on the brink of winning his 100th Scotland cap, the latest accolade in a glittering career which has already seen him become his country's all-time leading try-scorer, tour three times with the Lions and lift major honours with Glasgow Warriors and Exeter Chiefs. There could be more to come. The full-back will be given the honour of leading the side out at Murrayfield on Sunday as Scotland seek the win over Ireland that would give them the Triple Crown for the first time in 33 years and keep them in the Six Nations title race.
Hogg, 30, has been the poster boy for Scottish rugby for more than a decade now, a player whose reach goes beyond the sometimes narrow confines of the sport in this country. Along with Finn Russell, he conducts a kind of missionary work which drags in the casual fan, ensuring the national team has mainstream heroes in the way previous generations had Andy Irvine, Gavin Hastings and Townsend himself. Hogg's importance is not lost on the coach. "What a role model to have, one of the best players to play the game, certainly in the Northern Hemisphere. His skill-set – he won Six Nations player of the year two years running. The tries he scored – it's great to have someone like that who kids look up to and is Scottish. The skill, the durability, the passion for the jersey, he loves playing for Scotland."
Townsend has watched Hogg grow and develop but the early memories still burn brightly. His progress through the national age grades was as swift as it was spectacular, culminating in a 60-metre wonder try for Scotland A in their 35-0 thrashing of England Saxons at Netherdale in 2012 which hastened his passage to the full team a week later and a Scotland debut off the bench against Wales in Cardiff. "I watched Scotland under-18s against France at Selkirk, and the centres that day were Mark Bennett at 12 and Stuart Hogg at 13," said Townsend. "Stuart was outstanding that day, they should have beaten France. He had a breakthrough game against Munster for Glasgow, and then scoring that try for Scotland A at Netherdale. That meant we had someone who could play Test level almost immediately. He should have scored on his first cap, but it was disallowed for a knock-on. He's never looked back."
Remarkably, the 98 caps he has won since the first one have all been as a starter, a national record. He is also out in front in terms of Test tries, with 27, and on Sunday will become just the fourth men's Scotland player to reach the century landmark, joining Ross Ford (110 caps), Chris Paterson (109) and Sean Lamont (105).
"He has been one of our best players of the last ten years and also in the history of Scottish rugby," said Townsend. "His durability, to go through 10-11 years of playing at that level and still being first choice full back, shows he's looked after himself well. He's a very explosive type of player, and that brings stress to the back and knees. He has to go through a huge amount in the build up to a game, with his recovery at the beginning of the week and his preparation. After the [2021] Lions tour, he had played by far the most minutes of anyone in our squad and I'd wager the most of any Lion that season. He found that tough, and found it tough to get his body right. He's had a couple of injuries this season but for us he's been available and played really well."
Hogg is on course to play in his third Rugby World Cup in the autumn and, all being well, Townsend believes he could eventually overhaul Ford's 110-cap haul. "If he continues to stay fit, be available and be as motivated. If those things are there, then his rugby ability is not going to change. It will be more about if he gets luck with not picking up any injuries, and he wants it. It's been a big two years for him with the Lions tour, captaining Scotland, coming into this season, the World Cup is on the horizon… I'm sure he won't be looking further ahead than this weekend, or the next two weeks, and then getting himself ready for a big World Cup campaign."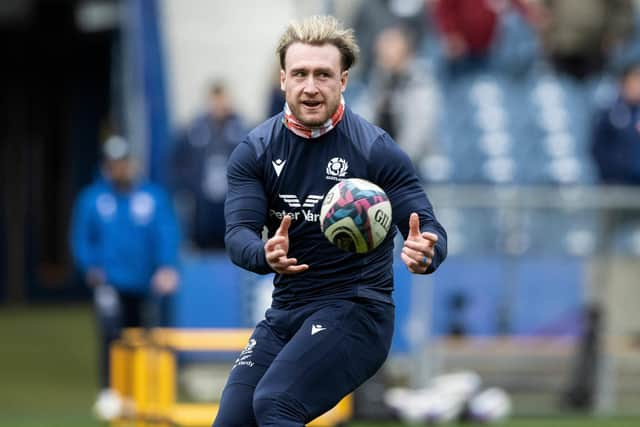 It's been six long years since Scotland managed to get the better of Ireland and on that occasion Hogg scored two tries in a 27-22 victory at Murrayfield. A similar outcome would be the perfect way to celebrate his landmark cap and Townsend has urged the full-back to use the occasion to deliver something special. "He's trained really well, he's been so sharp this week and he looks like he's going to enjoy the game. To have his 100th cap at home, in a game that means a lot, with something at stake for the team – what better way to mark it but by playing your best game of the season, the best game of your career?"