He was excellent in the 52-29 victory and the news that he will be fit to face England in Saturday's Guinness Six Nations opener is a major boost for Gregor Townsend's side as the player closes in on his 100th Test cap. If selected for Twickenham, Hogg, 30, will win his 97th Scotland cap and make his 99th appearance in Test rugby following two outings for the British and Irish Lions in 2021.
Hogg has been missing for Exeter since Christmas Eve due to a heel injury but John Dalziel, the Scotland assistant coach, revealed that he could have played for the Chiefs last weekend. The club agreed to allow him to remain with the national squad, who flew to Spain to prepare for the England match.
"He was fit and available to be back last weekend, which was excellent, and then there was a good conversation between Exeter and ourselves around the travel," said Dalziel. "We want the best out of Stuart Hogg, as do Exeter, and we've got to manage him right. And credit to Exeter, they allowed us to keep him over the weekend as well."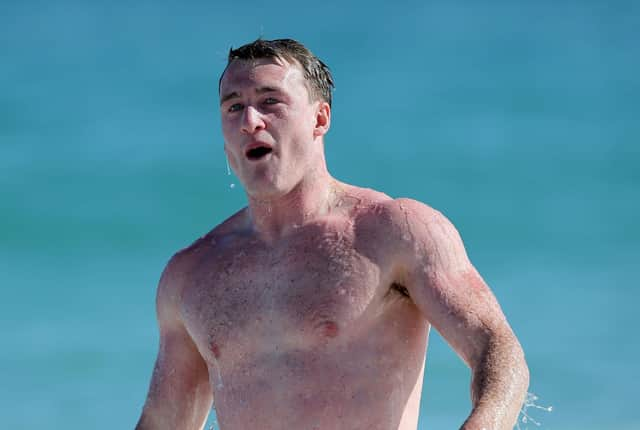 It was an admirable decision by Rob Baxter, the Exeter coach, and they prospered in Hogg's absence, beating Gloucester 24-17, with Jonny Gray scoring a try for the Chiefs and securing his return to the Scotland squad in the process after time out with an unspecified medical issue.
Hogg revealed recently to the Hawick Paper that he swims in the sea nearly every day – "It helps both the body and mind, and it really invigorates me," said the full-back – and he has continued in Spain, with some of his Scotland colleagues joining him. "It's part of the recovery," said Dalziel. "The lads have been proactive in terms of the early morning – they've got either a cold swimming pool outside or a nice little stroll to the beach and some good strength and conditioning. It's part of the recovery post-training. When we left them they were sitting in paddling pools full of ice as well."
The chances of catching England cold at Twickenham on Saturday are receding given Scotland's recent record in the fixture. They have gone home with the Calcutta Cup four times in the last five years and are going for three wins in a row this weekend for the first time in over 50 years. It means England are unlikely to underestimate the Scots, especially with Steve Borthwick having replaced Eddie Jones as head coach. "It's a tough one for us, because they've changed attack, defence and head coaches," said Dalziel. "No doubt there's a lot of changes in philosophies in a few areas."
Having said that, Dalziel acknowledged that there is a limit to how much Borthwick can impose his ideas on the squad in such a short time-frame.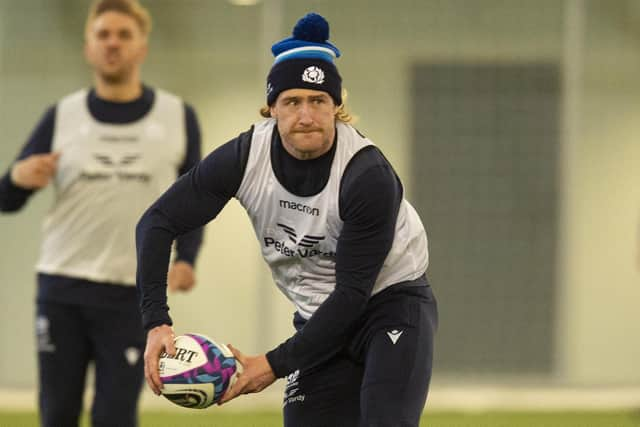 "In international rugby it is very tough to change everything all at once. You get three days on the grass with the guys before it's Test week and you're preparing for the match. A bit of our preview will be considering the old England under Eddie, and what the new England might look like as well. You're playing at Twickenham with 80,000 people, so there'll be emotion. Both teams will have gameplans of what they want to do but it's about executing the big moments. We spoke a lot about how Test matches have to be won four, five times. You're ahead by three you have to keep going, you're behind by three but you're not out of it. All the way to the 85th minute on occasion, staying in it. So it's about that mentality to stay on task. Teams will have momentum and you have to wrestle that back, then wrestle to keep on top. It's the cycle of games, and the mental approach to that is something we've looked at for a long time. We have experts in the camp now who speak to players and coaches about that. We've invested a lot of time in that area."
Mental toughness has been a key characteristic of Scotland's back-to-back successes over England. Although both scorelines were close – 11-6 at Twickenham in 2021 and 20-17 at Murrayfield last year – Townsend's side were worth their win on each occasion and showed admirable composure to close out the games.
"I don't think we fear anybody we play," said Dalziel. "We respect them and prepare accordingly. We've had better performances but we've done what we've needed to do in this fixture. I thought two years ago down there we were exceptional in almost every area – our defence, moments in attack, our set-piece. Last year was a little bit different. We had to slug it out at times, find a way to win. We had to get back on top on a few occasions and we had to hold out at the end as well. We've got mental resilience."
Dalziel was reluctant to speculate on what Scotland could achieve this season, preferring not to look too far beyond Saturday. "It's about momentum and you can only go game to game in this competition," he said. "I believe everybody in the top ten in world rugby at the moment has the potential to beat anybody. What we try to talk about is not who we're playing. We've got to be an 8 to 9 out of 10 in five matches to give ourselves the best opportunity to win this competition. So that's the challenge. You drop below that to a 7 and it's not going to be good enough to win games. So our challenge is to find that level of performance consistently, both within a game and over a campaign as well."