Tough week for Glasgow but Exeter rout a fair measure of how far they have fallen
Glasgow will feel hard done-by after the Covid-caused cancellation of their match with Lyon resulted in the French club being granted a 28-0 win. Such a punishment would seem fair if Glasgow were themselves responsible for the cancellation. But they weren't. The game is off because of Covid cases in the Exeter camp, and Glasgow are innocent victims because they played Exeter last weekend.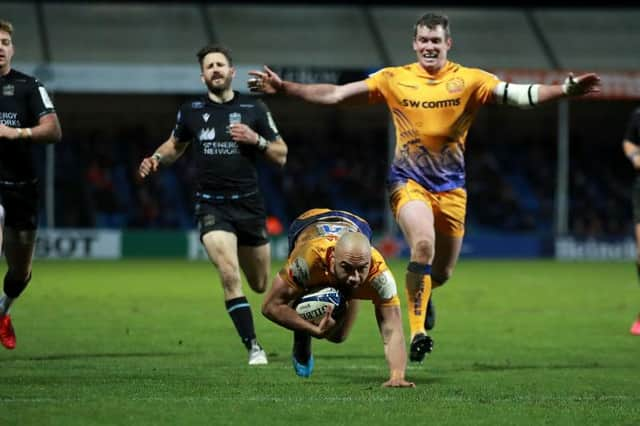 On the other hand, Lyon, having run up 50 points against an admittedly very much under strength Gloucester in the first round of the Champions Cup, and having seen Glasgow so heavily beaten by Exeter, were probably confident of victory this weekend, and would have felt aggrieved if denied one.
It's difficult to see how the adjudicating committee could have beeen fair to both clubs.
The Exeter match took us back to the darkest days of professionalism when Scottish clubs regularly suffered heavy, even humiliating, defeats away from home. Few can have expected that Glasgow would beat Exeter at Sandy Park. But a score of 0-42 is a fair measure of how far Glasgow have fallen over the last couple of years. What's to be done?
On paper Glasgow still have quite a strong scrum and dangerous backs, especially if Huw Jones is fielded. But they lack power. They didn't have a genuine number 7 against Exeter. Some of their stalwarts are in the late afternoon, if not yet the evening, of their career and younger squad players are not ready to move up.
One wonders if Glasgow wouldn't be wiser to revert to attempting the daring exciting game they used to play. They might at least score some tries, and losing, say, 25-42 is good deal better than putting no points on the board.
Edinburgh lost to La Rochelle in a match they might well have won. Away today to Sale Sharks, richly stocked with South Africans, is a very tough assignment.
All in all, it has been a miserable week, the news of Adam Hastings departing to Gloucester darkening it further. One understands his eagerness to play in the English Premiership, but he is joining a club which at present looks more likely to be struggling to avoid relegation to the Championship than competing for the title.
Compared to Ireland – which is a natural and fair comparison – we have been inept at developing young players and enabling them to make the transition from age-group to senior rugby. So both Edinburgh and Glasgow have resorted to the quick fix of southern hemisphere imports. Some have been good, others at best ordinary. Some have committed themselves to Scottish rugby. Others have taken the opportunity to commend themselves to clubs elsewhere. The word that Duhan van der Merwe may be moving south only a few months after completing his residential qualification and being selected for Scotland is disheartening.
The present administration at Murrayfield did well – before the pandemic – in repairing the Union's financial position. Almost every month I get Press Releases proudly announcing that Scottish Rugby has acquired a new commercial sponsor or partner. Fair enough, but what about the game on the field? There is no sign of improvement there. Instead we are falling back. Do the young academy players get enough rugby, rugby of a quality and intensity which forces them to improve or drop out?
Admittedly the pandemic has disrupted everything. The Super-Six semi-pro experiment has had to be put on hold. It probably isn't fair to judge it on what was its first season 2019-20. One can say however that it didn't attract much interest. "Teething troubles" may be the complacent message from the SRU committee room.
In one sense things are much as they have been for most of our history. The teams that won the Grand Slam in 1925 and the Triple Crown in 1938 each had seven players from clubs south of the Border. It was a rare Scotland team without a contingent from London Scottish or Oxford or Cambridge University. The 1990 Grand Slam side had two from London Scottish, one from Nottingham, one from Bath, and also Sean Lineen from New Zealand. The 1999 Five Nations Champions had players from Wasps, Brive, Newcastle Falcons, London Scottish, Bedford and Bath, also the New Zealand brothers John and Martin Leslie. Some of that team - Kenny Logan, Gregor Townsend, Gary Armstrong, and Scott Murray – had been born and reared in Scotland, and played their early club rugby here before moving to English or French Clubs – just like Stuart Hogg, Jonny Gray and Finn Russell.
So it may be that we are returning to where we were twenty years ago. But where does that leave Edinburgh and Glasgow? Will Glasgow still be able to fill Scotstoun? Will Edinburgh attract a crowd to their new mini-Murrayfield?
Comments
 0 comments
Want to join the conversation? Please or to comment on this article.