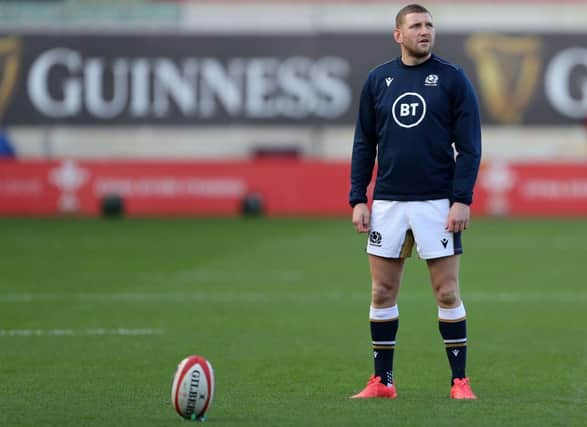 But Scotland had their own scenario. The return of Finn Russell, the grand illusionist who can make a rugby ball do amazing things, and the devout hope that his next trick would bring about a first victory in the Principality for 18 long years.
Just about everyone had been saying that this was the perfect moment to smash the hoodoo. Wales were on a poor run and the Scots had their top men back, Russell and of course Stuart Hogg, and the team's form was more than decent. Plus the game wasn't in Cardiff, scene of many disasters, but in Llanelli and without a lusty home crowd to make life uncomfortable for the Dark Blues.
Scotland, though, don't always seize perfect moments. The Welsh Dragon still seemed eminently capable of delivering a Halloween frightener. Sat astride it as usual, like he's been there for ever, was new world-record cap-holder Jones. At least Darcy Graham and Blair Kinghorn weren't being required to try and catch wing wizard Williams who passed away earlier in the week.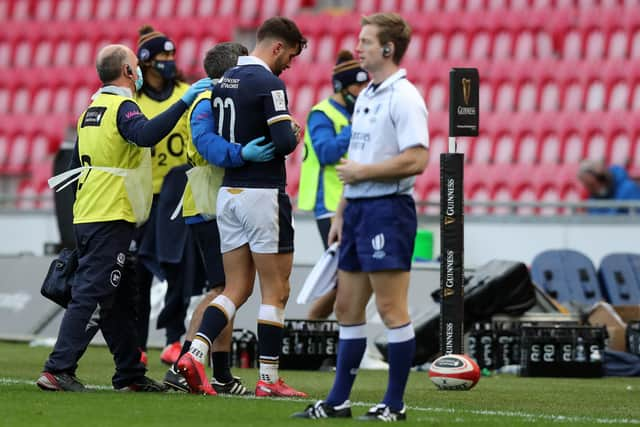 Then there was the weather. Gusting winds - no roof, of course - were surely going to stop Russell from opening up his full magic set. No one wanted to see a long miss-pass being held up in the breeze, least of all Gregor Townsend.
The head coach's kiss-and-make up with his playmaker - metaphorical and socially-distanced - had been welcomed by even those critical of Russell's initial flounce-out because Scotland simply don't have enough flair players capable of crackerjack invention and stunning improv to be able to dispense with the best of them.
Russell looked nice and relaxed as he displayed a bruised and cut nose during Flower of Scotland, although you would have to say that in singing without fan accompaniment Wales won the anthems.
Then, first minute, Russell had the chance to open the scoring proper. His penalty was dragged wide by the wind but Scotland would soon benefit from the swirling conditions, a Hogg punt being held up and catching the Welsh offside. This time Russell slotted the penalty.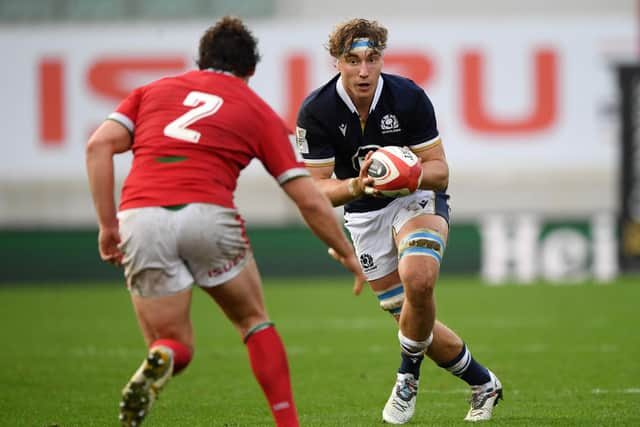 Ball in hand, Russell was playing conservatively, usually aiming for the nearest man with his passes. This seemed a good plan with lineouts called for not being straight. But he couldn't resist a dink-and-collect to break through the Welsh defence only to flip a pass which was intercepted. Luckily for him, nothing came of it.
He was getting more adventurous, a no-look pass and then letting fly with his first long effort finding Kinghorn as the game continued to be played in a tearing hurry. It was the first casualty of the Covid ban on mass public gatherings and the way the packs were crashing into each other it seemed the players were making up for lost time. Plus, having woken up yesterday to the threat of another nationwide lockdown, they were probably in a rush to get the match won.
Nothing had been seen of Wales in attack but in what was their first foray another Scotland lineout went awry and the home side pounced, scoring under the posts. A double-blow for the Scots, though, for earlier in the play Russell was crocked and had to hobble off. The Scottish scenario wasn't working out.
For a few minutes Scotland seemed out of sorts. Momentum had been lost and Wales had a spring in their step. The wind was befuddling Scotland, messing with their kicks, and you wondered if they might have preferred to take their chances faced with a fervent crowd of Welsh boyos under cover. But Towsend's men were able to regroup and, replacing Russell, Adam Hastings' penalty left them one point in arrears at the interval.
Winning in Wales isn't easy. Not for Scotland at any rate. When we've done it, usually one of all-time great scores has had to be fashioned, such as in 1982 when Roger Baird's twinke-toed dash and Iain Paxton's impersonation of a runaway bullock set up Jim Calder.
It didn't seem a day for a repeat and with Russell gone there was even more onus on Hogg and early in the second half the double-winning Exeter Chiefs man leapt over an attempted tackle for a break continued by Hastings. Not for the first time, though, the move broke down. Scotland - striving to win three successive Six Nations games for the first time - had territory, they had possession, but not much more.
In a scrappy tussle with slow ball, there were only half-chances as Wales defended doggedly and at times like these, to make something out of virtually nothing, it looked like the Scots needed Russell.
Well, not really, as the forwards - ferocious throughout - took control. A thunderous driving maul brought a try for Stuart McInally. Hastings succumbed to injury and if this was to be a victorious Scotland tale the pack were going to write it. Hamish Watson was an absolute pest and Jamie Ritchie was immense. Each turnover claimed was greeted like the World Cup had been won and in the last ten minutes the forward throttled the game and penned Wales in their own 22 like a flock of harassed sheep. Hogg - at emergency fly-half - popped over the clinching penalty and for once the big guys up front grabbed all the glory.
A message from the Editor:
Thank you for reading this article. We're more reliant on your support than ever as the shift in consumer habits brought about by coronavirus impacts our advertisers.
If you haven't already, please consider supporting our trusted, fact-checked journalism by taking out a digital subscription.